While sailing on the Carnival Valor out of Puerto Rico, one of our stops was in St Maarten.  This island is part of the Netherlands Antilles located in the Eastern Caribbean and is popular with cruise lines.  The island itself is divided into two sections:  one half is French, and the other half is Dutch.  The cruise port is on the Dutch side, and from there it is an easy trip to many beautiful beaches.  One of the most interesting beaches you might get a chance to visit is Maho Beach.  While this is not what I would call a beautiful area due to its lack of trees and seating, it sure is interesting because 100 yards directly behind the beach is the hammerhead of the runway for Princess Juliana International Airport.  There aren't too many places where you can get so close to airplanes these days so if you're a Planespotter this is a must-do.
Cruise ships usually arrive in St Maarten in the morning, so you have plenty of time to do some shopping and then take a taxi to wherever you like–including Maho Beach.  St Maarten is generally a safe place to be as a cruise ship passenger, but always, always, stay on ship time and use 'approved' taxis.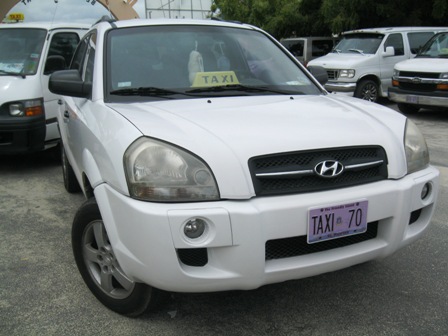 The tourist locations are divided into zones, so its pretty simple to find a taxi and a price when you leave the ship, and then be on your way.  Please note that CASH is almost always required when doing this—and St Maarten is a relatively expensive island compared to others in the Caribbean.  They are on the Euro, and the dollar/Euro is not usually favorable to those of us holding US currency.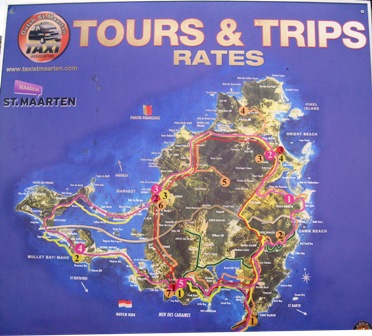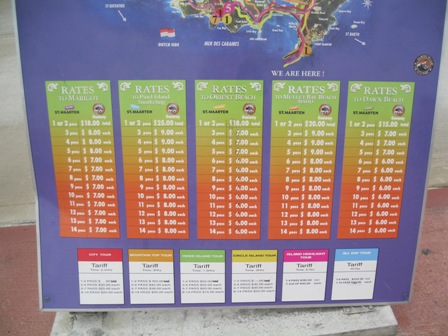 We were going to Maho Beach, which was $9.00 US per person each way and clearly marked:  no need to haggle.
It was about 20 minutes to the beach from the cruise port but there was no traffic at that time of day.  Our driver recommended we allow plenty of time to return to the ship as we had to pass through town and there would be a lot more traffic and it would take longer.  As cruise ship passengers you have to remember that the ship will sail without you if you are late, so we heeded his advice and he even offered to return to pick us up.  He was a nice older gentleman, known as "Birdman".
We were dropped off in a large parking lot behind one of the hotels and it was pretty exciting to see the little planes come in.  Birdman told us about the crazy people who hang onto the fence and are blown off, and recommended we not do this.  (No fence riders the day we were there.  It is illegal, and there was plenty of police in the area.)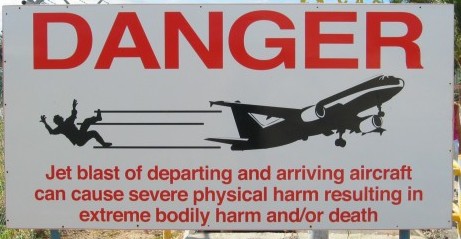 From my research the best time to see jets and large aircraft was 1pm and we were a bit early.  We walked past the Sunset Bar and Grill, which is a more adult oriented destination (tops are optional for women) as this location posts a schedule of the aircraft coming in.  I had checked flight times and there originally was an Air France Airbus 320 arriving around 2pm, and I wasn't going anywhere until I saw that big plane arrive.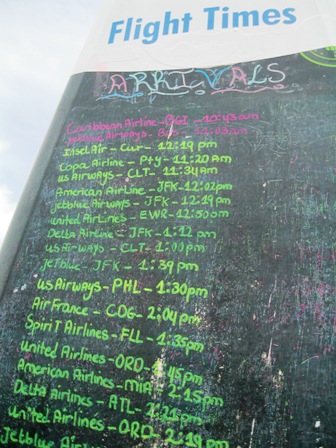 We did start on the beach itself and were sandblasted just once while an aircraft took off; then we moved towards the Sonesta Resort (other side of the beach) where we had lunch at their Palms Grille Restaurant.  Although it seems silly to pay for lunch when you're a cruise ship passenger, we really wanted just a plain sandwich and chips and this was pretty reasonable at about $10 per person.There was no way to get food and sit on Maho Beach due to the jet blast.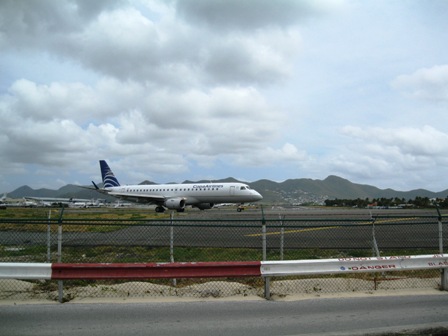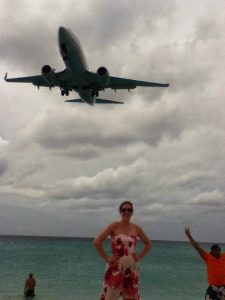 I put together some video of that day:  http://youtube/gtm6gbwBXH8 .  Before you go there yourself, you might want to bring a camera that can survive dirt (I used a basic point&shoot camera that I didn't care too much about in case it was damaged), some towels, and plenty of cash for your transportation.  Also don't leave anything on the beach:  the jet blast launches most things less than 100 pounds, including backpacks and small children.  Adults seemed to enjoy running towards the ocean when the jets increased throttle.  We also noticed the pilots waving at folks on the beach as they turned their aircraft for departure.
Maho Beach was a bucket list destination for us and one of the most enjoyable days we had on that cruise because we weren't running off and doing a tour.  The AirFrance jet showed up and we watched it land, and finally it was time to head back to the parking lot to find Birdman.  We waited just a short time for him to arrive and he took us back to the ship in plenty of time to board.
At the port itself we did a little bit of shopping and found this guy, who reminded me of Usher (the entertainer).  I had to get his picture and bought a Mojito, which was pretty good.   Good marketing by the owner of this kiosk to put a celeb lookalike behind the counter.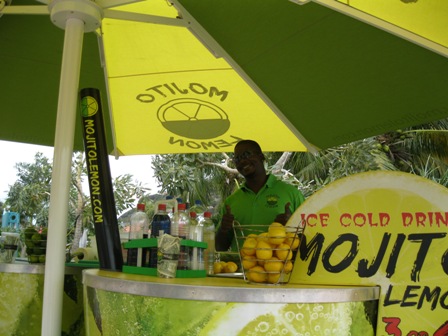 So if you're doing an Eastern Caribbean itinerary and have a stop in St Maarten and don't know what to do, grab a taxi and head to Maho Beach.  Its an experience you're not likely to ever forget.