Visiting Tulum from a cruise ship in Cozumel 
Recently I had the opportunity to do a cruise on the Carnival Breeze with a Western Caribbean itinerary.  My travel companion for this trip was my very active senior-citizen mom. Since I'd been to Cozumel many times I let her pick our activities, and she decided she wanted to see the Mayan ruins of Tulum.  This is a very popular excursion for cruise ships docking in Cozumel.  Most people want to know why it takes so long to get to Tulum, and why the excursion is on the more expensive side.  To give a better idea of what you see and do on this trip, here's a pictorial.
From your cruise ship you head to the ferry boat for the first leg of your journey, which is a 35-45 minute ride across the channel to Playa de Carmen.  The ride is longer when the seas are rough; we were lucky because it was a rather smooth trip (sometimes its like a long roller coaster ride, so bring motion sickness medicine if you think you may need it.)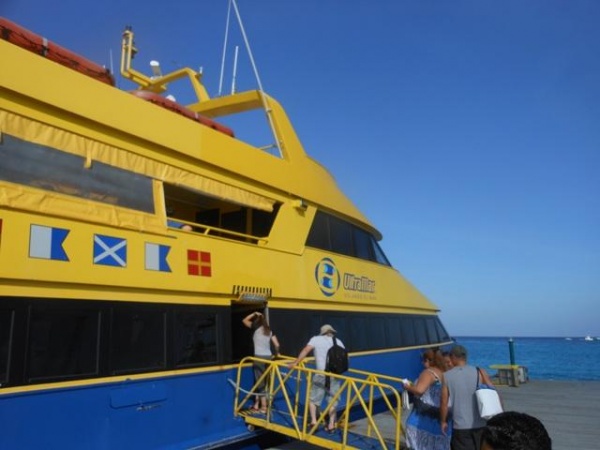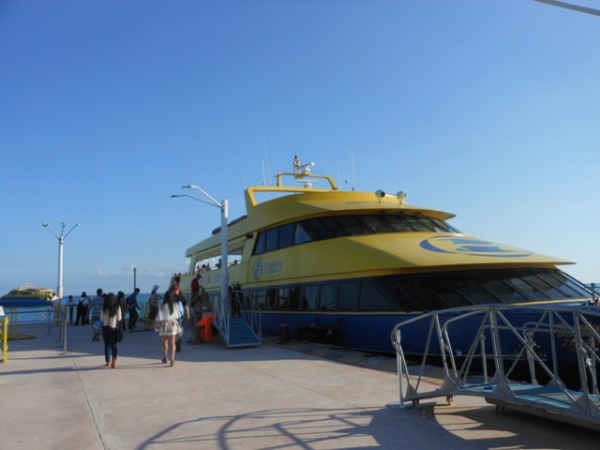 This ferry goes across the channel, which is about 12 miles from Cozumel to Playa de Carmen.  Seats on the ferry are comfortable and there are restrooms out the back; there's even a bar on board with barkeepers keeping passengers happy with water, soda and the ever present cervezas and margaritas.  Bring plenty of small bills to pay if you decide to imbibe.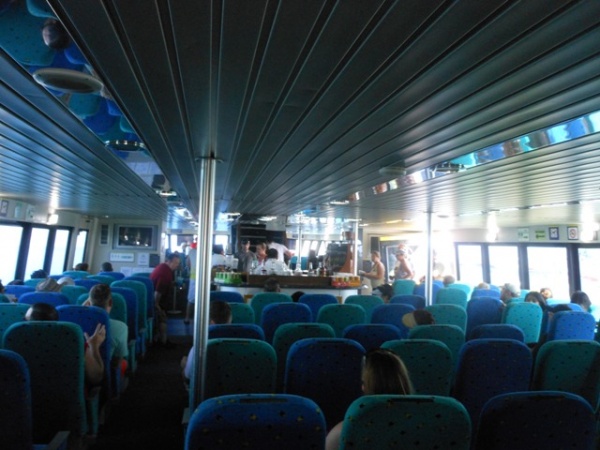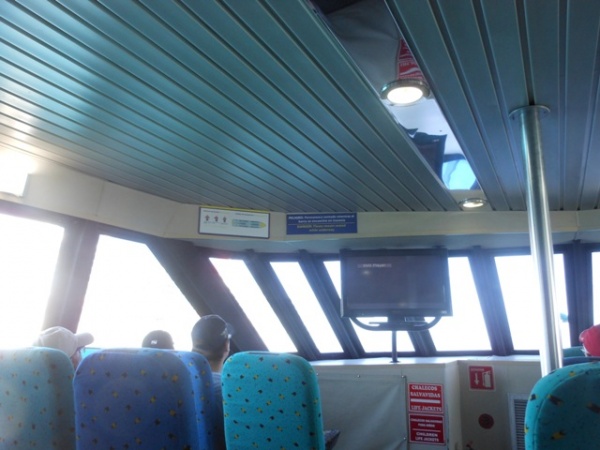 About 35 minutes later–the water was pretty smooth– we arrived at Playa de Carmen, which is south of Cancun on the Yucatan Peninsula in mainland Mexico (passports were not required nor stamped.)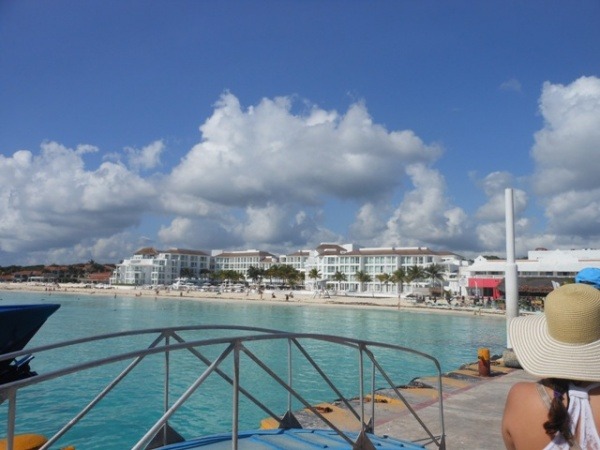 We got off the ferry and were put into pairs and lined up at the pier, which is currently a construction zone.  It was sort of crazy with lots of people milling around but it was 'organized chaos'.  We were then split into a couple of groups and assigned a guide, who had a paddle describing the tour.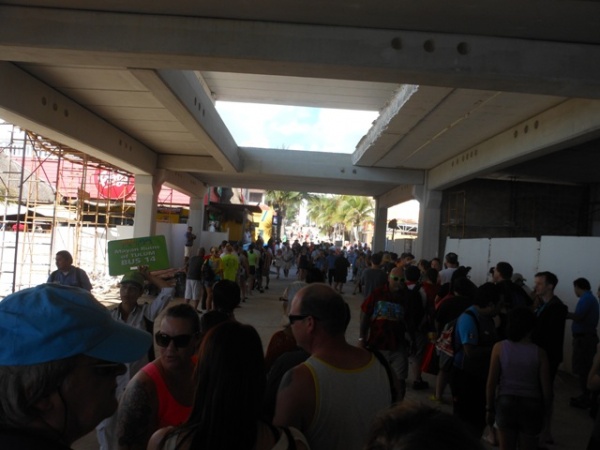 We followed our guide at a pretty quick pace through the pier terminal, up the street and out towards the road, where we met our busses.  Along the way we had various vendors selling bottled water and hats.  There were lots of hats for sale and the prices dropped as we got closer to the bus.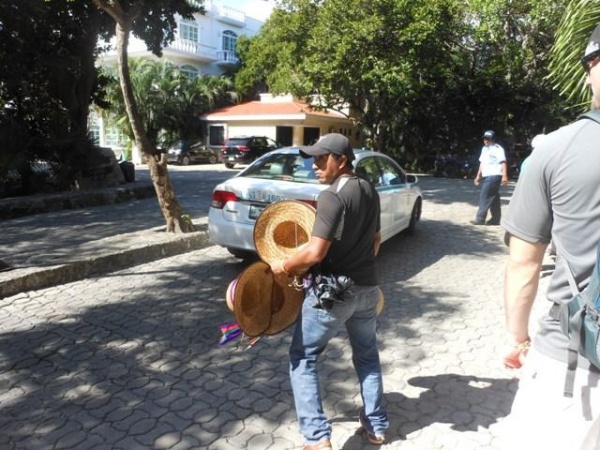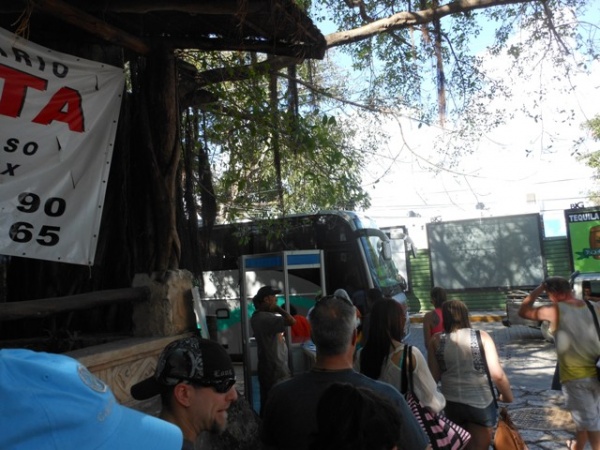 Finally we get to the main street and board our air conditioned motor coaches.  I've been on busses in the Caribbean where the a/c did not work, but these were relatively newer busses (probably not more than ten years old) and they were comfortable.  It was pretty hot out, and about to get hotter as we headed towards Tulum.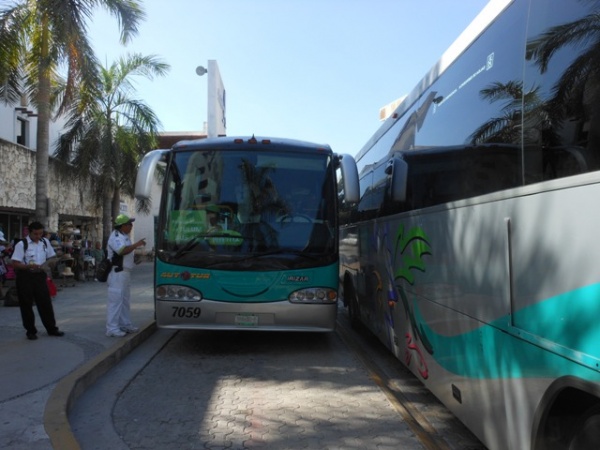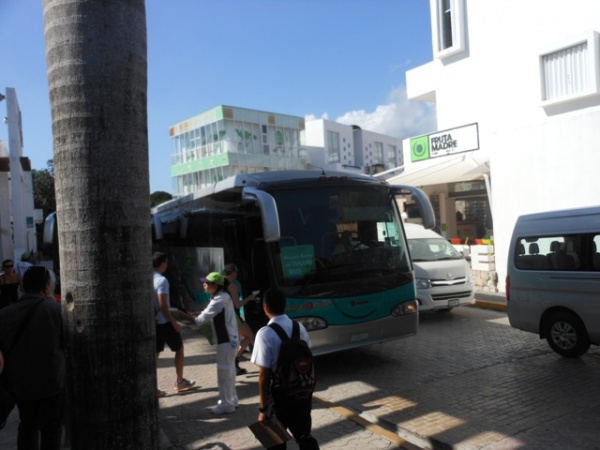 Our driver was Carlos and our guide was Pamela, pronounced pa-ME'-la.  She told us her mother watched the TV show "Dallas" and she was named after Pamela Ewing.  Pamela was probably one of the best tour guides I've ever had, and she was quite thorough with the history of Tulum and the Mayans.  She assured us that the Mayans did not just disappear, but instead dispersed into the surrounding jungle when resources such as food and water got scarce.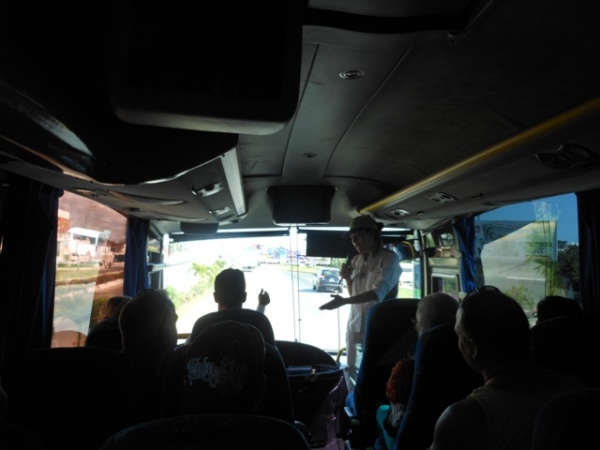 Playa de Carmen is a pretty big town with many resorts and shops.  The highway was as nice, or nicer, than anything I've seen in the USA.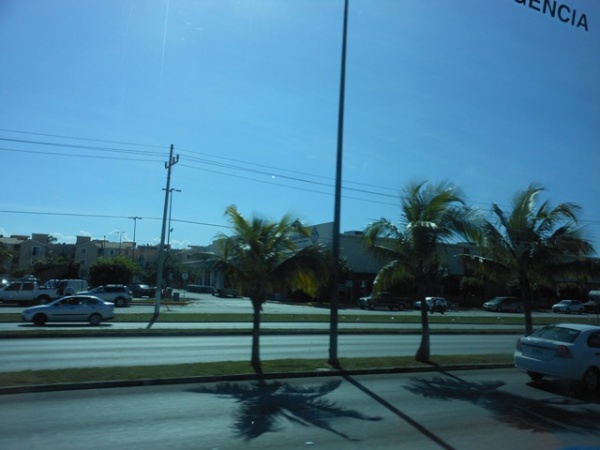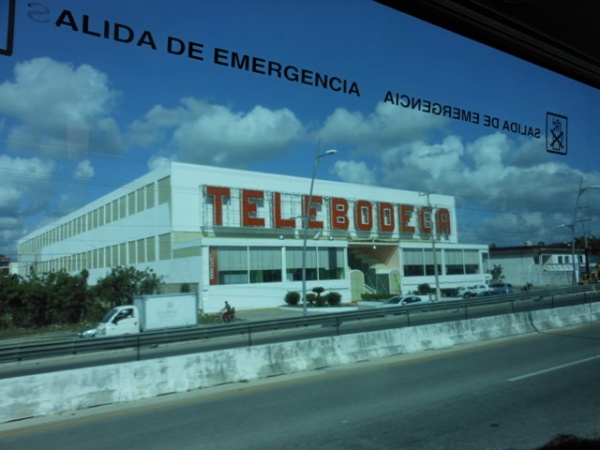 We go down the road for about 30 minutes and get to Maya Ha, which is a tourist visitor center for Mayan culture.  This was a gated building with a very tall fence, so there's no photo of the exterior.  We were the only busses in the place, which had explanations of Maya culture and history outside and plenty of merchandise opportunities inside.  Since this tour was cutting it close for time I figured I would need to do my shopping here because we were not due back to the ship until very close to sailing.
Pamela brought us to a display of obsidian (rock) and showed us how obsidian looked gold in the sun; here it looks green but after its been in bright sunlight for a while, it really does glimmer like gold.  You can understand why the Conquistadors thought this area was filled with gold; unfortunately it was probably obsidian.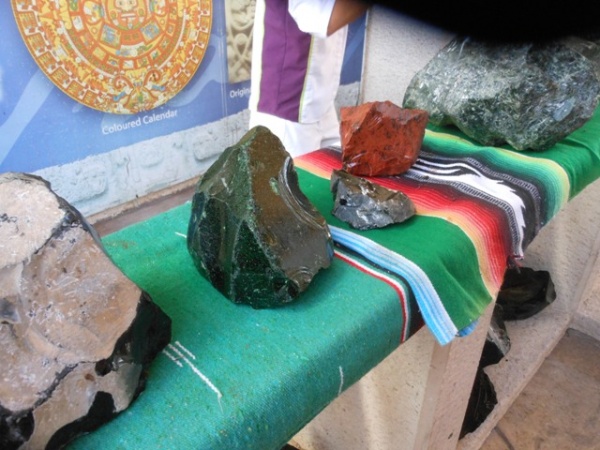 We also were shown several Mayan calendars, and there were many for sale inside: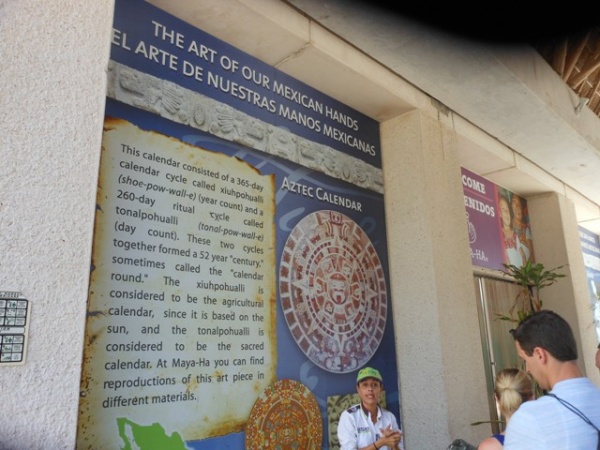 Here's the clean, air conditioned shop designed for tourists.  We were advised to use the restrooms now because once we got to Tulum they would not be as nice.
Mayan Calendars for sale: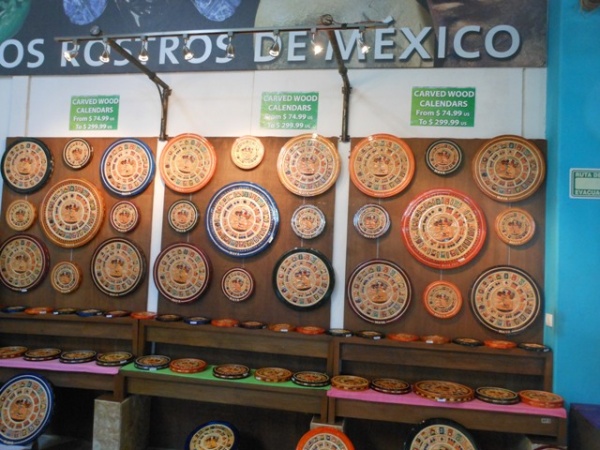 After about 20 minutes at Maya Ha it was time to board the bus and go down the road to Tulum.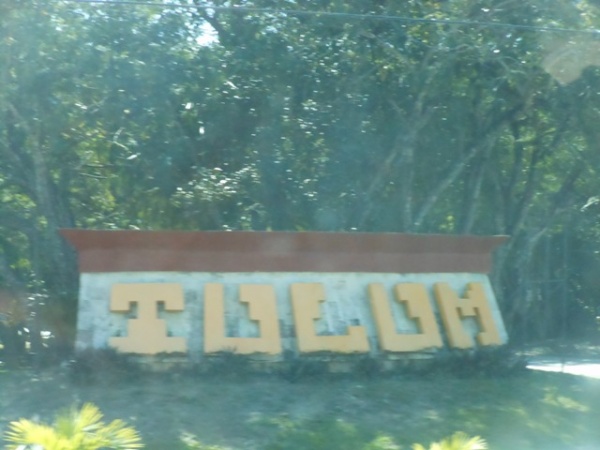 Tulum is a State Park in Mexico with a vendor village outside of the archaeological area.  There are all sorts of opportunities to buy things, from t-shirts to hammocks to pottery and everything in between.  The restrooms in this area will have a fee to the attendant so we were advised to use the ones down by the entrance to the ruins as those were owned by Mexico and not private.  The parking lot was spacious and the tour bus had a good area to park, and we were advised this is where we would return to get our snack (one cookie) and small bottle of water.  Pamela was pretty honest that there was no meal and if we needed food we should dine at a restaurant in the complex.  She also discussed stomach upset/gastrointestinal issues and Mexico.  Her take on water in Mexico is that its different than what we're accustomed to and its not tainted with bacteria, or everyone there would be sick.  Since people in Mexico don't get sick when they drink their water, this made sense to me. Pamela said that our bodies are not used to the chemical composition of the water and to eat cooked food and consume bottled beverages to be on the safe side.  No arguments from me!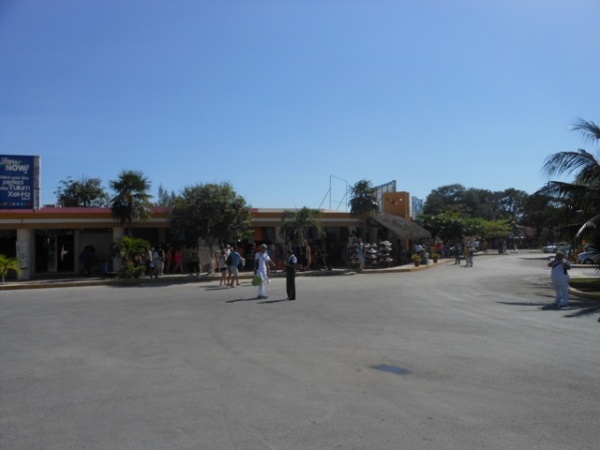 We got off the bus and followed Pamela towards the ruins.  It was about a 15 minute walk, and it sure was hot!  I always board a cruise ship with a case of bottled water and brought some with me and was pretty glad I did.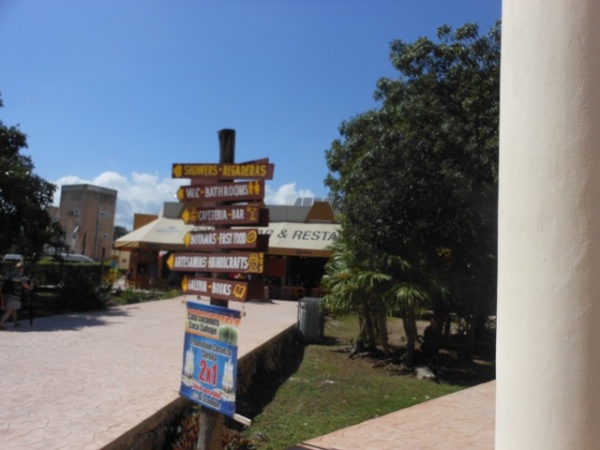 We had the option to walk or pay $2 to ride a trolley, which was a tractor towing a cart with benches.  We decided to walk.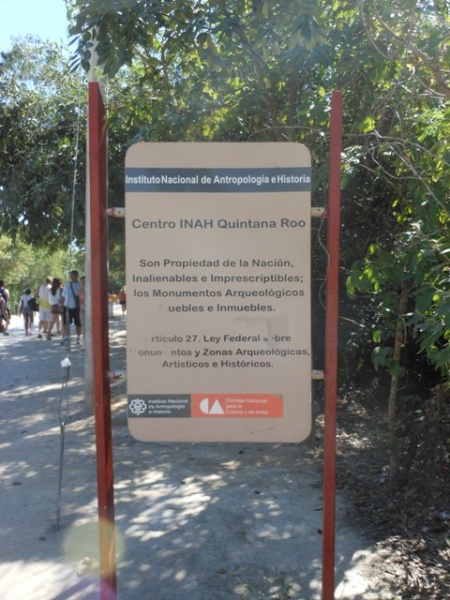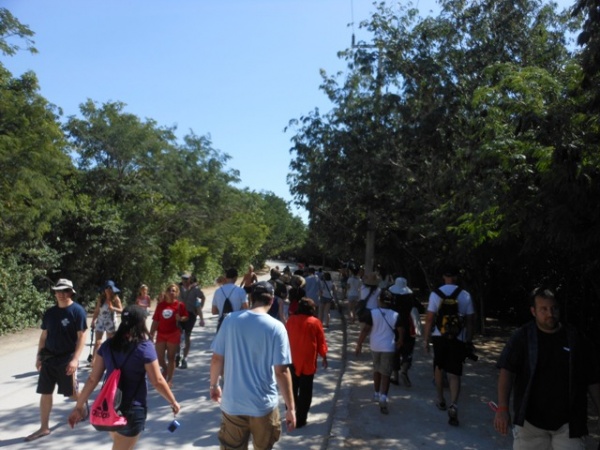 We get towards the entrance and Pamela tells us these are the restrooms which will not have a fee.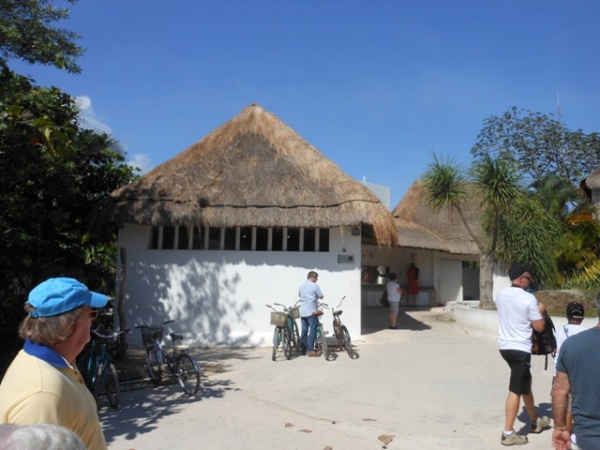 There were probably about 75 of us heading in the same direction and we kept walking and went through the turnstiles and down a dirt path into the area where the ruins were located.  Did I mention it was hot?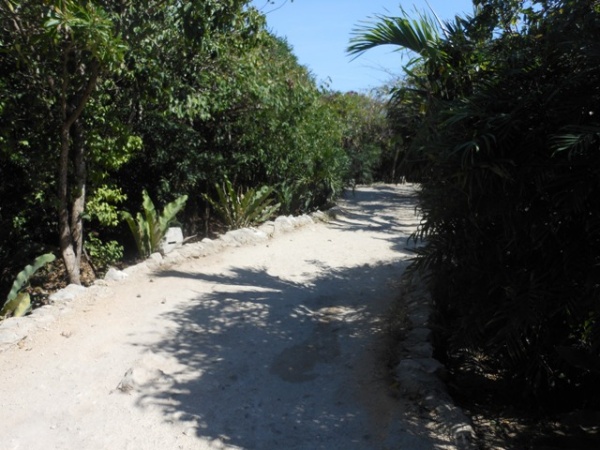 Somehow, mom and I were separated from the group.  We didn't see them anywhere so I suspect we got ahead and just kept walking, but we weren't too concerned about being lost because there's one way in and one way out.  We entered through the stone wall and encountered a large grassy area with lots of ruins.  At this point we were thinking  "Wow", followed by "what the heck are we seeing?"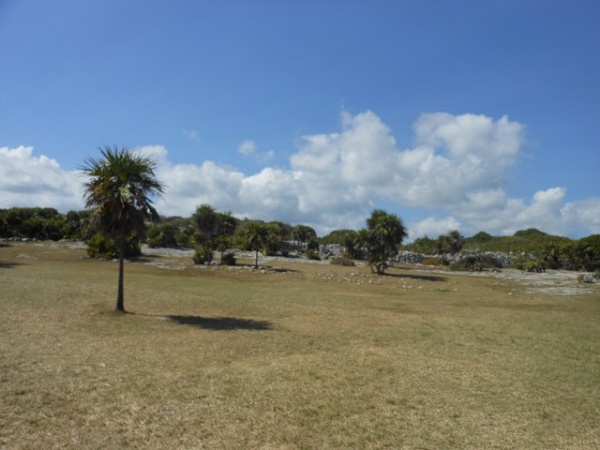 It was about 1:30pm and very hot; we'd been doing this trip for over two hours.  Since none of our group had arrived, we found a less sunny place and waited for Pamela as there is very little shade at Tulum.  She had already told us she was not going to walk us around to each building because there are descriptions on signs, but she was going to get our group together and describe the general area and provide an overview.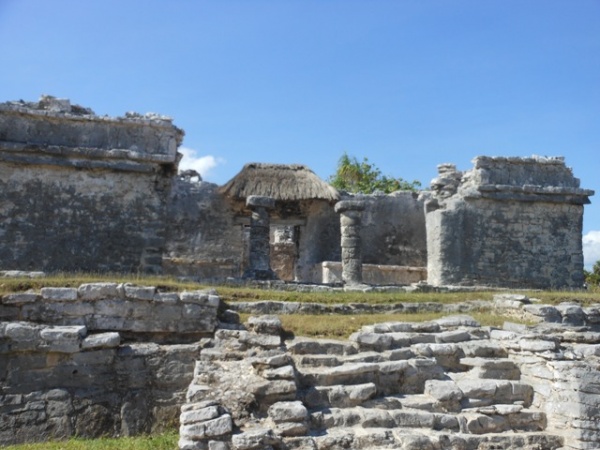 Finally Pamela showed up with the rest of our group and stressed that it was a great day to visit Tulum because there were hardly any people there and it was not very hot–for Tulum.  She pointed out several structures and explained that there was a beach down below the Castillo (main pyramid) and she gave us a time to be back at the bus. Then mom and I went on our way to look at the structures: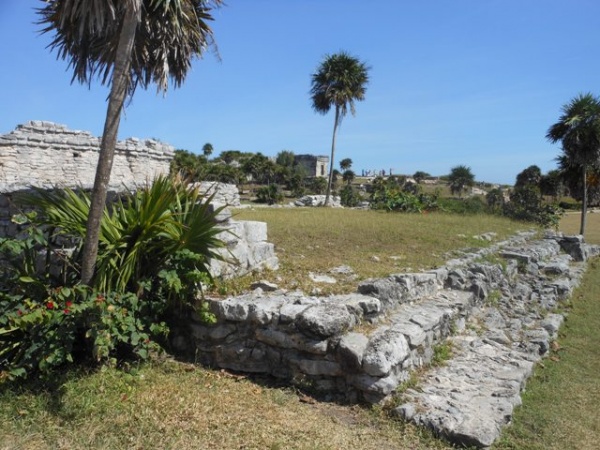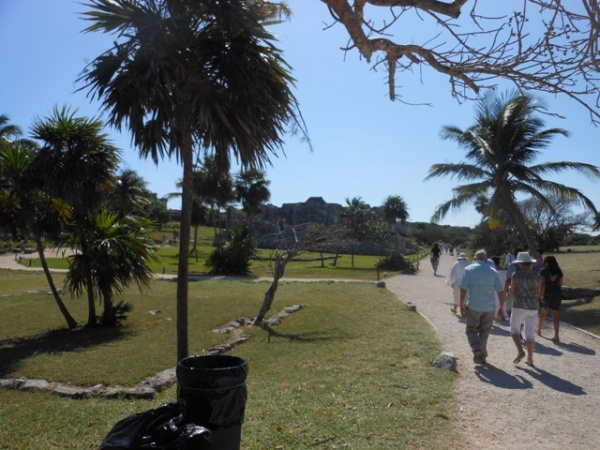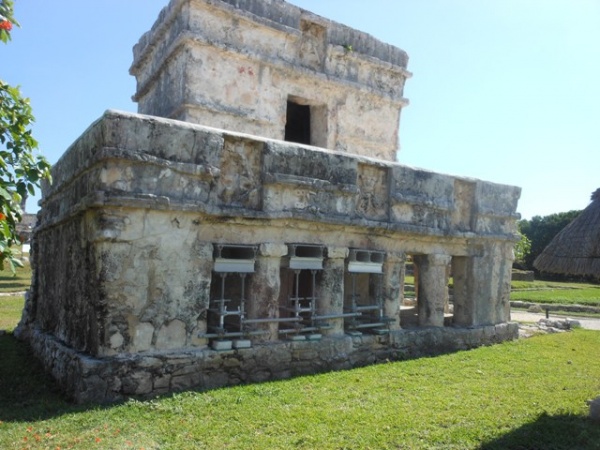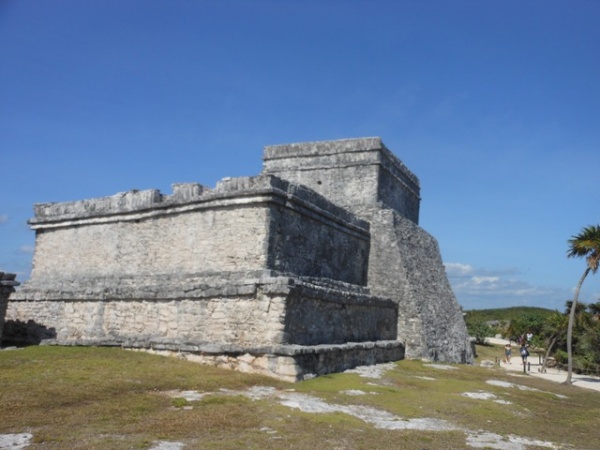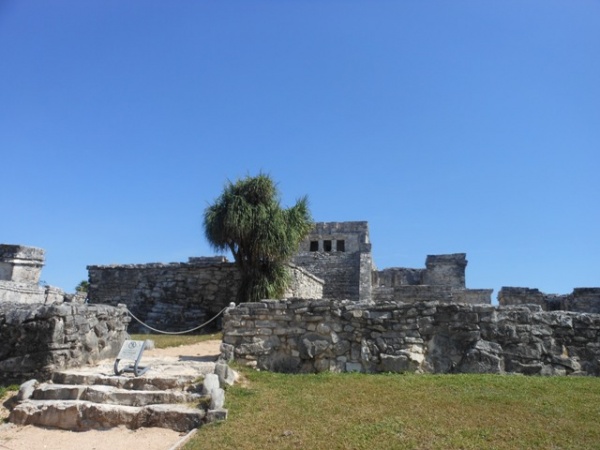 Many in our group wanted to visit the beach.  It was pretty–but small.  It was hot… i didn't want to climb down and back up the stairs and by now we'd been in here for about 20 minutes and mom wanted to sit down and have lunch.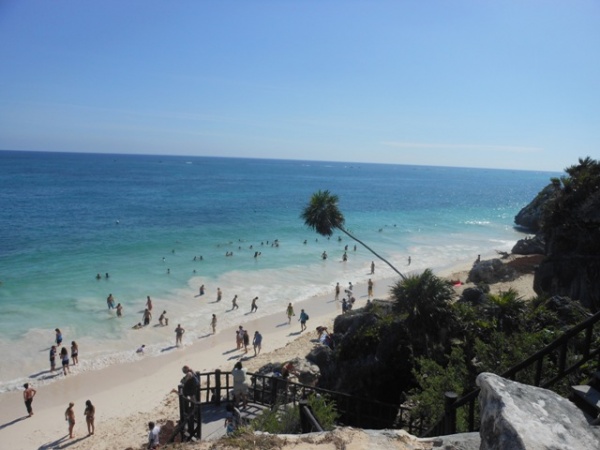 Although I would have liked to stay longer and visit each building, I decided that this would be a place to visit on a trip to mainland Mexico, with a guide book, and proper reading beforehand.  That's the problem with cruise ship excursions:  you see something interesting and want to know more about it, but you do not have enough time for any in depth research or touring.  So we headed out and back up to the tourism village area for lunch.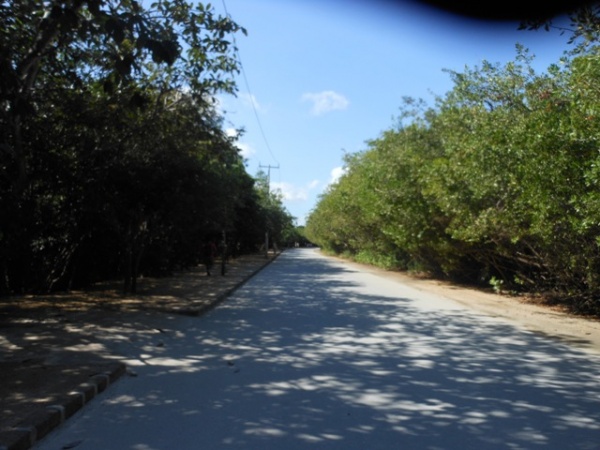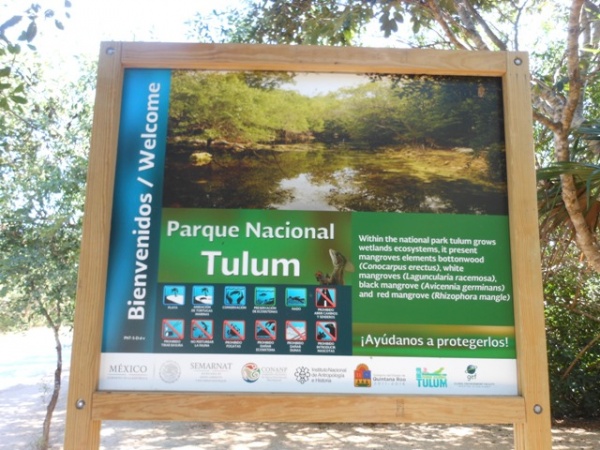 Up at the tourism village we had lunch at Frosty's as their fish tacos were recommended by our guide.  They were pretty good and for $8 each for the meal, and a couple of bucks for the beverages, we had a decent lunch.  They also had Coca Cola Light and the beer preferred by the locals, which was pretty good.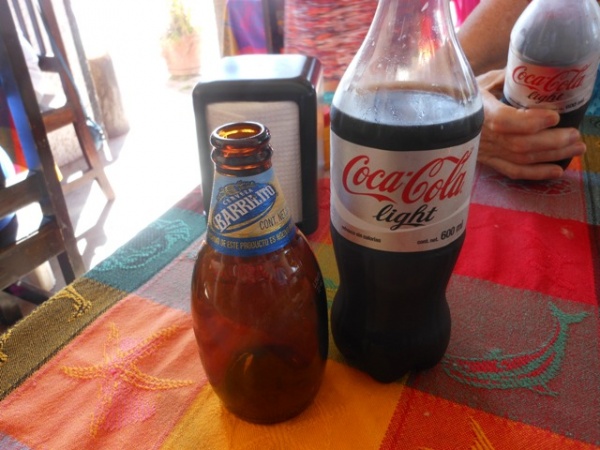 .Finally its time to head to the busses and Pamela heads to Frosty's and finds most of us still sitting.  We see that they have set up chilled towels for us prior to boarding and the bus had been running to cool down.  It was a very nice touch on this hot day and totally unexpected.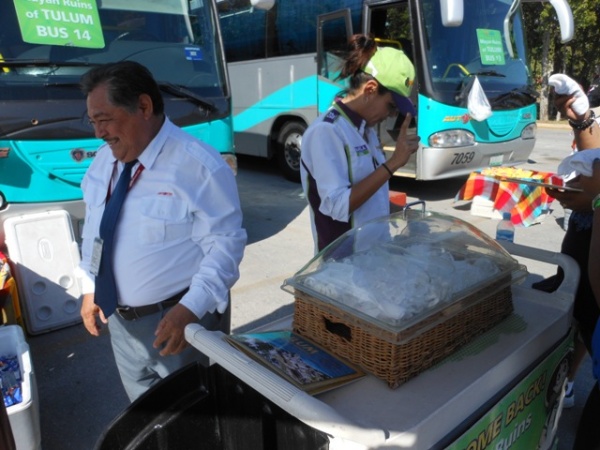 Finally everyone was on board and it was time to head back to Playa de Carmen and the ferry back to Cozumel.  It had been a long and hot day but very interesting.  We tipped both the guide and the driver, as their salaries are mostly what we provide.  Our driver was safe and sober and our guide was also great.  I'd do another tour with both of them.
Our on-board time to the beautiful Carnival Breeze was supposed to be 5pm, for a 5:30pm sailing from Cozumel.  Well, we did not make it!  The ferry was behind schedule and we did not get to port until 5:15pm, and all of the shops had closed.  I was glad I bought my Mexican vanilla at Maya Ha.  This is the only vanilla I use for cooking, and have used this stuff for  years.  (Buy the courmarin free variety when you go to Mexico.)
Upon boarding we went up to the room and it was approaching 5:30pm, so I thought mom should go out on the balcony to see sail away in Cozumel.  Sure enough, we had 'pier runners' who were late.  I was glad she could see people running (and staggering) down the long pier while half the ship cheered and jeered at the latecomers.  I've never been to Cozumel without having a runner or two… or ten.  She thought it was funny and got into the cheering too.
It was a great day in Tulum with no rain and not a lot of tourists.  I would be happy to return to this destination and recommend this cruise ship tour.