Salsa and Salsa … and Margaritas!
Cozumel, Mexico, is a destination on most Western Caribbean cruise itineraries and there is no shortage of things to do in this port of call.  You can swim with dolphins, lounge on a beach, ride ATVs, snorkel and dive, and do some great shopping.  One thing I've read on every cruise ship list of excursions and Port Adventures was something called "Salsa and Salsa".  Since it sounded fun and the 'kid' is now a legal adult, I decided to book this on my last cruise on the Carnival Magic which departed out of the port of Galveston, Texas for our Spring Break vacation.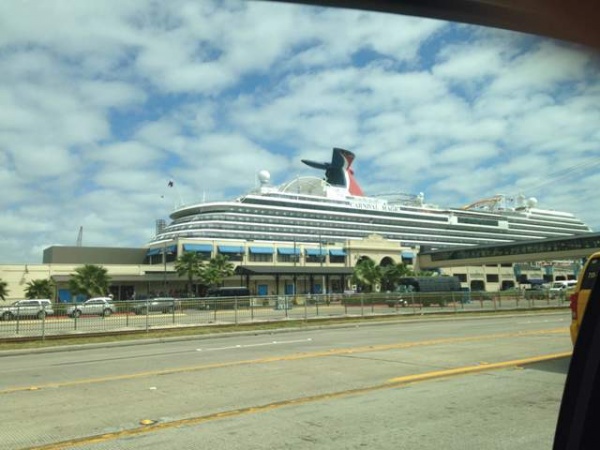 Since Cozumel is so popular, and it was Spring Break, we knew there would be a lot of people at the port that day.  Here's my view as I left the ship and headed towards the meeting area for my tour.  On the left is the Emerald Princess; the right is the Carnival Magic.  Between the two ships there were about 6,500 passengers! There were ships at two other piers as well.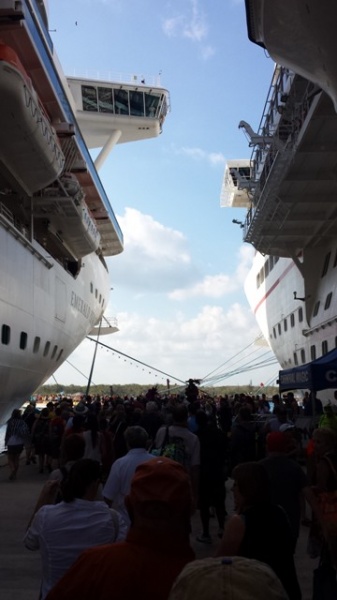 We located our tour at the end of the Puerta Maya pier and waited until it was time to depart to the Hotel Cozumel where Salsa & Salsa is held.  We had a group from the two ships at the Puerta Maya pier and we were escorted to the tour pickup area where we waited for taxis.  A short 10 minutes later we were heading in for our experience in the beach front building where it was held on the second floor.  (There are no elevators and all participants must ascend and descend stairs.)
As we got upstairs we were greeted by someone providing us with a margarita and we also had an option for a sweet Hibiscus tea as well as bottled water.  We took seats at a large table set with all the ingredients we were going to be using for the next couple of hours and waited for everyone to get settled.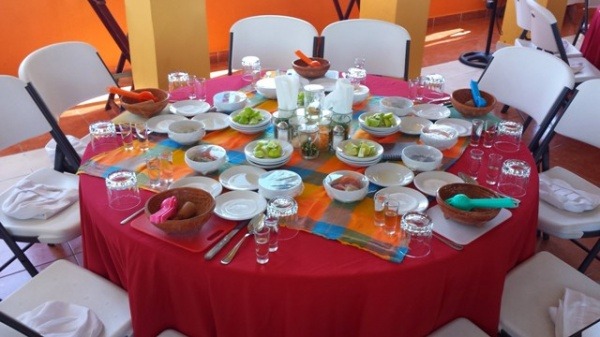 The setup was designed for two people to share ingredients to make their salsas.  We were a party of three, and there was another party of three at our table, so hubby and the other guy ended up making their own food while my daughter and I did ours.  Prominent in the above photo is the molcajete, which is the mortar and pestle for grinding ingredients for our salsas, and cut limes.  We also had a covered bowl with the rest of what we needed including tomatillos, roasted garlic, roasted onion, roasted skinned tomato, and a habanero pepper.  In the center of the table were seasonings which we were to share.  These seasonings included copious amounts of chopped cilantro, because what's salsa without cilantro?  We had two shot glasses as well; one was Tequila and the other was an orange liqueur called Controy, which is native to Mexico and not available in the USA.
Our instructor was Carla and she was funny and informative at the same time.  First thing we did was make our margaritas using the Tequila and Controy on our table.  Instructions were simple:  dip rim of glass in salt, drop in the shots of alcohol, add fresh squeezed lime juice to taste, and ice.  Yummy and no mix involved and it was quite easy, and since I like a lot of lime I was able to adjust my drink to be quite lime-y.  As we were enjoying our Margarita, we got to work on the chopping of the veggies for our salsa.  We started with Fiery Red Salsa, moved to Salsa Verde, then Oaxacan Guacamole, and Pico de Gallo.  We also made a Mango/Melon Salsa as well as a Tropical Salsa.  During this time we had waiters refilling our drinks and they also made Strawberry Frozen Margaritas both with and without alcohol.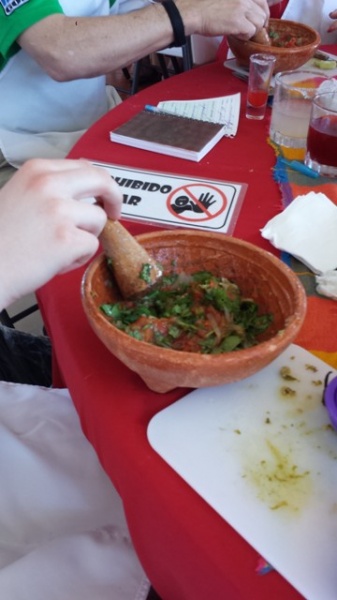 By now our table was pretty messy!  We had bowls of salsa, tortilla chips and plenty of drinks. They also brought some little snacks (and this was NOT a meal folks so be sure to eat breakfast first).  Our snack was some small tacquitos and some quesadilla, which was pretty tasty.  We did have a light breakfast before we left the ship, which was a good idea.  During the snack break I looked outside and noticed the iquanas in the vacant lot.  They were pretty lucky as they got the kitchen scraps.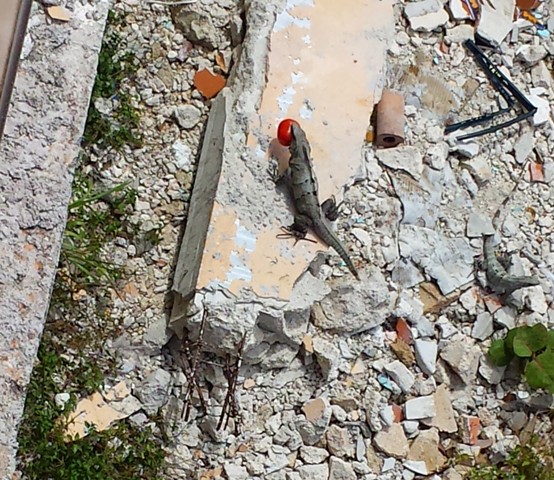 We made Oaxacan Guacamole and wow.. this was absolutely wonderful.  What made it great was probably the use of our fresh Salsa Verde as a base with the roasted onions and garlic.  I will never buy guacamole ever again and will be getting my own mocajete to make salsa and guacamole.  As someone who uses a large food processor on a regular basis, I can respect the benefits of the mortar & pestle method of salsa preparation (mush and roll, mush and roll) for how it blends flavors.  Its not the same as when you pulverize food in the large Kitchenaid or Cuisinart.  Sorry no photos of the guac:  It was too delicious to stop eating and photograph.  And that was the problem with this activity:  I had so much fun chopping and mixing that I didn't take a lot of photos!
The last thing we prepared were Pico de Gallo, and a Mango/Melon Mix Salsa.  Pico de Gallo is something I make on a regular basis but it just tasted better in Mexico.  Maybe it was all those Margaritas?  The fruit salsa was used as our dessert with a bit of Rompope, which is a vanilla liqueur.  It was quite tasty and a good way to finish the food activities prior to dancing.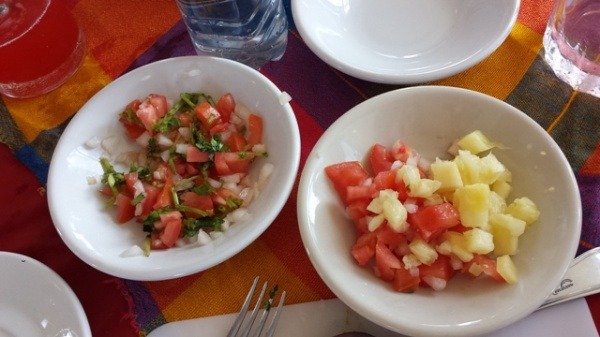 Finally its time to get up and let the staff clear the tables and learn how to Salsa dance!  Here's a picture of what our table looked like after all that salsa making.  Our tablemates had leftovers:  my daughter and I seemed to eat all of our salsa pretty quickly. We were even out of limes which is not unusual as we like a lot of fresh lime in our Mexican food.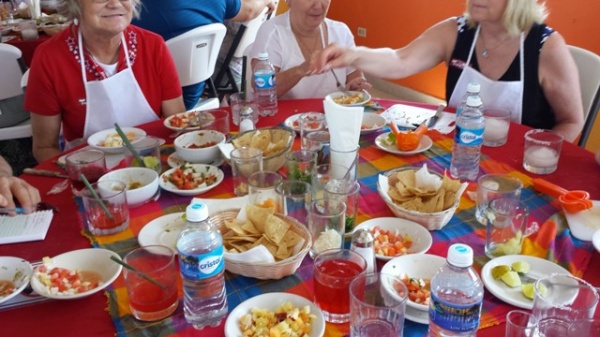 Our cooking instructor now became our dance instructor.  Carla had us line up and learn the basic steps for Salsa dancing and when she was done people paired off and danced.  I confess to being quite full by now, and while I did not get up to dance, hubby and daughter seemed to be having fun.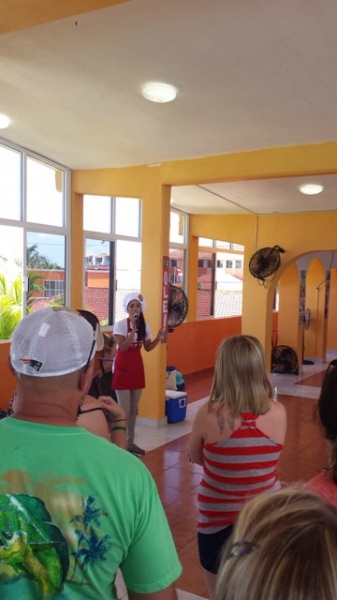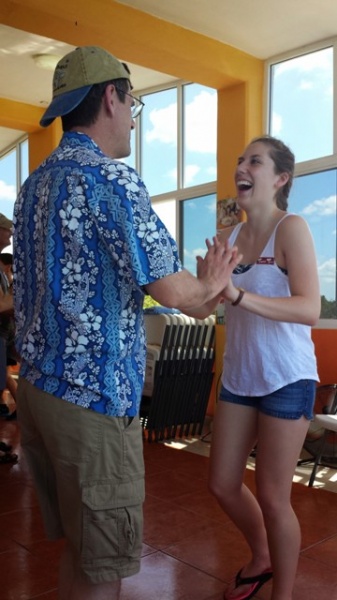 Finally it was time to end things and head back to the ship.  This was probably the most fun I've ever had on a ship excursion and I would definitely book this again.  I don't think its very suitable for small children due to the fact we actually make our food, including the chopping of vegetables, but an older teen with an interest in cooking and/or Mexican food might enjoy it.   My only complaint was that I had to chop veggies with a serrated steak knife which was quite dull.  However people drinking Margaritas and sharp knives for chopping are probably not wise combinations!  As for the alcohol component of the activity–we did have people at our table who had non-alcoholic versions of the Strawberry Margarita.  For people who wanted more drinks, that wasn't a problem either.  There was staff refilling glasses and you could add more Tequila or Controy if you wanted.  I did just fine with what they were pouring and ended up switching to the Hibiscus iced tea.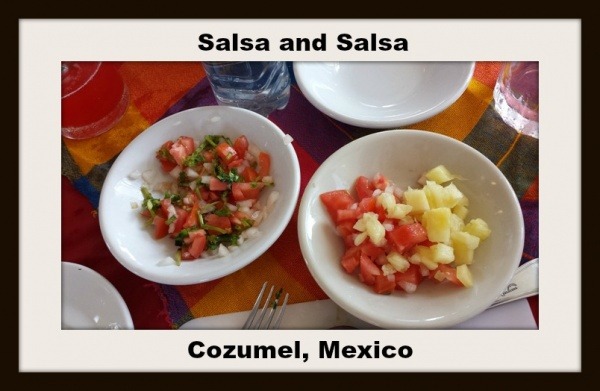 So book a cruise, go to Cozumel, make salsa, drink Margaritas and dance.  Its fun!