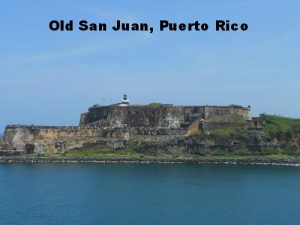 Three Days in Old San Juan, Puerto Rico (pre-cruise)
Not long ago I had a cruise on the Holland America Eurodam that stopped in Old San Juan, Puerto Rico as a port of call and I fell in love with this city.  Since a cruise ship stop never gives one enough time to explore I decided to take another cruise that departed from the Port of San Juan just so I could show up early to do some touristy things.  So for Spring Break three of us (hubby, daughter and me) headed to the island of Puerto Rico to do some exploring and then get on our ship, the Carnival Valor.
Puerto Rico is a US territory and NO passports are required for US residents with appropriate ID, thus making this destination a viable option for something a bit different than a trip to Florida.  Most flights from the USA go into San Juan airport and taxis are plentiful to take you to the tourist zones, which are Old San Juan, Condado and Isla Verde.  Since my cruise departed from Pier 4 at Old San Juan (OSJ), we stayed in the Sheraton Old San Juan and Casino for our three nights prior to the cruise.  This was an incredibly convenient hotel as it related to walking around the city as well as walking to the ship the next day.  (There's also the Pan American Pier which is NOT within walking distance from Old San Juan and will require a taxi.  This is where the Disney Magic will be in September 2014.)
Our flight arrived early to SJU and we obtained our luggage and headed to the taxi stand.  Taxis fares are done in zones and it is quite easy to get on a taxi and be delivered to your hotel.  No rental car needed—nor would I recommend one in San Juan.  After being a passenger in a couple of taxis, and speaking with locals, I learned that traffic signs are merely a suggestion in San Juan.  My first plan was to stay outside of the tourist zone and have a car but further research sent me to OSJ and public transportation—and my feet.  It was a wise decision for us!
We had a very long travel day to get from Indianapolis to San Juan necessitating leaving home prior to 4:45am. We arrived at our hotel, dropped our belongings off in the room and I promptly led the way up the hill looking for a very small hole in the wall restaurant called Fattys (located at 103 O'Donnell Street, Old San Juan) which has been written about in various travel guides.  Fattys is very small and is run by a woman named Yvette with the help of someone in the dining area.  When is say hole in the wall I am not kidding!  This place, if you can find it, has four tables, no air conditioning and no real menus.  If you're lucky you'll get a paper with some selections printed on it, but for the most part your time of arrival determines what you get to eat as she runs out of food on a regular basis, which is a good thing for a small restaurant.  We wanted Jerk Chicken because that's supposedly what she's known for—and we waited, and waited, and waited. The room was hot which felt good after our horrible midwest winter and decorated with a large poster of Bob Marley.  Reggae music was being played and Spanish TV was on with some sort of telenovela.  We engaged in some idle chit-chat with the lady working the dining area until our food arrived.  What took so long was that our chicken was roasted after we ordered it and finished off on the stove in a divine sauce.  It really was delicious. We were so tired and while we waited other people came in and left—and came back for their food.  I figured out that's the best way to have Yvette do your food: order it, go run your errands and come back.  Was it worth the wait?  Yes, I do believe this was one of the best meals I've ever had in the Caribbean.  I've gone to several other little places when traveling and this ranked among the best of them all.  Bellies full, we made our way back down the hill to our hotel as it was approaching 5pm.  Back in the room I worked for a while and hubby went up to the pool to meet some of our other cruise ship passengers.  I think we were all in bed by 9pm because we were so tired.
The next morning (Friday) we headed out to find La Waffle-Era—another Old San Juan unique eatery. http://waffle-era-tea-room.vistilla.com/ After a couple of wrong turns necessitating GPS on the cell phone, we discovered our restaurant was no longer where it was supposed to be. Dejected and disappointed that we were probably not going to have any waffles that morning, we rounded the corner and there it was—they moved and had not updated their web site.  We entered a somewhat open building that was quite spartan in decor and were advised that no credit cards were accepted (bring cash to Puerto Rico because you're going to be hard pressed to find a credit card machine in these small businesses) and we were told to just have a seat.  The building was hundreds of years old –everything in Old San Juan seems to be old and historic– and while sitting there you get the feeling that if the walls could talk the words would fill a book.  We were served fresh pressed Puerto Rican coffee by a young server who had very little command of the English language—which was a surprise as just about everyone we had met until now spoke English quite well.  On a related note, it seems that its the older generation that speaks English well—many of the younger folks, teens and 20's we encountered did not.   We muddled through our menus (in Spanish) and ordered our waffles which were nicely presented.  Breakfast over, we walked towards Calle 2 (Pier 2) for our Segway Tour.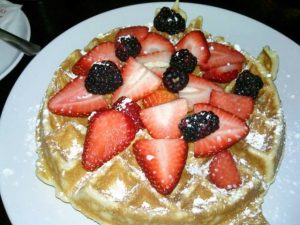 A side note:  I am going to use the word "walk" quite a bit:  this is a very walkable city and we had absolutely no need for transportation after our taxi dropped us off at the hotel.
There is a Segway tour in Puerto Rico (http://www.segwaytourspr.com/) and you can choose from a long or short tour.  Since we had previously been to San Juan and were spending 3 days in town prior to the cruise, I elected the short tour that went along the old wall and sea side of the city.  Our guide, Jose, was quite knowledgeable about the history of the city and in fact it was like having a breathing guide book with us as he explained what we were looking at during our tour.  Turns out that Puerto Rico takes great pride in their tourism industry and most guides have some sort of certification from the government to do their job.  They offer two tours:  Long and short.   I would have liked to have done the longer one but it was going to the forts and we had already spent an entire day on our previous cruise there so it wasn't necessary.  Plus we had other things to do!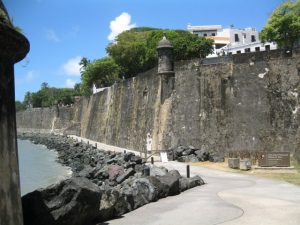 Segways done, we moseyed back up the hill towards a diner called Cafe Mallorca for their famous Mallorca sandwiches.  Basically its a grilled ham and cheese sandwich with powdered sugar on it.  It sounds weird, but it actually works.  The diner seems to be straight out of the 1950's and is an icon in Puerto Rico and usually packed.  The servers behind the counter wear white shirts and bow ties and little black jackets.  They also sell pastries out of the front window.  I liked this place and will go back for lunch.  They are not open for dinner so go early.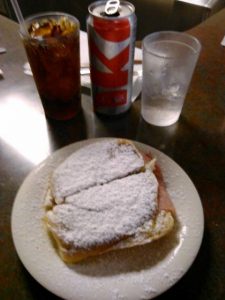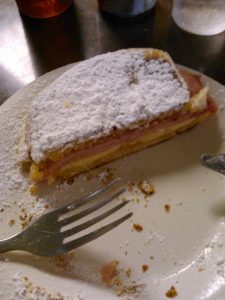 As we still had some things to cross off our Puerto Rico list, it was time to walk back down to the pier and make our way to Casa Bacardi (http://www.casabacardi.org/) across the bay in Catano.  It was 50 cents each way for the ferry, and another $3 per person to take a short taxi ride to Bacardi for the free tour.  We got to Bacardi around 3pm and were given our tour ticket and a two coupons each for drinks featuring Bacardi products.  These were sample size, probably about 6 ounces,  and nothing I'd ever heard of previously—but since I don't go out often at home and don't drink very much that's no surprise!  There were non-alcoholic versions available so the kids and non-imbibers don't miss out.  One of my 'things' is visiting old rum factories in the Caribbean.  I don't really drink the stuff—but I do like the history of these (mostly) old places and the stories behind them.  Anyways, I digress, but we eventually got our tour going and I was really glad it was free!  You hop on a tram for a short (like five minute) ride to the visitor center and then you're brought into various rooms explaining the history of the Bacardi family and the rums they produce.  It was interesting and I'm glad I can cross it off my list.  It was absolutely nothing like the Cruzan Rum distillery in St Croix that I visited on a 7 night cruise on the Disney Magic a few years ago (http://www.cruzanrum.com/lpa/) where you're walking amongst the vats of fermenting sugar.  After the tour was done we headed back to the taxi stand, paid another $3 per person and went back to the Catano ferry station.  It was really nice to sit in the new ferry terminal, which was mostly open to the sea breeze for a while until our ferry arrived.  Then it was back on the ferry to Old San Juan and our hotel to freshen up for dinner.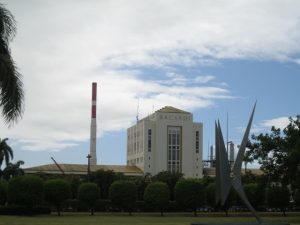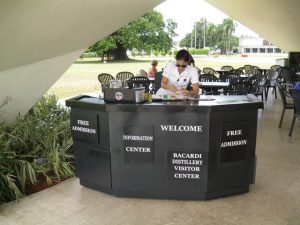 We had a totally unmemorable meal that night at a Brazilian steakhouse wannabe… and to protect the names of the barely mediocre I will decline to write about it.  Suffice it to say this was the Golden Corral of Old San Juan–without the benefit of a buffet and unlimited salad– at twice the price.  Plenty of food but not very good.  I tried to find something nice to write about the place but it I can't, so I'll just skip it.
After dinner we walked back to the hotel and enjoyed the street festival down by the bay with the locals.  Seems they like to gather in OSJ and watch the cruise ships with their families.  Don't know if it was a cruise ship thing, or a Friday thing, but there was entertainment and even food trucks.  Too bad we had just left the lousy restaurant because Puerto Rican street food would have been a better choice.  We made a stop at CVS, which is conveniently located across the street from the main piers in Old San Juan and went back to our room.  (On a related note:  we visited CVS almost daily for things like bottled water, sunscreen, soaps/lotions/potions that we didn't want to pack.)
On Saturday we decided to sleep in a bit, and when we got up we headed to Starbucks.  Now I really have been enjoying Puerto Rico but I notice a shortage of fresh fruit and vegetables where we've been dining.  Since I eat both of these daily, I really needed to find some healthy food.  Starbucks fit the bill because they had fruit cups and oatmeal which sounded pretty good to us.   After breakfast we got on the free trolley to ride the entire route which was interesting, because Old San Juan has a lot of historic things to see which are easy from that trolley. One thing I saw this trip was what I would call "Memorial Drive" in front of the government buildings.  We were going too fast for decent photos, and it was on the loop up towards the fort, but there are some beautiful memorials in this area.   Eventually we got off close to the stores and ended up doing some shopping at the outlets.  I was able to talk to some of the girls who worked in one of the shops about why they had been closed the past two days.  Apparently when there are no ships in port, there are very few shops open.  Since there were a couple of ships that day (Saturday) everything was finally opened. We picked up a couple of things for the teenager at the Guess outlet and headed back to the hotel.  Dinner that night was going to be at Restaurant Barrachina with some of our cruise ship passengers that I had met online.
Restaurant Barrachina (www.barrachina.com) , located on the main tourist drag of Forteleza Street,  was probably the highlight of our three days in Old San Juan.  This is the birthplace of the original Pina Colada in 1963 and they offer some really great food as well as a Flamenco show on Friday and Saturday nights.  The three of us had a really great meal here as well as a delicious Pina Colada, and saw something I had never seen previously – Flamenco dancing..  The show was narrated/sung in Spanish, and I had absolutely no clue what they were singing about, but the four performers (one male and three female) had different emotions while they were dancing so I'm going to take a guess and say there probably was a story going on which they were acting out.  Unfortunately because we no habla Espanol we don't really know but that did not diminish our enjoyment of the show.  Having never seen Flamenco dancing I have to say it was quite dramatic with dancers strutting and pounding the stage.  I kept wondering how much they had to ice their legs for shin splints.  It was a great show and I'd see it again.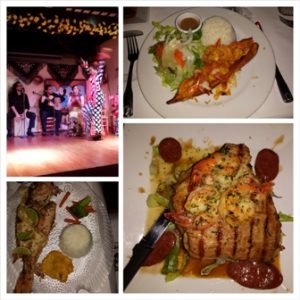 The next day, Sunday, we woke up and saw our ship, the Carnival Valor, outside the hotel window.  We packed up, checked out and walked across the street and boarded.  That was it: no taxis, no shuttles, no standing in lines to get anywhere.  Easiest cruise embarkation ever when you're at the Sheraton Old San Juan and your ship is at Pier 4.
The question for those of us who travel is:  Will you go back there?  For me, Puerto Rico is a resounding YES.  I truly enjoy this island, the people, the food and the sights and will end up back there eventually.  Might even get a rental car and go outside the city and do the things we had no time to do such as the island of Vieques, Bio Bay and El Yunque rainforest.