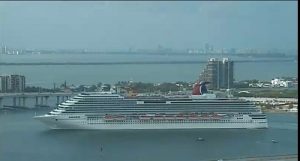 I had the opportunity to sail Carnival's newest ship, the Carnival Breeze, and what an amazing, beautiful ship she is! Gone were the loud colors, replaced by beautiful subtle ocean colors. I love this new look that they're going with and hope they continue with all of the ships. I loved this ship!
The Carnival Breeze currently sails out of Miami and the check in was one of the easiest I've ever had. We pretty much didn't stop walking until the 2 minutes we were giving our paperwork to them, then right on to the ship. As with all cruises, they direct you to their buffet, which is the Marketplace on deck 10. There are 2 large sections, with some of the same offerings in each, then with specialty areas. In one you'll find the Mongolian Wok, which is quite popular and can have very long lines. Any time we saw just 2-3 people in line we jumped in there as this is one of our favorites. They also have a deli where you can get hot or cold sandwiches, which again, is quite good. At the back of the ship you'll find pizza and Tandor for an Indian flare. Before the Marketplace is Guys (Fieri) Burger Joint where you can choose a specialty burger or just go to the large offerings at the toppings bar, which has about anything you would want on a burger. This was also quite popular but the lines moved quickly. On the other side of the ship was the Blue Iguana Cantina where you could get burritos and tacos. They also offered breakfast burritos here in the mornings.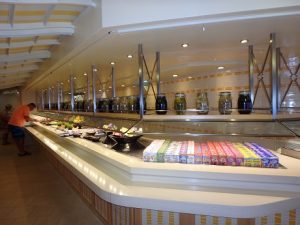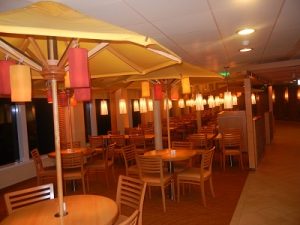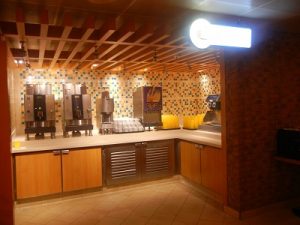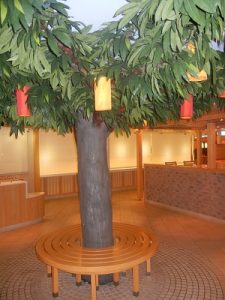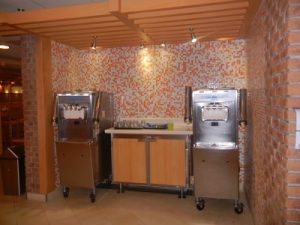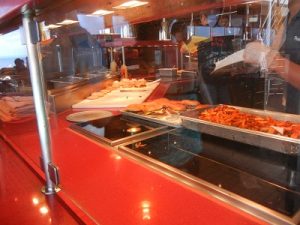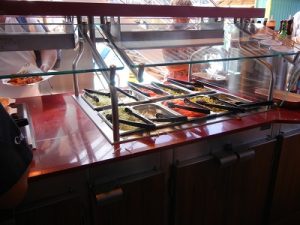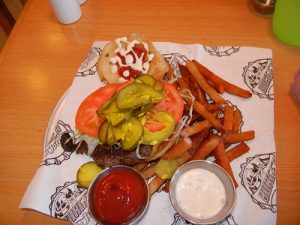 While we're discussing food, there are several good choices around the ship offered at different times. On sea days you have Fat Jimmy's C-Side BBQ on deck 5 with brats, pulled pork and similar items. There is also a very good salad bar on deck 5 by the Ocean Plaza, which is also located next to the coffee bar for specialty coffees selections.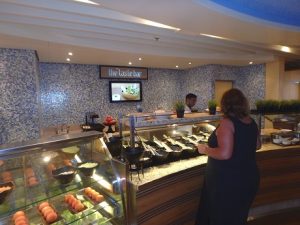 The salad bar is in the Taste Bar, which also has breakfast items in the morning and appetizers from the specialty restaurants at night. There is a pasta bar in Cucina del Capitano, which is above the Marketplace, that is free for lunch on sea days but does have a small surcharge for dinner.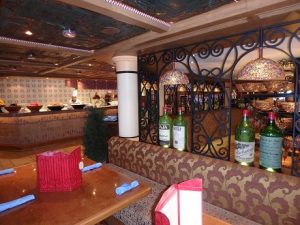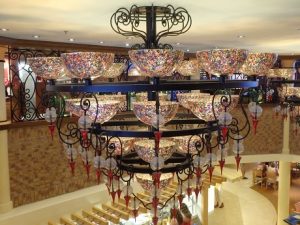 There are only 2 specialty restaurants that carry a surcharge, with the other being the Fahrenheit 555 Steakhouse.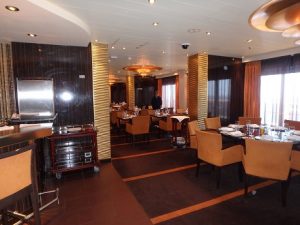 There is a sushi bar as well. The sushi bar and coffee bar do have a separate fee but the other locations I've mentioned are free.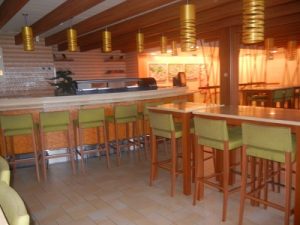 There are 2 main dining rooms-Blush and Sapphire.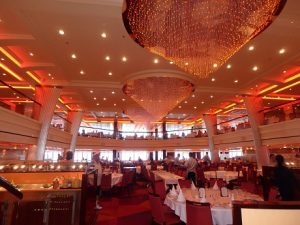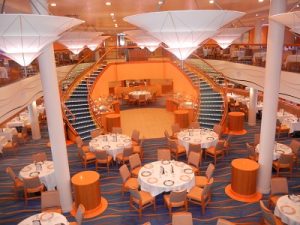 Our stateroom was a Cove Balcony, which is my favorite category on Carnival.
It's on deck 2 where it is close to the water to watch those flying fish yet shaded by the lifeboats overhead. We were midship so very convenient to just about anything on the ship. The midship elevators come out right at the Marketplace. The stateroom was a typical 185 sq. ft. with a larger bathroom (in cruise standards) and plenty of storage. The balcony held 2 chairs and a small table.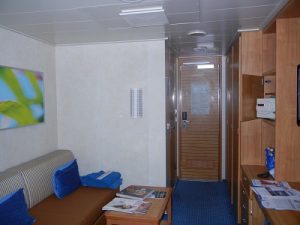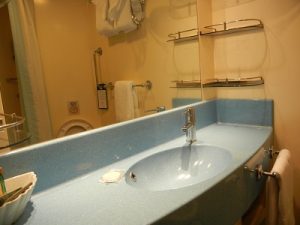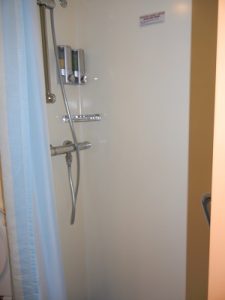 One feature I really like is on the TV where you can check your shipboard folio, order room service, see the dining room menus, purchase spa treatments and shore excursions. You can make sure your room charges are right without standing in line at Guest Services. You can also check your folio at kiosks located in the lobby as well as add funds to your account there as well.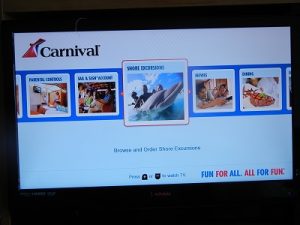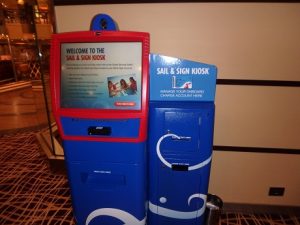 Something new to us was the Thrill Theater, which is like a simulator ride with sensory effects. They had 6 different short films. Some were a little rough but I found if I sat up away from the back of the seat it wasn't bad. There are a lot of special effects including fog and water sprays. They show at different times of the day each day so it's not hard to see them all at some point during your cruise. One show is $8 but you can get all of them for unlimited viewings for $15, so a good deal if you enjoy these. The theater is rather small with maybe 25-30 seats but only once was it full when we were by there so it wasn't hard to get in to see the films.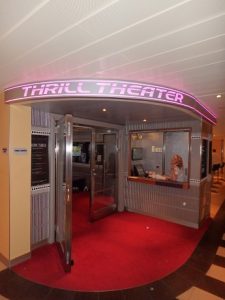 Nighttime brings a variety of things to do. There's a show in the main theater, the Ovation Theater, as well as comedians in the Punchliner Comedy Club located in the Limelight Lounge.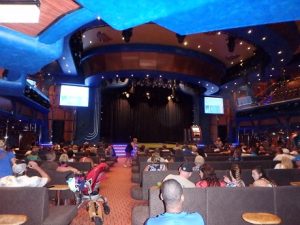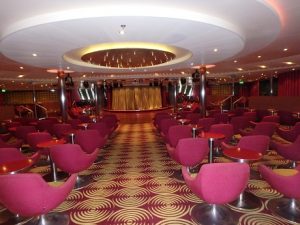 There is karaoke, dancing in the Ocean Plaza and Liquid, music in the Piano Bar 88, Red Frog Pub and the Atrium Lobby.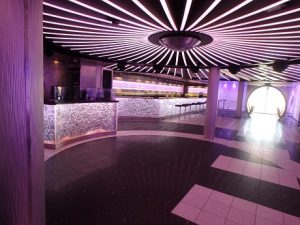 All sea days and each night the casino is a busy place filled with cheers and tears. You can also watch movies at the Seaside Theater by the pool and enjoy a box of popcorn while catching a current flick. This cruise seemed to be middle age and older aged passengers for the majority of the guests although you did see people from all age groups. It truly is a ship for all ages.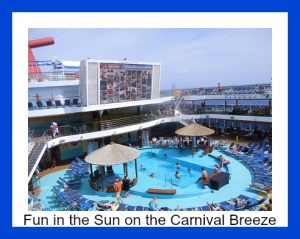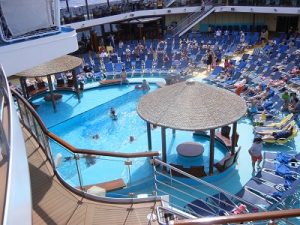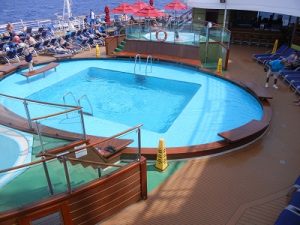 For the adults you have Serenity, and adult only area on the deck, as well as the spa and fitness center.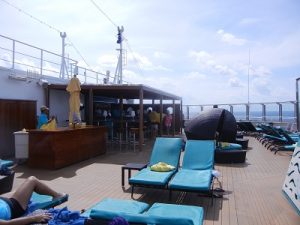 The children have their own space in Camp Carnival, Circle C and Club 02. Each day they have activities designed just for those areas, which are age appropriate. They have Waterworks with slides and a water play area for the little ones. There is also a rope course and SportSquare which includes mini-golf, ping pong and a basketball court.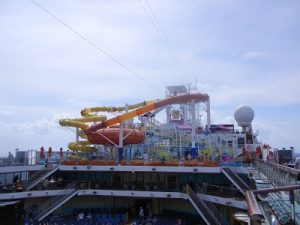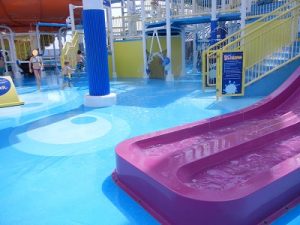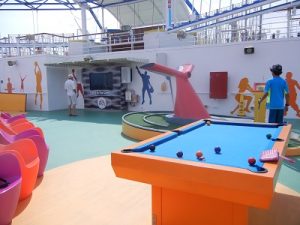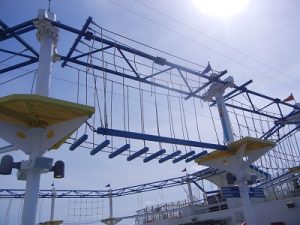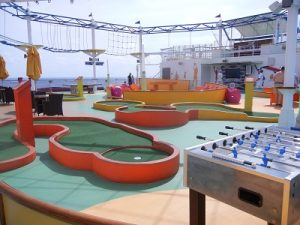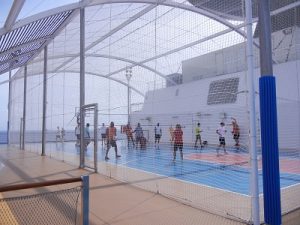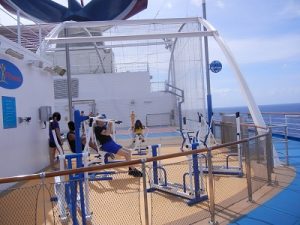 There are the normal shops, including a candy shop that is quite popular, the photo gallery, the Fun Hub, which is in several locations with computers for you to use. They have internet packages or you can pay by the minute as well as the Carnival website being free. You can also use your own laptop around the ship and in your stateroom.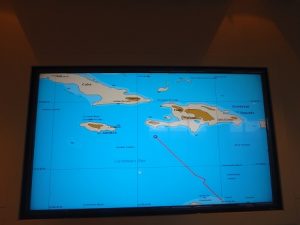 Carnival has a lot of ships so there is one out there for everyone. This ship was by far my favorite of any Carnival ship I've sailed, though, and I'll be happy to do so again in the future. As you can see, this truly is a cruise for all ages and it truly is The Fun Ship!