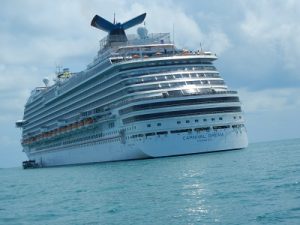 I attended the christening of the Carnival Dream in 2009 and after that visit I've wanted to go back to spend more time on this beautiful ship.  Since she is leaving Port Canaveral to go to New Orleans I decided I'd better get a trip in before she left.  I did enjoy the ship this time as well and am glad I went.  This wasn't my first Carnival ship and I did find differences from the past but enjoyed the cruise and was very glad I'd gotten to spend more time on the Carnival Dream.
We arrived at the port around 1pm, with ample parking available in their parking garage, and walked right in to the terminal to check in, then on to the ship.  This was by far the easiest embarkation I think I've ever had on any cruise line.  Other cruise lines I'm at a higher level so usually go to a special check in area that makes them easy, but I haven't been on enough Carnival cruises for this to be the case.  Carnival handles this amazingly well and makes it a very good experience.  I do understand that it was easier by arriving later, as well.  We were car to ship buffet in less than 20 minutes.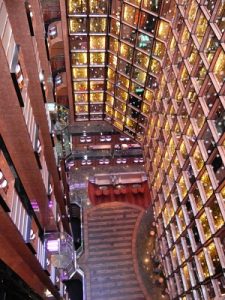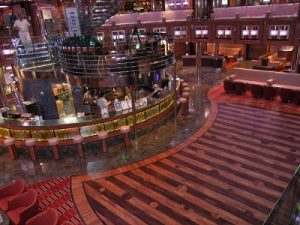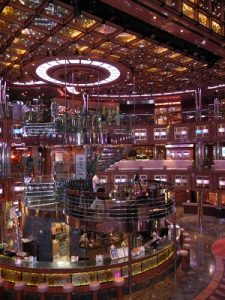 The first impression of this ship is glitz and glitter.  Everything shimmers in all of the public areas.  You enter into the atrium where you'll see a dance floor and bar.  Instead of midship, this area is forward.  Since you can't get into your stateroom until around 1:30pm usually you head to The Gathering, which is the buffet on deck 10.   There are ample elevators so the wait here isn't usually too long.  The buffet food wasn't anything spectacular, but there were several choices.  One odd thing at breakfast is that they dish out the bacon, but they give you plenty, although it's just odd they don't let you get your own.   They do walk around to the tables with a cart with juices and pastries in case you get low.  They also have flavored butter—one day it was strawberry, another peach, with a different flavor every day.  One of the most popular areas is the Mongolian Wok and the line gets long quickly.  If there are more than 10 people in line expect at least a 45 minute wait.  This is an area you should hit early in the day if possible as it is very good and not to be missed, hopefully when you don't have to wait too long.  The drink station has coffee, tea, punch and lemonade and is available 24/7 as are the ice cream machines, all located in The Gathering.   Above the buffet is a pasta bar that is often overlooked.  You pick the pasta and the sauce.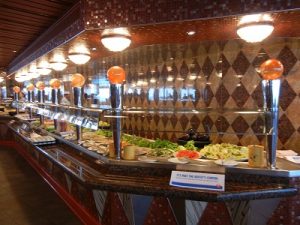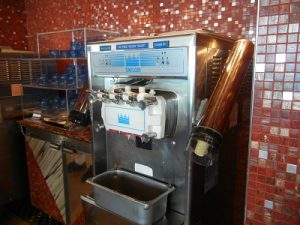 There are a lot of dining options on the ship—of course, it's a ship and that's what you do on a cruise—eat!  Along with the drink station and ice cream, pizza is also available 24/7.  They have a list of available pizzas but I mainly saw pepperoni and margherita pizza available.  They give everyone 2 pieces, generally, so with just 4 pieces to a small pizza they go quickly.  They do a good job of keeping them coming out, though, and the pizza was quite good.  Along with The Gathering they also have 2 main dining rooms, Scarlett and Crimson, a deli, Tandoor Station, room service and the Chef's Art Steakhouse, which does carry a surcharge of $35 per person.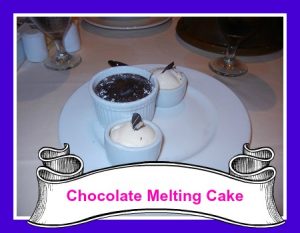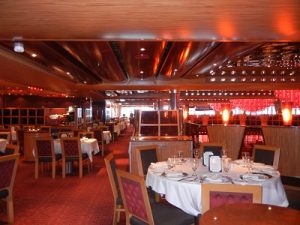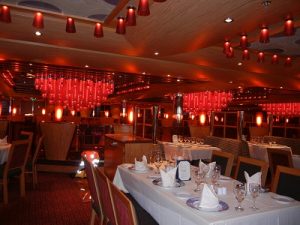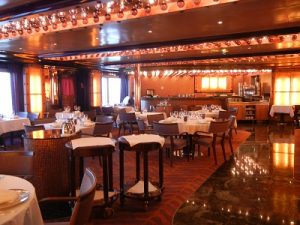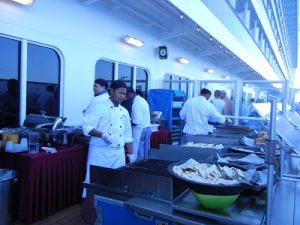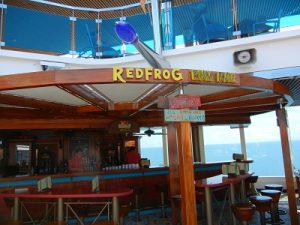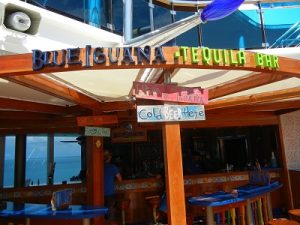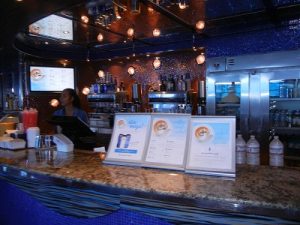 We had a cove balcony (category 7C) due to the recommendation of one of my clients.  I wasn't really sure if it would feel open enough, or more closed in like the Navigators Verandahs on some of the Disney ships.  I don't like them, but she assured me they weren't, and she was right.  We loved them!  They are on deck. 2 (which seemed higher, more like deck 3 or 4 on other ships).  Two decks higher were the lifeboats that hung out away from the ship and offered some welcome shade.  There is enough room on the balcony for 2 chairs and a small table and a very pleasant place to spend some time.  Probably the best part was in port.  We were just above the pier and between both gangways so we did a lot of people watching.  Carnival puts out a very nice reception area with a canopy, some ice-cold towels and ice water, which was a very welcome spot when returning from a hot island.  About an hour prior to the time to leave the DJ comes out and cranks up the music.   This is a great example of why this is the Fun Ship!  What a great way to make people from the other ships around us want to cruise Carnival next time.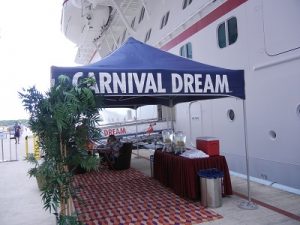 The stateroom was roomy enough with plenty of storage and closet space.  There was a king bed as well as a couch and table.  The desk area had the cooler (this was nothing even close to a mini-fridge and didn't keep our water much cooler than room temperature), safe and more storage.  The cooler is filled but we were told to just set the stuff in there aside and we wouldn't be charged.  We were able to find room for our water without removing anything as we didn't want to chance it.   The bathroom had the most storage of any ship I've been on, which was nice.  The shower had shampoo and body wash.  Everything about the stateroom was comfortable for 2 adults.  At night you get the normal chocolates and towel animals, which is always a fun way to end your night.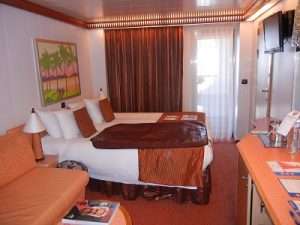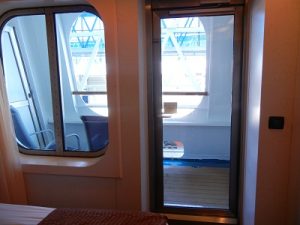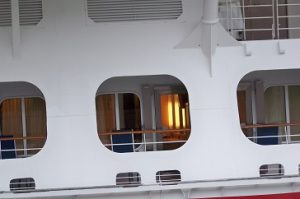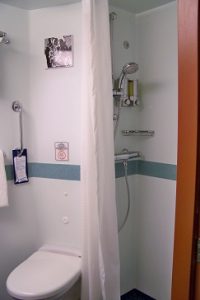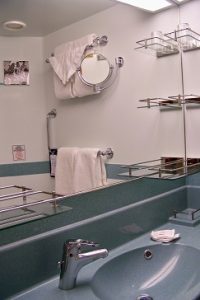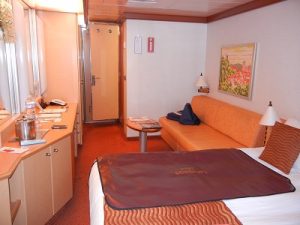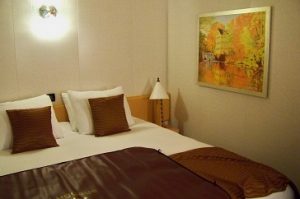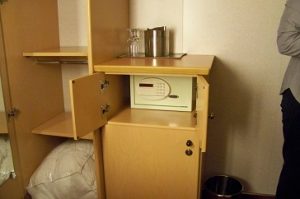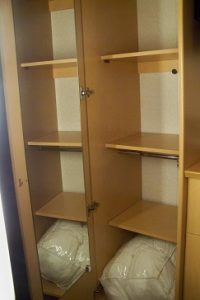 The Carnival Dream has plenty to do with 2 pools, a large Waterworks with slides and a water play area for all ages as well as several large hot tubs.  There is also a mini-golf course, basketball court, spa, casino and several lounges.  There is always something showing on the big screen at the pool and at night there are movies, and they even serve popcorn!  The main theater, Encore, has production shows as well as guest performers.  There were 4 nights of their production staff, and the shows seemed to be pretty much the same with different themes.  They should cut one and have another guest, maybe.  The theater is great, though, with good leg room and on the main floor there are little tables to set your glasses or snacks if you have any.  A lot of the seating are bench-type and in the balcony there are also regular seats, that don't have as much leg room.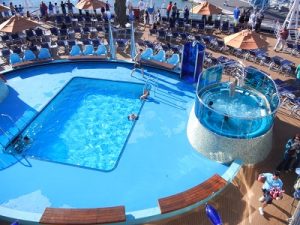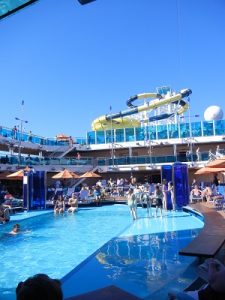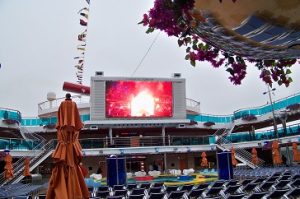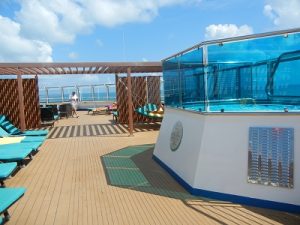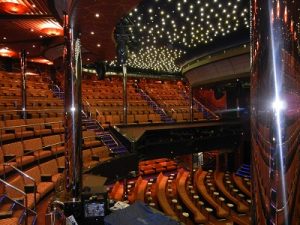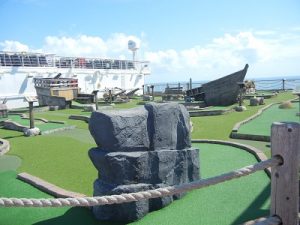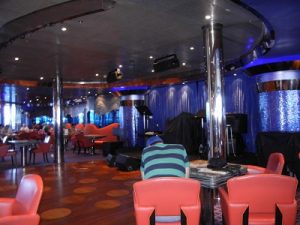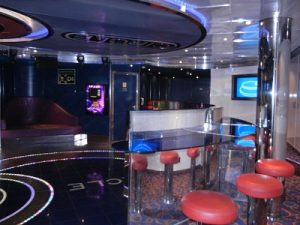 Circle C for ages 12-14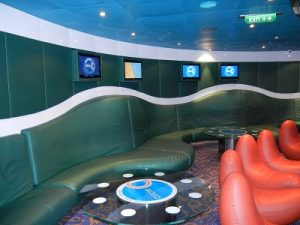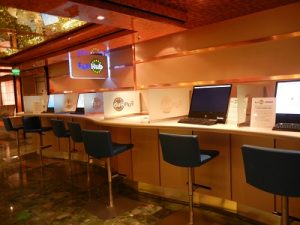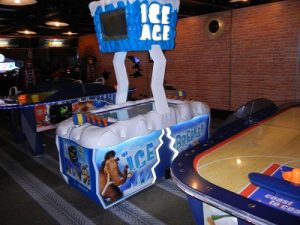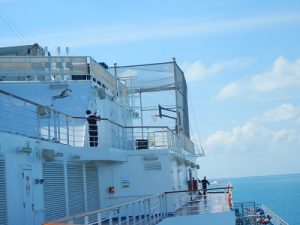 Your stateroom folio can be seen on the TV in your stateroom as well as kiosks located near Guest Services.  You can also go to the kiosks and add more money to your account.  This is certainly better than waiting in the lines for Guest Service and is nice to be able to keep an eye on your stateroom charges!
There are photographers everywhere, as usual, but they don't bother you if you tell them you're not interested.  The main problem is if you do get your photo taken, it's very hard to find them in the photo gallery.
One morning there was a towel animal explosion at the pool.  There were lots of towel animals on many of the lounges-all different.  The crew had worked hard to make such a wonderful surprise for the guests.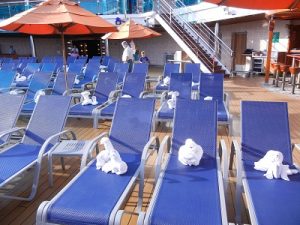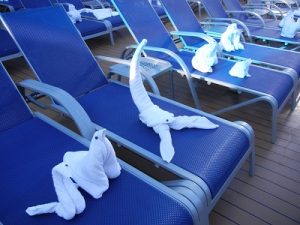 You do have to get a tender ticket on any island that has a tender.  This was done in the Burgundy Lounge but the wait was made better by a big screen showing shows similar to America's Funniest Home Videos.  It certainly made the time go by as there was quite a long wait.  You're given a number when you enter, then they will call numbers to go down to board the tender.   This is still better than standing in a long line on deck 1 waiting for a tender.
This is a beautiful ship, with the décor not as loud as many of Carnival's ships.  The clientele ranged from young 20's, to families with young children, to seniors, so they are certainly making sure their ships are for all ages.  They do a good job in entertainment and activities for all age groups and certainly lived up to being a Fun Ship!  I'm glad to see Carnival changing their image, at least on longer cruises, and look forward to cruising with them again.