I was recently offered the opportunity to sail in the Carnival Pride for a week to the Bahamas.  Carnival is asking travel agents to promote their brand by inviting them to cruise as a passenger instead of a travel agent (which we typically do for training). This would enable us to experience the cruise as a guest rather than an agent with possible special perks.
This would be only my second cruise on a Carnival Ship, the first being a 4 night cruise out of New York to Canada about 7 years ago. We sailed on January 5 out of Baltimore, a 3 hour ride from our home in New Jersey.  The cruise terminal in Baltimore, while not the newest, has to be one of the easiest to get to and depart from.  It is located right on Interstate 95.  You park just outside the terminal building for $15 a day. We dropped off our luggage, paid for parking and then  parked no more than 50 feet from the door.
The Pride is a smaller ship, compared to all of the latest and greatest, built in 2001 and carries a little over 2000 passengers.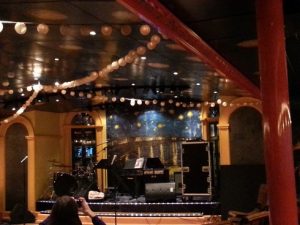 There are many entertainment venues, including the Taj Mahal Main Lounge, a smaller lounge use used for the comedy shows called Butterflies, Beauties Dance Club, the Winners Club Casino, Perfect Game Sports Bar, Starry Nights Jazz Club.
As well as other smaller bars and lounge areas located throughout the ship.
George Lopez sponsors the comedians on board who perform most nights in Butterflies. There were 4 different comedians on board and they were so good, we actually went to 6 different shows in 3 nights.
We arrived at the terminal around 11:00 am and were aboard the ship in about 20 minutes.  I had purchased what Carnival calls "Faster to the Fun."  This is purchased as a shore excursion and costs $49.  It has very limited availability and provides a few different amenities.  Among them are early boarding with your stateroom guaranteed to be ready, a special Guest services line and priority tendering in port.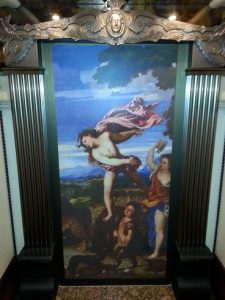 The décor on the pride is based on the Renaissance, lots of famous paintings all over the ship (mostly nudes) and a very dark interior. You case this from  the pictures here.
The Pride has one main dining room with 2 fixed seating at 6 and 8:30. They also offer Your Time Dining where you can eat at any time you want.  We signed up for this, and liked our servers so much that we requested to sit in their section each day. This sometimes entailed a short wait of 10 minutes or less for a table.  The food was very good to excellent.  Each nights menu had a didja section (as in did you ever) where they offered a unique item such as alligator fritters,  escargot, sushi and frog legs.
On sea days they open up the main dining room for Sea Day Brunch and serve from early morning to late afternoon.  It was never crowded during these times.  The menu has both breakfast and lunch items. Also available for breakfast, lunch and dinner is the Lido Buffet.  Here you can find wide variety of items including self-serve ice cream and 24 hour pizza all arranged in different stations, so there was never a long slow moving buffet line. They also offer 1 specialty restaurant at $30 per person, David's Steak House.
Our ports of call on this sailing were Port Canaveral, Nassau and Freeport in the Bahamas. Since my wife had not been to Disneyworld in a while, we opted to take the Carnival sponsored shore excursion to the Magic Kingdom for the day.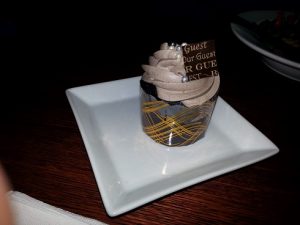 We had a great time, ate lunch at Be Our Guest, and visited all the new Fantasyland attractions as well as all of our old favorites.  We were actually in the park from opening at 9am until 4:30pm when our bus left for port.  When we arrived back at port, they actually  pulled the gangway in behind us and left immediately!
Next up was Nassau.  I found a private shore excursion on line through tripadvisor called Tru Bahamaian Food Tours.  It is a 3 hour walking/eating tour of Nassau.  The cost was $69 and it had to be one of the best shore excursions that we ever took.  We visited 7 local dining establishments and sampled different types of food at each. Along the way our tour guide, Murray,  told us about the history of Nassau and the Bahamas. 
Next time you are in Nassau, I encourage you to take this tour.  Let me know of you are interested and I can give you a code for 10% off and say hi to Murray from me!
In Freeport, you dock at a shipyard, we opted to stay on the ship here, as there really is not much to do here unless you take a 20 minute taxi ride into town or book an excursion. There are some small food and trinket vendors there, as well as a small Straw Market.
My overall impression of Carnival was very good.  Would I sail with them again, definitely yes!  Carnival is considered to be a cruise line for the budget conscious and usually more affordable than some of the other mainstream cruise lines.
To book or if you want any more info on Carnival Cruises, contact me. Here is a link to the Carnival Cruise Vacation Guide