Looking for an upscale cruise without the upscale price?  Try the Celebrity Reflection!  This ship has lots to offer in a beautiful setting and the tune is set when you first step on the ship and are handed a flute of champagne.  Nice start to a wonderful week.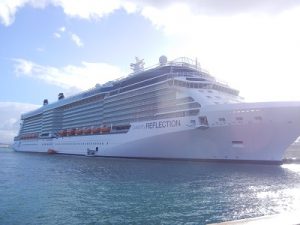 The ship is a modern design with some very interesting art scattered around the ship.  There were quite a few places that made us just stop and say hmmmm.  One of these is a flower room that is at the entrance to the area that houses the specialty dining rooms.  There are flowers on the floor, walls and ceiling, with a bell that rings sporadically.  We were told that was a Chinese
thing to release stress—no idea if that's right, but it was interesting.  Further back in this area the walls look like a forest with holes in the trees, and a log with chair backs mounted on it at odd angles.  Strangely enough, this was actually comfortable.  The music was also more modern and with the older clientele on this ship, not exactly fitting.  I did hear a lot of complaints about that.  There was also an interesting tree midship, with a live tree on top, and the roots hanging below, all suspended.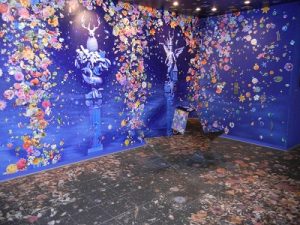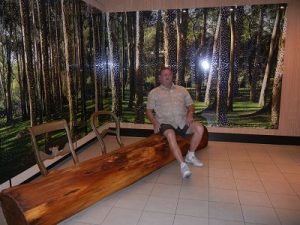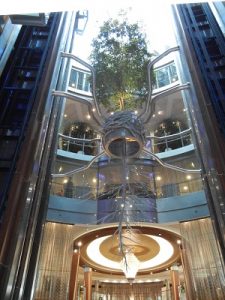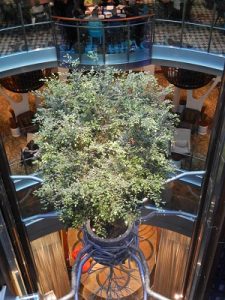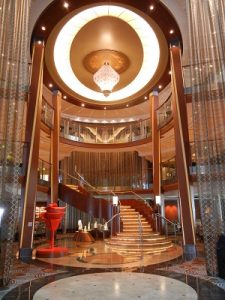 When you're at port there is a tent set up by the gangway where they offer ice water, ice-cold towels and comfortable seating (although very little seating), but after a hot day in port, the towels are wonderful!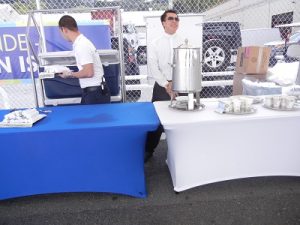 The most unique area is on Deck 15, where you find the Lawn Club, which is a feature of the Solstice class ships.  Around this area you'll find Alcoves that can be rented for the day where you can just relax in your own space.  I saw a few used, but most were empty any time I was in that area.  These rent from $99-$149 and are great for those that want some space without someone right beside them, but I didn't see a lack of available lounges available in the public spaces.  You can also purchase picnics to eat there on the grass (yes, it's real grass) for $50-$90 dollars.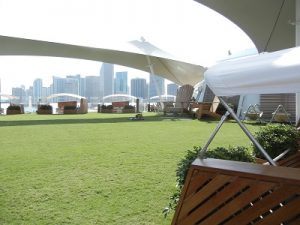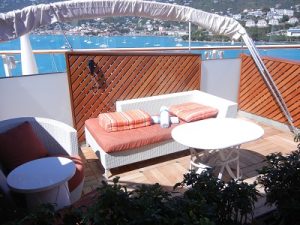 There are a lot of cozy places to gather to read, visit or just people watch.One of my favorites is The Hideaway on deck 7.This has some very interesting seating choices but best of all is a good place to grab a cup of coffee without going to deck 14 to the Oceanview Café.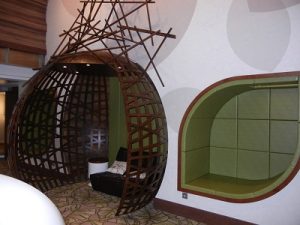 There are several specialty restaurants as well as many bars and lounges, a coffee bar and gelato counter.We were in an Aqua Class stateroom, which enabled us to dine in Blu instead of the main dining room.We only ate breakfast there once, though, as we were with friends and the food and service in the main dining room was fantastic, so we were very happy eating there.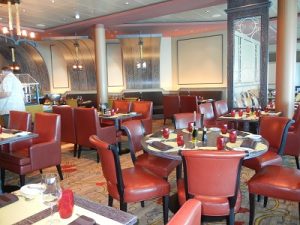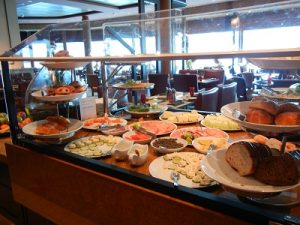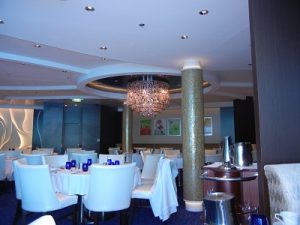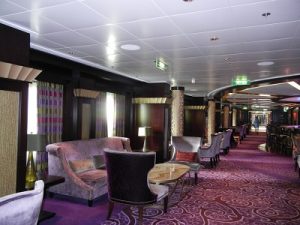 There are the normal clothing, jewelry and souvenir shops on board, but many more of the high-end jewelry shops than I've seen on most ships.
The Aqua class staterooms have several benefits, with the first being seen in the terminal as they have a separate check-in line and lounge, then they are called first to board so we were the 3rd people to board the ship.  They are the only ones that automatically have dining in Blu, as well as admittance to the Relaxation Room and Persian Gardens with its heated, tiled lounges, various steam rooms, sauna, icy room and topical showers.  The Relaxation Room was a great place to sit when we were pulling in to port as we had the same view as the Captain.  These staterooms also came with bottled water and gourmet iced-tea and canapes every afternoon.  We also had fresh flowers and fresh fruit daily.  You get upgraded toiletries, an upgraded shower with several jets and nice oversized towels.  The bathrooms on this ship are larger than most which is very nice.  There were also umbrellas and binoculars in the room for your use.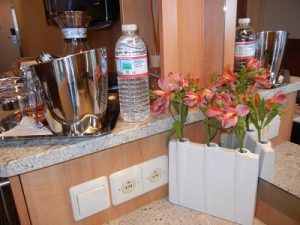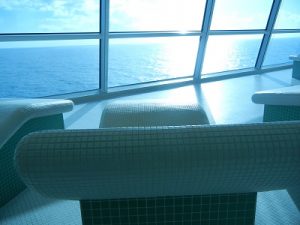 The entertainment was just ok as far as the production numbers go although Reflection was the best of the shows with a Cirque feel to it.  They did have a great a capella group, Uncommon Ground, which everyone seemed to really enjoy.  The best entertainment, by far, was Sin City, although the burlesque act could easily have been left out.  They did the same show a few times during the cruise, with a few little differences in the act, but all very funny.
As I mentioned, there are a lot of choices for dining, although we mainly stayed with the Oceanview Café and the main dining room, Opus.  We found the food to be some of the best of any cruise we've been on, in both locations.  The Oceanview Café never seemed crowded, no matter what time of day, which is due to the many stations they have so the people are spread around throughout the food stations.   These included antipasto, salad bar, cheese bar, pasta, burgers, Mexican, stir fry, Indian curries, sandwich bar, carving station, and best of all, hand-dipped and soft serve ice cream.  You can also get M&M's and gummy bears for topping, but I grabbed some for a snack.  The food in there was always fresh and well stocked.  The main dining room had one menu that was available every day, which included French onion soup and escargot, steak and crème brulee, with the other side of the menu changing daily, so there was always something that you liked.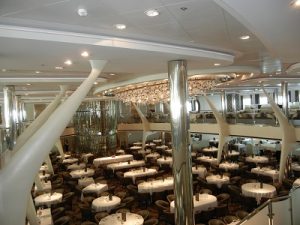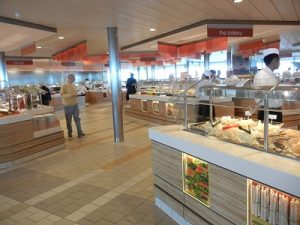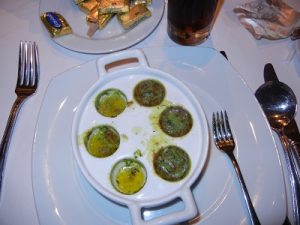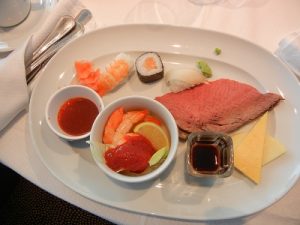 One of the favorite things I found was the game tables in Game On.  Any other ship has board games but this has games built in a table so you can choose from several.  It was really neat, and usually all of the tables were full.  I'd never seen these game tables and just loved them.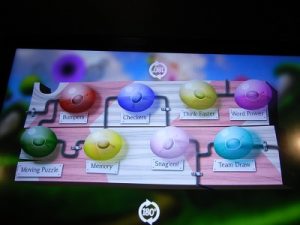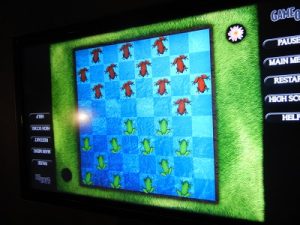 The internet café iLounge was also quite large with more computers than I've seen on other ships.  They also sell Apple products and have staff in there quite a bit of the day to assist anyone that needs it.  One day they offered a free class on how to use an iPad, which was very well attended.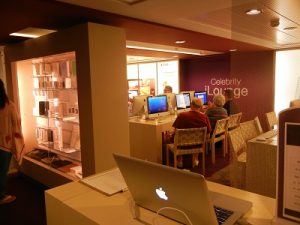 The stateroom is a nice size and the same as all of the other balcony staterooms, but the downside is storage, or lack of.  The only shelves were located above the bed, so not convenient.  There are 3 drawers and plenty of storage in the bathroom, but more in the room would have been really nice.  The balcony has 2 reclining chairs with footstools and a large table, so very comfortable.  There are lifeboat directly below but they didn't interfere with our view.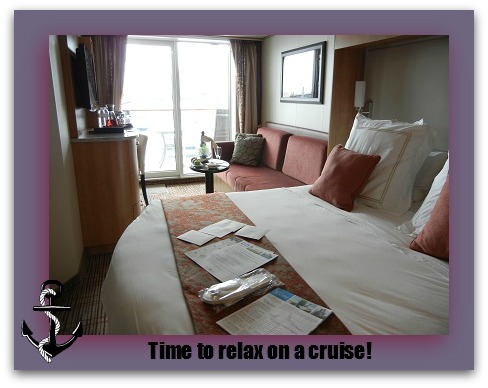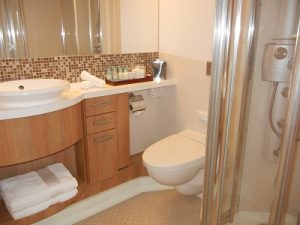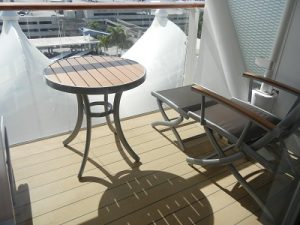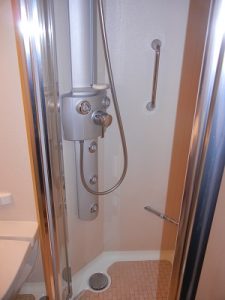 A very nice service is the luggage valet service offered for when you disembark.  For just $20 they'll check your luggage and give you your boarding passes, so when you set your luggage out at night the next time you see it is at your final destination.  If you have a later flight, too, this gives you the opportunity to spend some time in the city rather than sitting at the airport.
The demographics seem to be people age 50 and up although there were a few children, and they did have a kids club but it probably wasn't busy since there were only a handful of children on board-if it was even open much.  This really isn't a ship I would recommend for people with children if they're looking for great entertainment for them as I didn't see that there was a lot offered for younger people.  Due to this, and what also makes it so enjoyable, is that there aren't a lot of loud, drunk partiers onboard.  In fact, there were times I saw people go to the bar since they weren't constantly pushing drinks.
The one thing that really stood out on this ship was the crew.  They were by far the friendliest of any ship we've been on, always had a smile and always spoke when you were near them.  Our stateroom attendant Sherwin was wonderful and always yelled down the hall if he saw us, and always called us by name.  Our dining room server and assistant were wonderful, although the server was hard to understand at times and never called us by name, which we usually have on cruises, but the assistant remembered what we drank and always had it waiting when we arrived.  The sommelier and head server stopped by to chat every night and were extremely pleasant.
I wasn't sure if this was a cruise line for me, but I had a great experience on this beautiful ship and booked another cruise before I ended this one.  It was a wonderful experience and I'm anxious to do it again!