I had been planning this vacation for a long time. My best friend since pre-school, decided she was going to have a destination wedding on October 26, 2013. Renee (my best friend) and her fiancé, Kevin, chose to have their destination wedding at Sandals Regency La Toc Golf Resort and Spa in St. Lucia! I had never traveled out of the country before, so I knew this was going to be quite the experience! I quickly made sure I had my passport in order and started looking at booking airfare and my resort stay.
Skip ahead to October 25, 2013, which also happened to be my 25th birthday! My boyfriend, Charles, and I had a 6:00am flight at Chicago's O'Hare Airport to Atlanta, and then catch our flight to St. Lucia. We flew Delta, and didn't have any problems with either flight!
We arrived in St. Lucia around 4:00, but didn't arrive to our resort until 5:30, as it was a 90-minute ride from the airport to the resort. Right from the minute we grabbed our bags from baggage claim, Sandals gave us the royal treatment! They took care of our bags, and took us to a special lounge only for Sandals customers, complete with the famous "Rum Punch."
We chose the Sunset Bluff Oceanview Club Level Room category and absolutely loved it! We had a gorgeous view of the Caribbean Sea and it was right across from one of the three pools at the resort.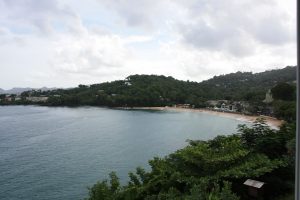 October 26, 2013 was the day of the wedding. Charles and I spent the day with friends on the beach. We ate lunch at the "Pavilion Restaurant" near the main lobby and pool. It served many different types of food to please everyone. A definite highlight is all of the fresh fruit, especially the bananas! St. Lucia is best known for their bananas.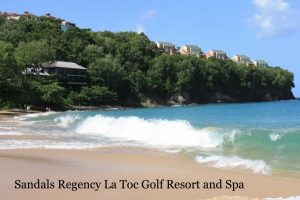 The wedding was beautiful. It took place at sunset in a gazebo overlooking the beach. The reception was at a restaurant on the beach. It was a great time!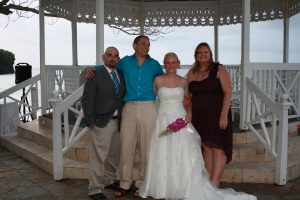 Sandals La Toc Regency offers several restaurants for couples. Some restaurants require formal wear, while others are resort casual. Our trip was so short, that Charles and I were only able to try four of the restaurants.  Two of the restaurants require reservations. We only had service problems at one of the restaurants, but we decided it was because it was a really busy time. Our favorite was the Italian restaurant. They had authentic Italian cuisine and our service was spectacular.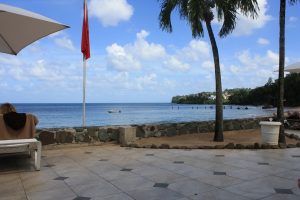 Overall, Charles and I had a wonderful experience at this resort. I would definitely travel to an all-inclusive Sandals resort again! Sandals offered superb service, food, and entertainment for our weekend trip. I recommend the Sandals brand for couples of any age!