Caribbean Princess Southern Caribbean Cruise Highlights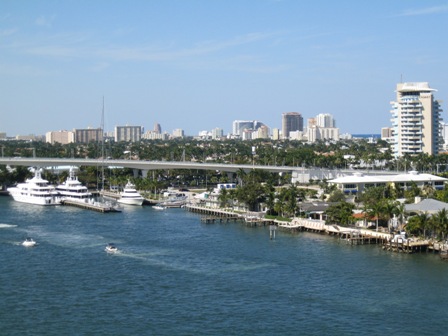 For my last family vacation we did a Southern Caribbean cruise on the Caribbean Princess out of Ft Lauderdale's Port Everglades.  I like Port Everglades a lot for cruises because it is so easy to get around in town and to the ships themselves.  Taxis are easy to get and its usually less than 20 minutes from the airport to the cruise terminal.  Cruises out of Port Everglades also make it easy to pick up any last minute items you might have forgotten due to the number of grocery stores in the area.
Since this was going to be my son's last family trip for a while (he was a senior in high school and college next year meant that school breaks didn't match up) we wanted to do something different.  We did "different" in the form of Princess Cruise Line and a southern itinerary to Aruba and Curacao, which meant several more days at sea than I usually like, but it was just part of getting to where we needed to go.  Our destination was just a little bit north of Venezuela.
My son and I had previously sailed Princess and I was a bit on the bored side for that cruise but I decided to try it again and the new itinerary was interesting.  This time the four of us went:  hubby, son, daughter and me.  Princess cruise ships don't have as many options for families in one room as other lines so we elected to do two staterooms.  The year prior we sailed Holland America on the Eurodam and booked one balcony stateroom, and it was just way too small for the four of us.  After that cruise I decided future family trips will have two rooms.  Since I had a family emergency and had to cancel the first cruise I had planned for over a year (with our two balcony staterooms), I was booking whatever I could at the last minute—so we ended up with two inside rooms on the Aloha deck which worked out quite well.  These rooms were small, but what I like about Princess inside staterooms is the huge closet area.  When I'm on a cruise I don't care for clutter and that closet was great even though it meant a loss of seating in the room.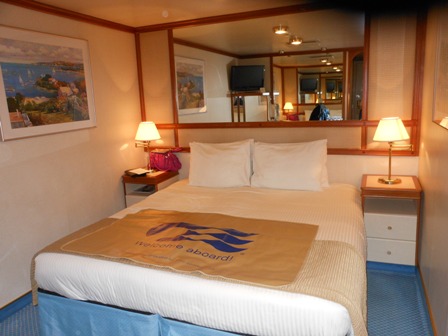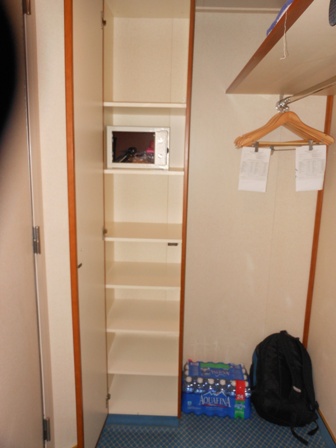 We departed Port Everglades and headed south to Princess Cays, which is a private beach on the southern end of Eleuthera Island.  I've been to a lot of cruise line private beaches and nothing I've experienced comes close to Disney's Castaway Cay.   My prior trip to Princess Cays had me just wandering around the island and taking photos, and not much had changed in the years since.  The ship does not dock and all passengers have to tender, which is about 15 minutes long.  The beach itself is not protected and waves can be strong, but it was a nice day to just sit there and enjoy the view of the sea for a while.  After a couple of hours we returned to the ship for cookies and milk in the Piazza… Princess does this every afternoon and it is a nice touch.  Also in the Piazza area is the International Cafe  where you can get sandwiches and pastries, and next counter is the coffee shop.  We had purchased a coffee card which gave us unlimited brewed coffee and 15 specialty coffees for the 7 day cruise.  Coffee, cookies, milk and pastries was something we did on a regular basis on this cruise—and with those inside rooms the Piazza area became our meeting place as a family.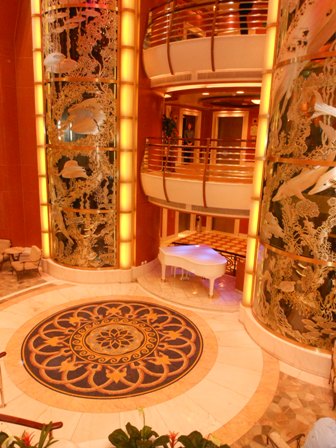 After Princess Cays, the Caribbean Princess headed south to Willemsted, Curacao, which is part of the Netherlands Antilles and located about 40 miles north of the coast of Venezuela.  Now while this all sounds exciting, its a heck of a trip to get there and this is a port that is sometimes missed due to weather, wind and waves.  As we headed out of the Bahamas we encountered a lot of wind and high seas.  Not the worst I've experienced on a cruise but  I was wondering if we were going to make this port.  Normally I like to go to the top deck to see the ship enter the port, and we went up there—but that ship wasn't going anywhere.  On the Caribbean Princess there's a deck above the bridge which gives a great view.  However because it was so windy this deck was closed to passengers.  After about 40 minutes of sitting off the pier area, the ship finally began the tedious process of docking.  While the Captain was moving us in we were just thinking about how skilled you have to be to dock at this particular port.  Between the wind and the waves, and the rocks not too far away, there's a lot of things to deal with in Curacao.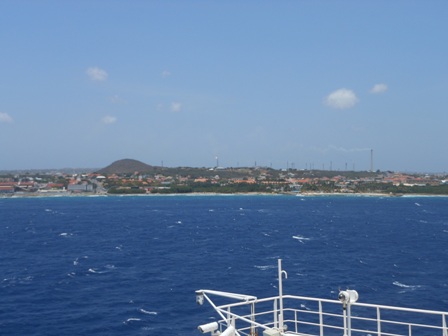 Finally we dock and the Caribbean Princess is cleared and we head to our meeting place for our island tour.  Because this was our first visit to Curacao, a trip around the islands with a guide was my plan.  We had booked the "National Park, Museum and Scenic Country Drive" tour and while it was not an incredibly exciting experience with thrills or adventure, we did it to learn about this island and got to take the grand tour covering the highlights .  We visited the Tula Museum and had a guided tour that discussed the slave heritage of the island, Knip Beach and Boka Tabla National Park where we saw some amazing waves  and the beautiful turquoise sea.  On the drive back our guide discussed the history of the island and answered our questions.  We passed the salt flats and saw many flamingos, which fly over from Venezuela on a regular basis to eat the brine shrimp.  Our tour guide was great and I thought this excursion was a terrific bargain for only $49/person.  Since we had our Chef's Table dining event that night I was not able to do any shopping as we were really dirty and had to get cleaned up.  In Curacao it is windy all the time, and the island's major industry is oil.  The air towards Willemsted smells like petroleum, and the wind has sand in it that is carried over from the Sahara desert (this per our tour guide) and this sand just sticks to your skin.  I would like to have had more time in Curacao to browse Willemsted but figured I'll go back there on another cruise in the future.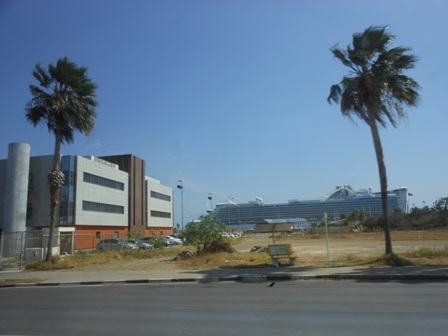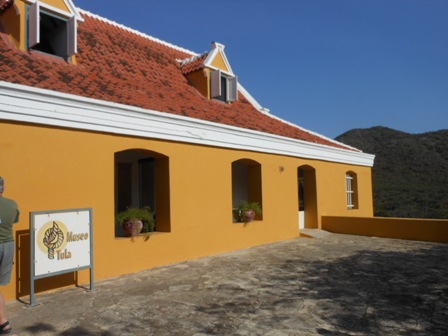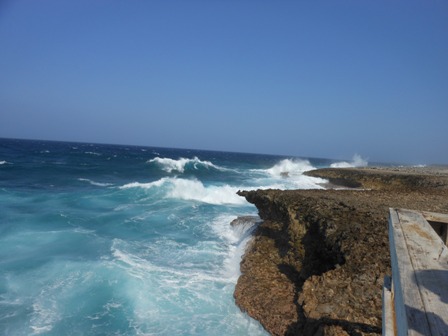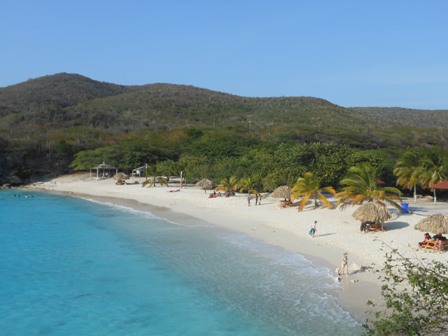 Curacao is part of the "ABC" Islands:  Aruba, Bonaire and Curacao—and our next stop was Aruba which is 17 miles north of Venezuela.   The Aruba, Curacao and  Sint Maarten (St Maarten/St Martin) are the Netherlands Antilles islands, which are under Dutch rule.  Aruba is "Arizona with water" and "One Happy Island" if you go by the license plates.  Its basically a desert surrounded by ocean.  Its brown and dry with scrub trees and cacti.  Tourism is the major industry as the weather is usually good year round as it lies outside of the hurricane zone.  In Aruba we booked the Mi Dushi sailing vessel for a sail and snorkel.  The Mi Dushi has been featured on several TV shows including The Bachelor and the crew is proud of her history.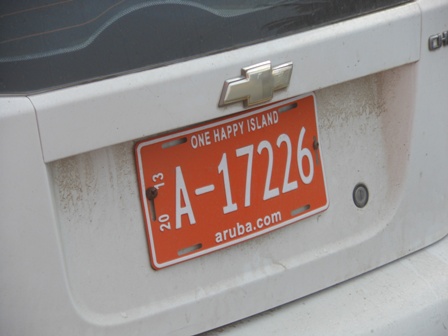 After we got off the Caribbean Princess we were escorted to our transportation, which was one of the Aruba party busses.  I have never seen an old school bus that looked anything like one of these!  The bus took us up to the Riu resort hotel where we boarded a small boat to take us to the Mi Dushi.  Once on board we were fitted for our snorkel gear (vest, mask and fins) and we headed to the wreck of the sunken WWII German freighter the "Antilla."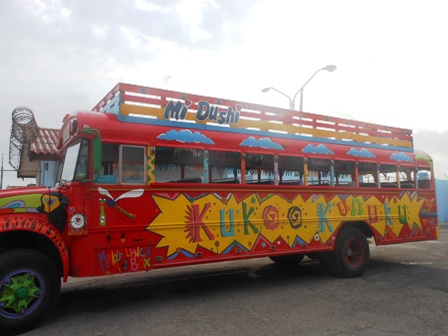 The Antilla was in open water and there were many boats doing the same thing—and this was a very good thing!  The water was dark with a strong current, and the boats stayed in a circle so the people knew where to go and wouldn't drift out.  It was very easy to start drifting so after I paddled around for a bit viewing the wreck I was happy to get back on the Mi Dushi.  After everyone boarded we went back to a quieter part of the island for our lunch and swimming.
I have to say that the crew of the Mi Dushi really knew how to throw a party.  We had a great island lunch of chicken, grouper with Creole sauce, Caribbean rice and a tomato & cucumber salad.  There were plenty of adult beverages, water, and sodas too, so there were plenty of choices for everyone.  After lunch they brought out the rope swing and we took turns jumping off the boat.  (Yes, we all did it.)  The water was warm and the sun was hot and it was just a nice day.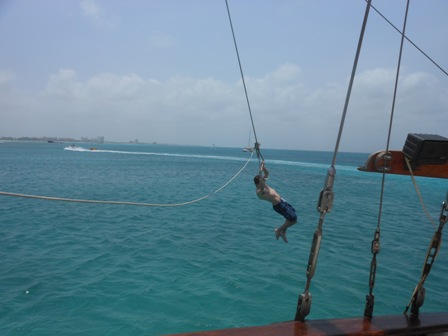 Unfortunately we were very far south, and sunscreen didn't do a very good job despite applying it often.  The four of us ended up with a sunburn with daughter getting the worst of it.  Next time we head this far south we'll need to do a better job of sun protection.
 Following Aruba we had two days back to Ft Lauderdale.  During these sea days we hung out in the Piazza enjoying cookies and milk at 3pm, and we took our lunches and dinner meal in the dining room.  Many cruises have "Anytime" dining where you can select your own time to eat, and we've done this our last few cruises.  Its very convenient for us and we've never waited very long for a table.  Dining on this ship was excellent and I didn't have anything that was not beautifully presented and tasty.  I do tend to eat a lot of vegetarian meals when I cruise—only because I can—and Princess had many options.
This was a great family cruise on a great ship and I will happily sail Princess Cruise Line again.