Princess Cruise Line – Caribbean Princess – Chef's Table Dining
One thing I really enjoy on cruise ships is the Chef's Table and other extra-cost specialty dining events.  On Princess Cruise Line, the Chef's Table is an extra cost event of $95 per person (subject to change without notice) where guests are 'wined and dined' by the head chef.  It seems like an extravagance but we find them well worth the splurge as something comparable on land will be about three times the price.  The Chef's table on Princess Cruise Line is a behind-the-scenes look at how food is prepared on a cruise ship and begins with champagne and appetizers in the galley and moves out to the main dining room (MDR) amidst the regular guests.   (Other cruise line dining events have been in a separate dining area so this was different.)  The entire experience lasts about 4 hours.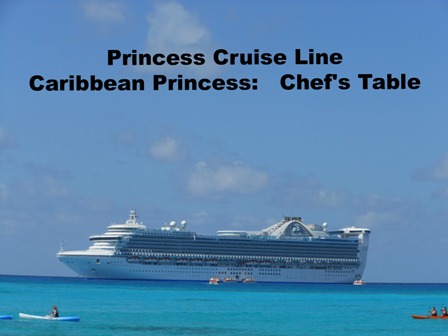 The Chef's Table is immensely popular on Princess as well as other cruise lines I've sailed so boarding early to sign up is very important.  Basically I boarded the Caribbean Princess in Ft Lauderdale and went immediately to the sign up location to get on the list.  When you sign up for this event you don't know if you've been confirmed until later in your cruise when you're called by the dining team for your pre-dinner meeting.
We were called about this two days later, which was a sea day, and asked if we could do the meal on a port night (Curacao).  We did have an excursion that we would have to rush back from but we would make it work.  Normally they only do one Chef's Table but on this sailing there were two as they had about 60 people interested—and just space for 20.  To avoid a lot of disappointment they just did it twice.  Our meeting in the afternoon was with the maitre d' regarding attire and menus; since this event began in the galley we were not permitted to wear shoes with open toes and they wanted to check with attendees regarding food allergies and any special dietary requirements.  We were advised to meet at 6pm in the Atrium area by the ship's wine bar, and our event would begin.  (Note:  This was an event for just my husband and me; we were sailing with two kids age 18 and 16.  They went to the main dining room of the Caribbean Princess for dinner.)
After our excursion in Curacao we ran on board to get dressed up as our dinner began in less than 30 minutes.  Not a lot of time but we made it.  After our group showed up the maitre 'd escorted the group of us to a rack of lab coats to wear as we entered the galley.   Since the ship did not leave port for several more hours the galley was not as busy as I've seen on past cruise line Chef Table dinners so we got to interact a bit with waitstaff and the galley crew on the food lines.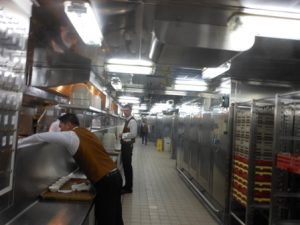 Since it was not crazy busy we were able to get a feel of the place and I sensed that these people really enjoyed what they did and truly respected the head Chef, Antonio Cereda, who had been with Princess Cruise Line for over 30 years.  Later in the week I had an opportunity to talk to some servers who said they really do like Chef Cereda and the Caribbean Princess was one of their best contracts with Princess Cruise Lines.   Chef Cereda reminded me of Chef Gusteau from Disney's move "Ratatouille" and was a very personable guy with a twinkle in his eye who tossed down wine with the rest of us while talking about his menu and his experiences on cruise ships.  We were accompanied by head Sommelier Daisy, the head Maitre d' as well as several senior servers.
While I could write quite a bit about the gleaming galley with shiny equipment, and the food that is mostly prepared to order (with the exceptions of some desserts and salads), I'm going to take you on a photo tour of the food from this amazing event, so foodies rejoice:  It was as delicious as it all looked.
First our setup in the galley: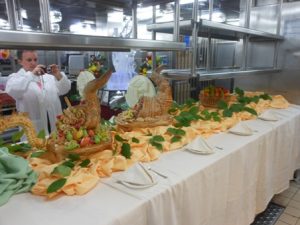 In the galley we began with Nicolas Feauillatte Champagne (Chouilly, France), which just kept being poured as our glasses emptied, and the following appetizers:
Lobster Meat Margarita with Avocado and Mango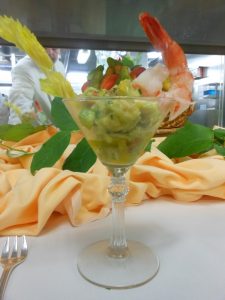 Bistro Quiche with Black Truffle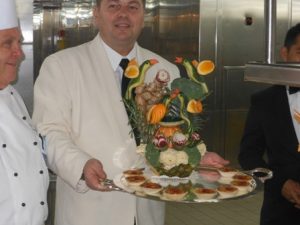 Sea Scallops Rockefeller with Pancetta and Aromatic Bread (sorry, photo was blurry so its not here).
Silver Salmon Tartare with Wasabi and Daikon Sprout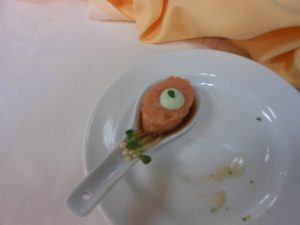 Roasted New Potatoes with Sour Cream and Caviar (no photo)
After about 45 minutes in the Galley noshing on these wonderful morsels, we made our way to our dining room table for the rest of the meal.
Our table was beautifully set.  Here are the plates and our edible place cards: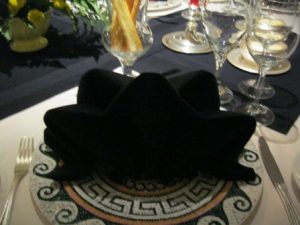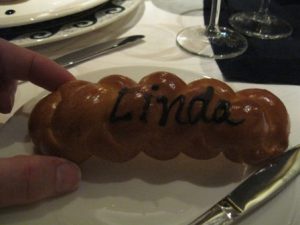 The ship's Sommelier, Daisy, also was with us for the dining room portion of the event.  I did several events with Daisy on this cruise and while I don't call myself a wine connoisseur, I enjoy doing wine education events.  For me its always better when a professional explains what I'm drinking and I'm like "Why yes, I really do taste the berry notes in this wine!"  Cruise ships are where I've learned to love a couple of wines that are relatively affordable.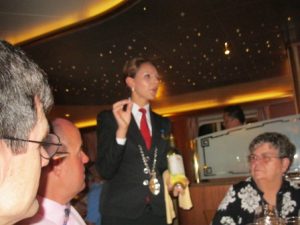 On the menu:
Starter course of Risotto with Porcini Mushrooms, followed by Florida Lemon Sorbet with Mango Slaw (palate cleanser), served with Santa Margherita Pinot Grigio (Trentino, Italy):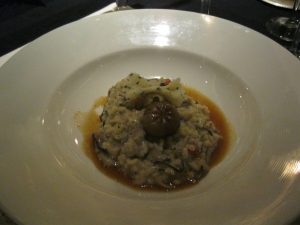 Florida Lemon Sorbet with Mango Slaw (palate cleanser):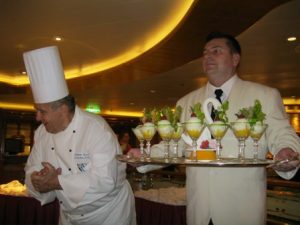 As we were dining, Chef Cereda was preparing the final touches to the main course as well as enjoying our next wine, which was Ferrari Carano Merlot (California):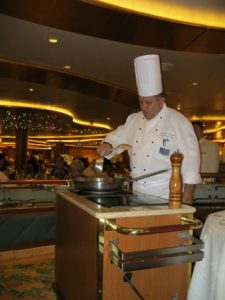 Our entrée was Roast Veal Shank and Beef Tenderloin carved tableside with Green Peppercorn Sauce Au Jus with Market Vegetables and Roast Campignon Potatoes.  Here's the finished plate: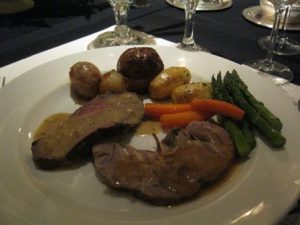 Then came the cheese plate (I absolutely love cheese!):  Baked Camembert with Pine Nuts, Port Wine Reduction, Walnut Bread and Brioche.  I was getting rather full and only ate half the Camembert.  Our wine was now Errazuriz Late Harvest Sauvignon Blanc (Chile).  The Chef was putting this one together too: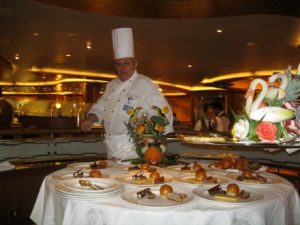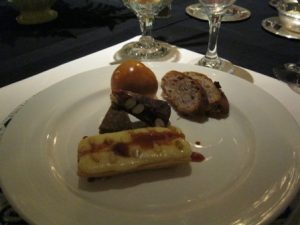 And just in case you aren't ready to explode, there's dessert:  Chocolate Dome Mousse with Passion Fruit Creme Brulee Center, Mango Chutney and Dulce Du Leche Ice Cream.  Only had a taste of this and I skipped the ice cream as I was just too full.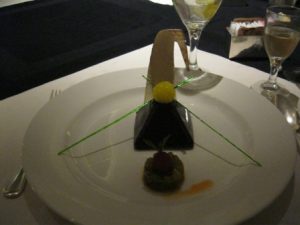 Then we had coffee with the chef along with his homemade Biscotti and Amaretti.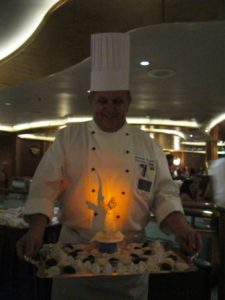 Finally our event was over, and we were presented with a Princess Cruise Line cookbook, commemorative photo, and some wonderful memories.
So is the Chef's Table 'worth it'?  We think so and I hope you enjoyed my photos.