In February of this year, I sailed on one of Norwegian Cruise Lines newest ships, the Breakaway, sister ship to the newer Norwegian Getaway.  I had been on the Breakaway for a lunch and tour a few months back, but never had the chance to sail on her. The Breakaway is home ported year round in New York City with sailings to the Bahamas and Bermuda. While not Norwegian's largest ship, that title goes to the Norwegian Epic, it is the second largest with a maximum passenger capacity of almost 5000!
Norwegian's Freestyle cruising is different than other cruise lines, and with their new ships they have taken it to a whole new level.  There is no main show theater, instead there are several smaller venues that you can reserve specific show times for either before you sail on their website, on board on your cabin TV or large monitors placed throughout the public areas of the ship or at the Box Office outside the theater.
There are several shows available on the Breakaway.  The Broadway musical Rock of Ages and a dance show called Burn the Floor.  As well as Cirque Dreams Jungle Fantasy, a cirque du soleil type show with dinner, Howl at the Moon (dueling pianos) and The Second City Comedy Troupe. Not to be outdone by Disney Cruise lines, Norwegian also has a fireworks show shot off the ship!
I think there are about 20 different dining venues on the Breakaway.  Among the ones included in your cruise fare are the 3 main dining rooms (Savor, Taste and the Manhattan Room), The Garden Cafe Buffet, Uptown Grill (Poolside Dining), and O'Sheehans Neighborhood Bar and Grill.  For those with more adventurous tastes and a bigger pocketbook, there are 9 Speciality Dining venues that all cost extra (anywhere from $15 per person to $49 per person).  La Cucina Italian, Moderno Brazilian Churasscuria, Le Bistro French, Cagney's Steakhouse, Geoffrey Zakarian's Ocean Blue,  Teppanyaki, a raw bar, a noodle bar and a sushi bar!  most of these do take reservations and they can be reserved ahead of time on the website. Norwegian recently introduced a new dining plan.  ON a 7 day cruise for $119 per person you can dine in almost any of the specialty restaurants every night. It does exclude Ocean Blue and the noodle, sushi and raw bars, but it does now include the first nights showing of Cirque.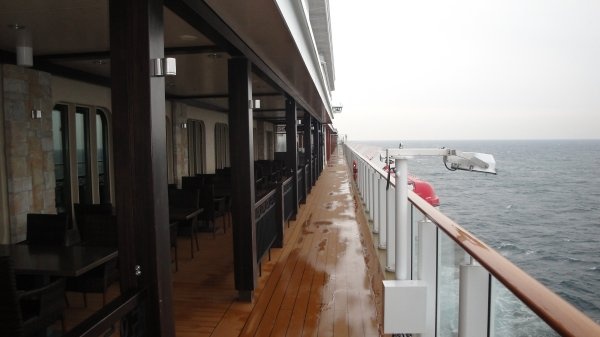 The public spaces are gathered around several areas.  The first is a multi use indoor/outdoor space called 6-7-8 Ocean Place.  It encompases most of desks 6, 7 & 8, hence the name,contains a lot of the dining venues, entertainment areas, casino and  main lobby area.  Of course there is the pool deck with it's 2 pools and water slides.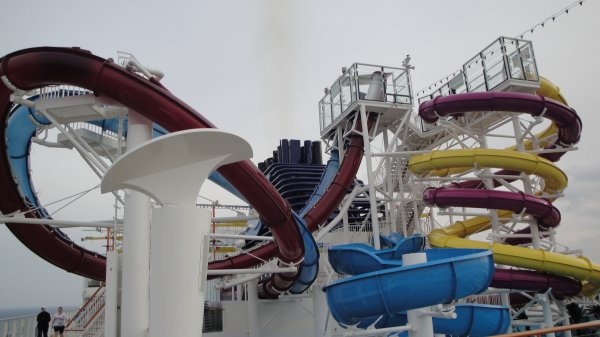 We had a mini suite.  I must say this cabin had the largest bathroom I have ever seen on a cruise ship. Besides there being enough floor space to host a small party, there was also a huge double sink.
The rest of the cabin was quite spacious, but there was limited storage space other than the closet and the balcony was just large enough for 2 chairs and a very small table.  
Our ports of call on this sailing were Port Canaveral, Nassau and Great Stirrup Cay (Norwegian's private Island).  We stayed on the ship in Port Canaveral, but went ashore in Nassau to get some lunch and do a little shopping.  For Great Stirrup Cay, you need to utilize tenders as the ship does not dock at the Island.  They have 4 tenders that each hold upwards of 200 people, but with 4700 guests on board it does take hours to get everyone to the island.  You can reserve a tender ahead of time to be one of the first to get to the island at any of the kiosks located in the hallways.
All in all we had a great time on the Breakaway.  I love being a 15 minute drive from the port in New York but hate the $40 per day parking fee (we had someone drop us off)
To book or if you want any more info on Norwegian Cruises, contact me. For a look at their e brochure, click here.