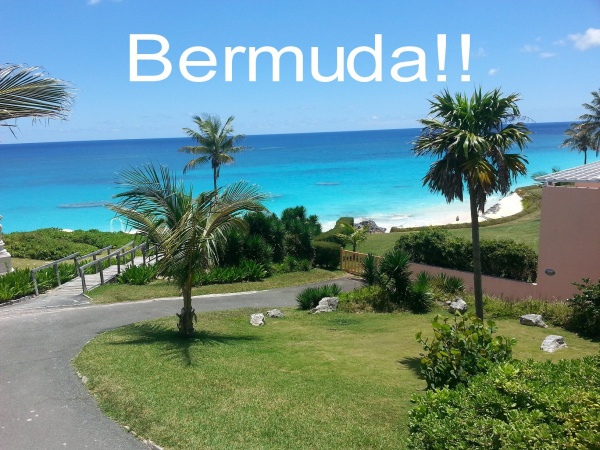 Last week I was fortunate enough to sail on the Norwegian Breakaway for the second time this year.  This time on a sailing that included 3 days/2 nights in Bermuda. This was  my 8th visit to Bermuda on various cruise ships, and I never tire of the island and it's inhabitants.
Departure was from the Manhattan Cruise Terminal located right in New York City.

I previously reviewed the Norwegian Breakaway, so I will focus on Bermuda in this post.
The  cruise is 7 nights. A Day at Sea, followed by 3 days in Bermuda, then 2 more days at sea returning to New York.  This is the Royal Naval Dockyard where 99% of all cruise ships going to Bermuda will dock. Smaller ships can sail directly into Hamilton.

While the cruise lines offer many different shore excursions, it is very easy to get around Bermuda on your own.  The bus and ferry system is quite extensive and relatively inexpensive. You can purchase a 3 day bus and ferry pass for $28 per person for unlimited use of the transportation system during your stay.
We would normally head to Horseshoe Bay on the public bus system for a day at the beach, but this trip we were looking for a little more so I booked us as day guests at the Coco Reef Resort which is about a 30 minute ride from the dockyard.  The day pass includes unlimited use of the facilities (towels, rest rooms, changing room, showers, pool, beach, umbrellas and chairs) as well as a 2 course lunch with wine, beer or soda for $59 per person.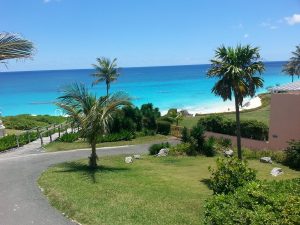 You can take a public bus to get there, but then it  is about a 1 mile walk from the bus stop to the resort.  For $40 each way, we decided to take a taxi. This is the pool area and the beach and ocean from the pool.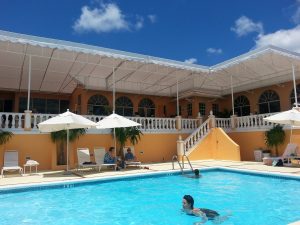 Our other 2 days in port were spent exploring the ship and the dockyard area.  The dockyard has enough to keep you busy for the better part of a day.  We did visit Snorkel Park there.  A man made beach and snorkel area.  They do charge $5 admission, but it is a short walk from the ship and a decent beach day. There are several restaurants, a historical reenactment, lots of shore excursions to choose from, a shopping mall, craft market and be  sure to visit the Rum Cake and Glass Blowing factory while you are in the area.
I am an early riser and I took this picture from our balcony at about 6am.  This is the pilot boat after dropping the pilot off on the ship for our departure from Bermuda.  it takes  about an hour for the pilot to navigate the channel which takes you clear from one end of the island to the other before hitting the open ocean.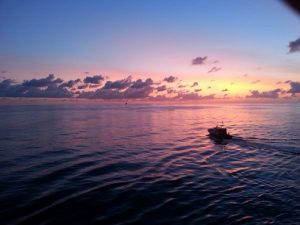 I enjoyed this visit to Bermuda and am looking forward to heading back there yet again. If you are looking for a cruise to Bermuda or even a non-cruise trip, please contact me