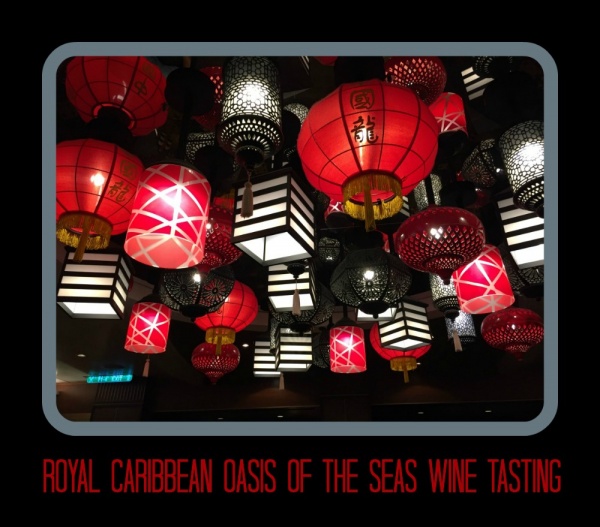 On a recent cruise on Royal Caribbean's Oasis of the Seas, I got to enjoy a wine tasting, featuring vintage wines from France's Bordeaux region.  The tasting took place in one of the beautiful main dining rooms – Silk.  It is decorated with Asian silk décor, with Chinese lanterns hanging in the entrance way.  It is located on deck 5.  The cost for the wine tasting is $23 per person.  It lasts approximately one hour and is offered during an at sea day.  Four wines were offered, one white and three reds, from the cellars of Chateau Lafite Rothschild, the premier estate under the Rothchild name.
We arrived about 10 minutes early and there were plenty of seats available.  We went to our assigned table and sat with another couple.  The tables were set for 6, with the four already poured glasses of wine, a glass of water and a plate with four different cheeses and red grapes.  We were given a placemat with the details of the wines and wine makers.  There were about 50-60 people in total.
The four wines that were offered were Lafite Reserve Speciale Bordeaux Blanc, Lafite Reserve Speciale Bordeaux Rouge, Lafite Reserve SpecialeMedoc & Lafite Reserve SpecialePauillac.  The wines were explained by the sommelier.  He walked us through the steps of tasting wine and which cheese to pair with it.  At the end of the tasting, the wine was available for sale.
As a wine novice, this tasting was perfect for me.  The sommelier taught us about the process of tasting wines and how it tastes different after eating the different cheeses.  I usually only drink white wine, so this was a good opportunity for me to try several different red wines.   For a more seasoned wine drinker another wine tasting was offered at Vintages wine bar.
Interested in sailing on a Royal Caribbean cruise, contact me for a no obligation quote!