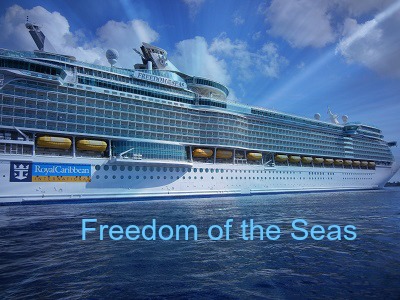 Royal Caribbean's Freedom of the Seas is the first of the Freedom class ships, which has one of my favorite features in the street down the middle of the ship. Walking along you have a problem remembering you're even on a ship. On this street you'll find places to have a drink, to grab a bite to eat and to shop.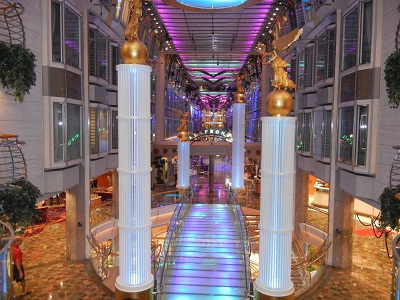 Two great places for a snack would be Café Promenade, where you get coffee 24/7, and even Starbucks from 11am-1am, as well as small sandwiches and sweets. Also Sorrento's has some wonderful sandwiches and pizza slices available. There are also a few locations where you can get a treat for a small charge such as Ben & Jerry's and the Cupcake Cupboard. There are cupcake decorating classes available, too, so be sure to check the Cruise Compass for those or just stop by their shop and sign up.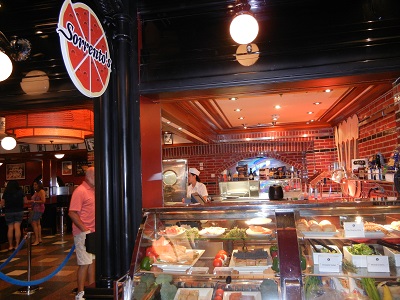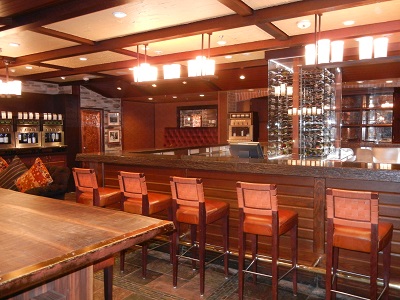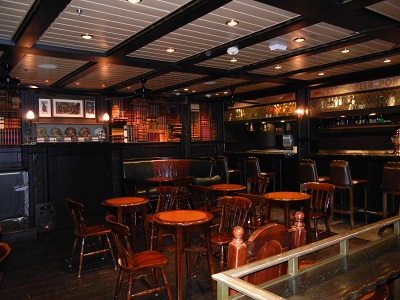 As with all ships you'll find the Windjammer buffet, which is open for all meals, as well as the main dining rooms. There are also some specialty restaurants on the Freedom of the Seas that carry a surcharge. These include Chop's Grille, Giovanni's Table and Sabor, which is a Mexican restaurant. They also have a Mystery Dinner Theater on select nights.
The staterooms have a couch, coffee table and king bed as well as plenty of storage. The beds are high enough to store your luggage once unpacked.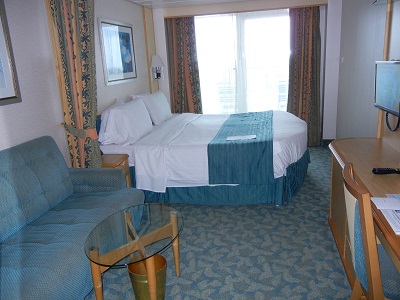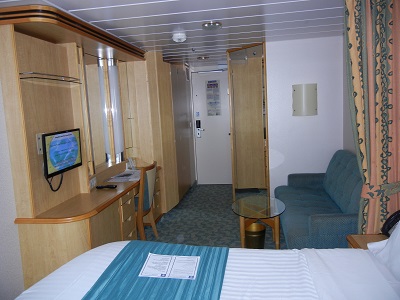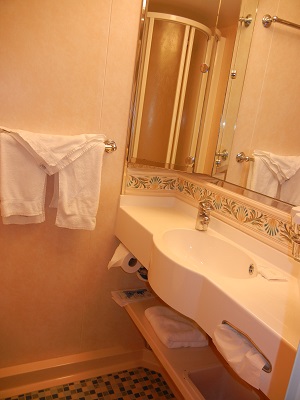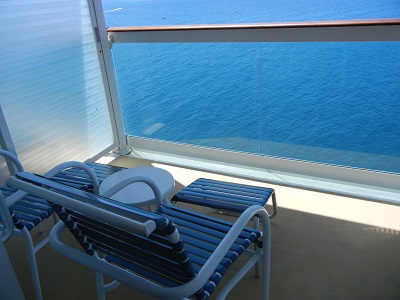 There is never a lack of recreation to be found on Royal Caribbean ships, and the Freedom of the Seas is no exception. You can try your skills out on the ice rink, which also does a couple of shows during your cruise that are well worth seeing. It's just amazing what they can do in a small, moving space! They also have the FlowRider, where you can boogie board or try your hand at stand up surfing. There are pools, hot tubs and the H2O area for children to enjoy the water. You'll find a basketball court, rock wall, mini-golf, table tennis, shuffleboard, arcade and card room. For those with a few extra dollars in their pockets can spend some time at the casino where you'll find all of the normal casino games and plenty of slots.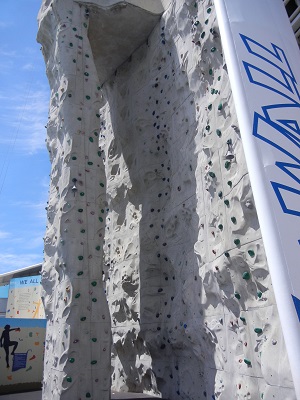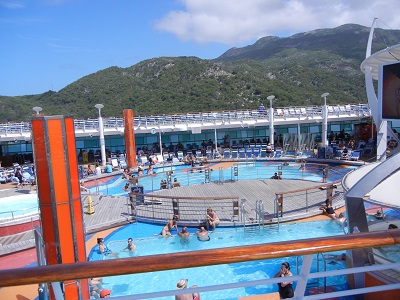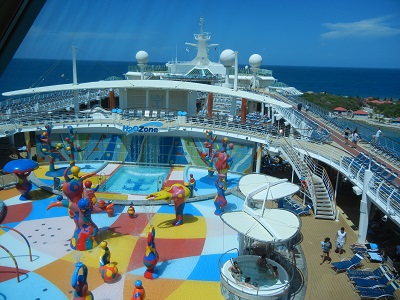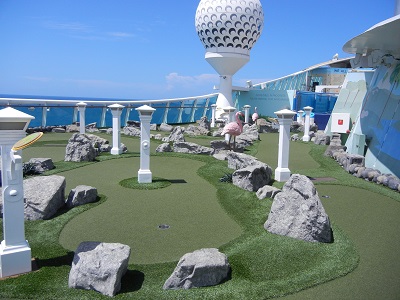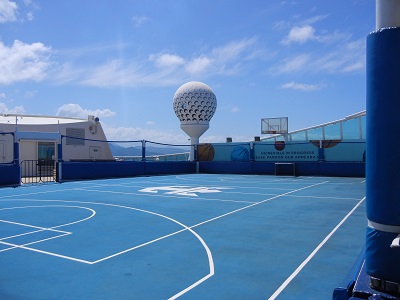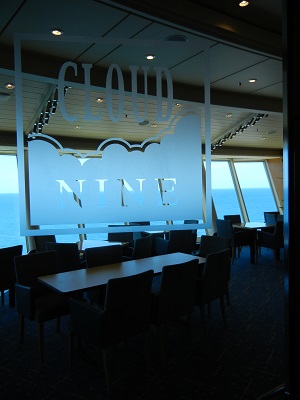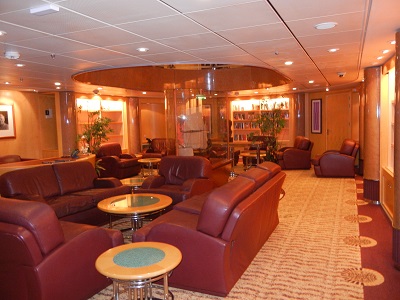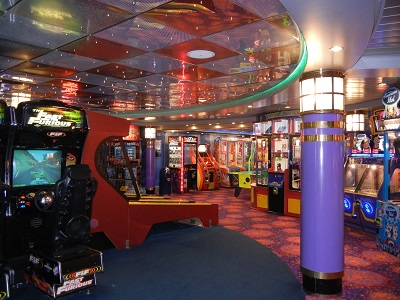 Nighttime brings shows in the main theater, which can be a production number with the Royal Caribbean Singers and Dancers, or guests that will thrill you with their magic, their singing and their jokes. One of our favorites is the illusionist Drew Thomas which is one of the headliner acts on this ship. There are also various lounges with live music and dancing, as well as late night adult comedy and karaoke.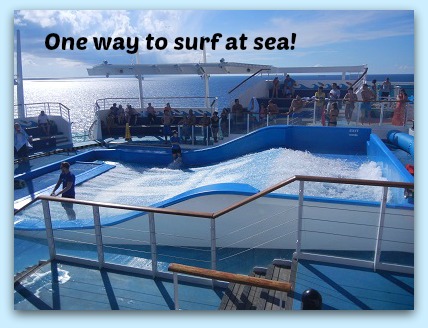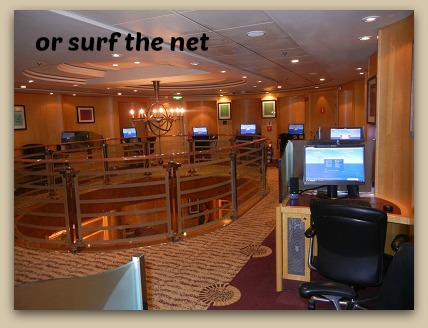 There are two things you never wait until the last day to do.  One is to always book another cruise so you have something to look forward to in the future.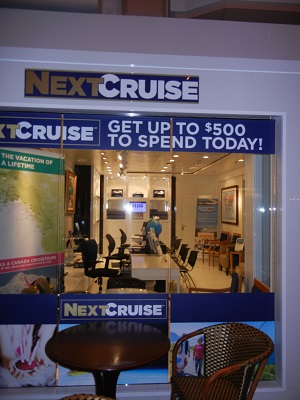 And be sure to check out your stateroom folio and confirm the charges are correct.  You should do this as the cruise goes along so you don't see any surprises after your cruise is done.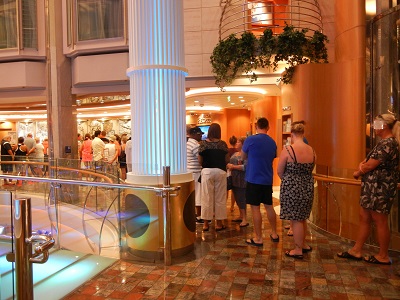 Freedom of the Seas is a Freedom class ship along with the Liberty of the Seas and Independence of the Seas. I know you'd enjoy any of them! Let me know when you're ready to see for yourself!