Anyone who knows me knows that I'm a "Disney Cruise Line snob".  Yes, I've exclusively sailed on Disney Cruise Line for the past decade on every Disney Cruise Line vessel with a dozen cruises under Castaway Club account.  So when my best friend and business partner suggested we try another cruise line to venture out and broaden our cruise repertoire I was nervous.   I've sailed multiple times on Royal Caribbean Cruise Line and thought maybe we could try it again.  So when he suggested Carnival Cruise Line I am sure I responded with more than a little trepidation.    Even though it made good business sense to expand to sail on Carnival, I had some preconceived notions that made me anxious.
However, I ultimately overcame the initial fear and we booked a 6-night Western Caribbean sailing on the Carnival Breeze, the newest ship in Carnival's fleet.   What was I thinking?  What would the experience be like?  How could anything ever meet the bar set by Disney Cruise Line?
Well, what was the outcome you ask?  Read on to find out how this "Disney Cruise Line snob" ended up becoming a huge fan of the Carnival experience.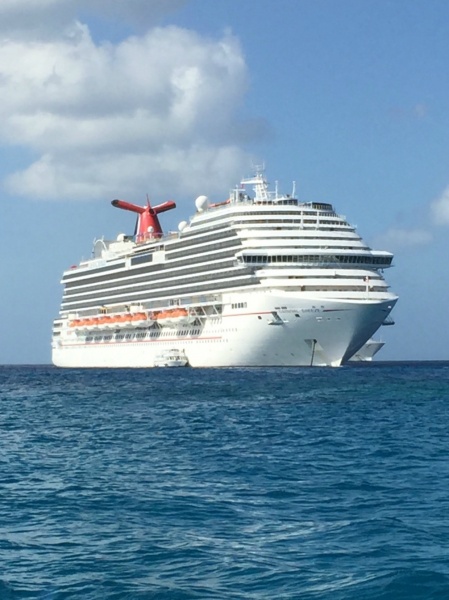 Comparing the ships:
Now while I've sailed on all 4 of Disney's ships and can only compare the Carnival Breeze, I have to say I was thoroughly impressed with the beauty and aesthetics of the Breeze.  The ship is a classic white cruise ship, with Carnival's iconic red funnels and considering it's just a few years old it shines.    It's modern and traditional while Disney's ships are classic and elegant.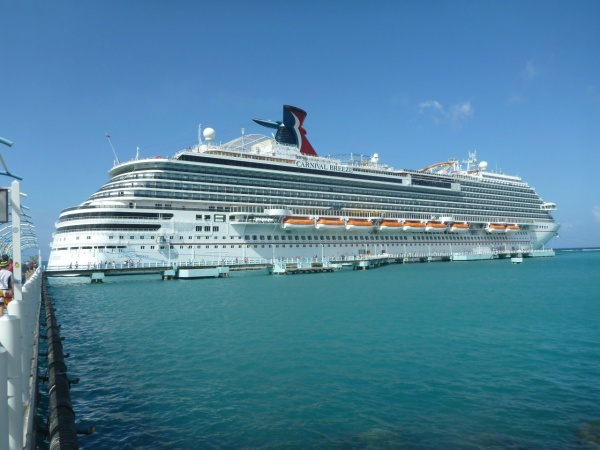 The interior décor of the Carnival Breeze is quite pleasant.  I was expecting "Vegas neon" and thankfully the ship was as far away from that scheme as possible (except, of course, in the casino).  It was actually quite beautiful with an atrium that opened up to the top of the ship with a skylight letting in natural light.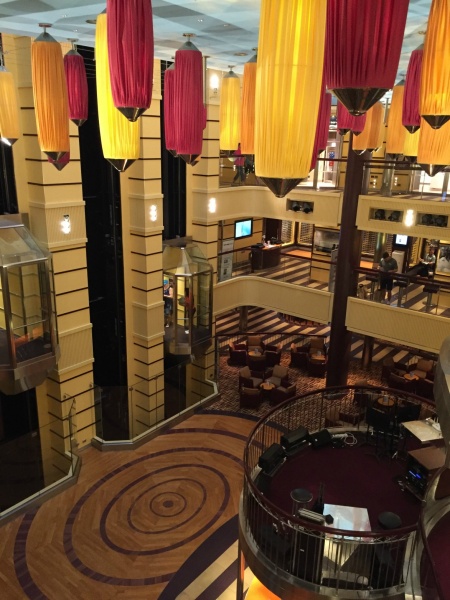 The classic, fun décor of the Disney Breeze is quite appealing.  Common areas are very tastefully done.  The two main dining rooms are elegant, but not stuffy.  The stateroom corridors have light honey color woods mingled with Caribbean landscapes giving one the feeling of being in the Caribbean (it would be interesting if this ship was ever repositioned outside of the Caribbean).
I love the Art Neoveau and Art Deco style of the Disney ships (and of course all of the Disney touches), so the win would go to Disney for me, but this certainly wouldn't be a determining factor on whether to book a cruise with one cruise line or another.
Boarding:
I love boarding Disney Cruise Line in Port Canaveral, but if you've ever boarded a Disney Cruise Line vessel outside of Port Canaveral you'll know and appreciate the ease that Disney's terminal provides.  So I don't want to compare Miami so much to Port Canaveral, but I do want to mention some things about the boarding process.  The Carnival Breeze is massive, and the Miami terminal fills up quickly.  Arriving early helped us snag a very early boarding sequence (first after concierge) and the Carnival staff couldn't have been friendlier from the baggage handlers, to the check in staff.  We were warmly welcomed once aboard and staterooms were available immediately for everyone.  It was an efficient and pain free process.  An added bonus was that all of our luggage was waiting for us outside of our stateroom so we were able to quickly unpack with minimal disruption to the fun of the first day aboard the ship.
The win here goes to Carnival simply for having staterooms available at boarding and controlling the chaos of 4,500 people in the Miami terminal.
Staterooms:
I was very pleasantly surprised how well appointed our stateroom was on the Carnival Breeze.  The light honey colored woods are carried from the hallways into the staterooms, and there is ample storage space with closets, drawers and a desk.  We had a King bed and a convertible sofa bed which was quite comfortable.  Our verandah was large and spacious and I loved that our deck chairs reclined to a chaise-style set up!  The entire verandah was floor to ceiling glass which led to a bright, cherry atmosphere.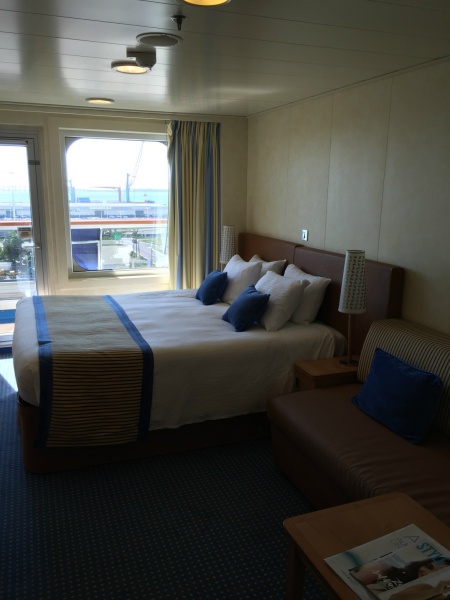 The bathroom is more industrial and utilitarian than I wish – but I know this is more of a cruise industry standard.  There is a small shower with no tub and a single sink.   Here is where I desperately missed the split bath set up in most Disney Cruise Line staterooms, as two guys getting ready at the same time provided a bit of a challenge (I can only imagine what it would be like if it was my wife and I trying to get ready at the same time!).  Shampoo and body wash was provided in dispensers in the shower which was fine, but I did miss the H20 Spa products on DCL.    All that said, it served a purpose, was incredibly clean and didn't ultimately detract all that much from the stateroom experience.
But even with an amazing stateroom on the Carnival Breeze, the win here ultimately goes to Disney.  The set-up of the staterooms and the split baths are huge factors for me.  Again, I'd not let this be the determining factor in making a cruise decision – but it sure is nice to be spoiled!
Dining:
I am a self-admitted foodie so the dining experience while cruising is extremely important to me.  I adore Palo and Remy aboard Disney Cruise Line (especially brunch) and I think that overall Disney Cruise Line does a fine job in the dining room rotation experience.
As per cruise industry, we had the same table each night in the same dining room (we were in "Blush").  And while I thought this might get boring, it didn't.    On Carnival, a simplistic "American Table" menu is offered each night and some upcharge items from their specialty restaurants is offered each night along with a small plate of something you may never try but always wanted to (such as rabbit, ox tongue and frog legs).  The food was prepared and presented well and our wait staff couldn't have been better and more enthusiastic every night.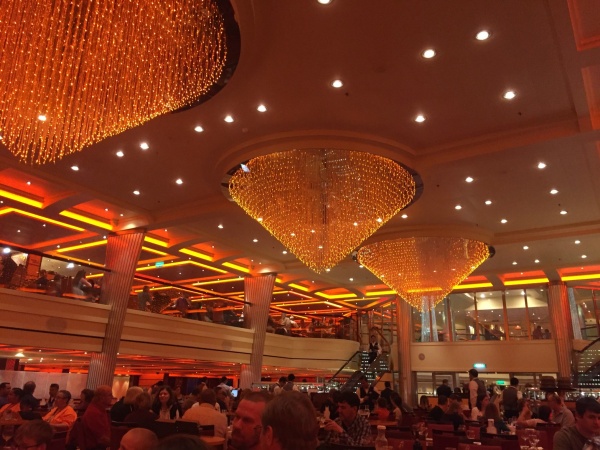 Brunch is offered in one of the two main dining rooms on the "at sea" days (in "Blush"), but it is more casual and laid back than brunch at Palo or Remy.  Some traditional items are offered as well as some unique ones – when can you say you've had Froot Loop French Toast?!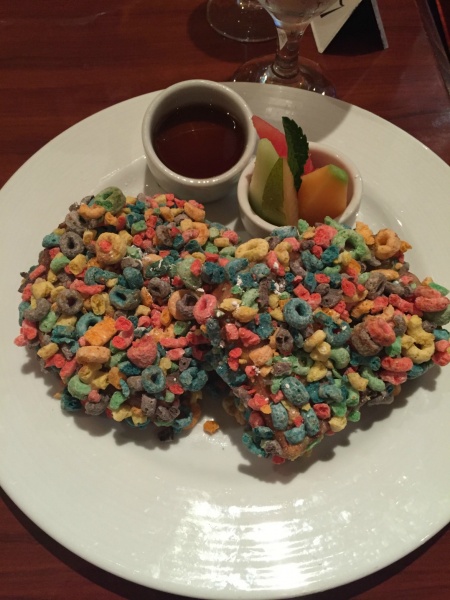 Quick service items are all over the Carnival Breeze, including Guy Fieri's Joint, a taco/burrito bar (similar to Chipotle and as good if not better), as well as a stand-alone sushi venue (upcharge – but so worth it), a pizza place, a middle-Eastern venue (Tandoor) and the Lido Marketplace (the equivalent to  Cabana's on the Disney mega-ships and the Magic, but with even more offerings and specialty choices) and well as Jimmy's C-Side BBQ (only open on "at sea"days).  One will not go hungry on the Carnival Breeze!
We didn't have a chance to try the two specialty up-charge venues on the Breeze (we need more nights), but we did participate in a cooking demonstration at Fahrenheit 555 and the samplings were delicious.  And on one night in Blush we were given a complimentary upgrade to the specialty menus and my steak was perfect!
Overall the win for me in this category goes to…Carnival.  The sheer number of choices and quality of food really impressed me.  Nothing beats the rotational themed dining rooms on the Disney ships, and Remy and Palo are amazing up-charge choices, but I have to say that Carnival gives Disney a run for the money – and often beats them in this category.
Ship Activities and Entertainment:
On the Carnival Breeze, the activities for children and teens are scheduled, not regular and ongoing.  The kids clubs are done well, but Disney far surpasses Carnival (and I suspect most cruise lines) in this category.
The Breeze has two great waterslides, both matching the fun and thrill of the Aquaduck and the Aquadunk (which is my favorite slide at sea).  There is a great splash area for children and two main pools for everyone.  I did miss an adults only pool (there is an adult only area on the Breeze, but it lacks a pool) on the Breeze.  But where the Breeze lacks in this space, it more than makes up for it with spas (hot tubs) which are all over the place it seems (and quite popular).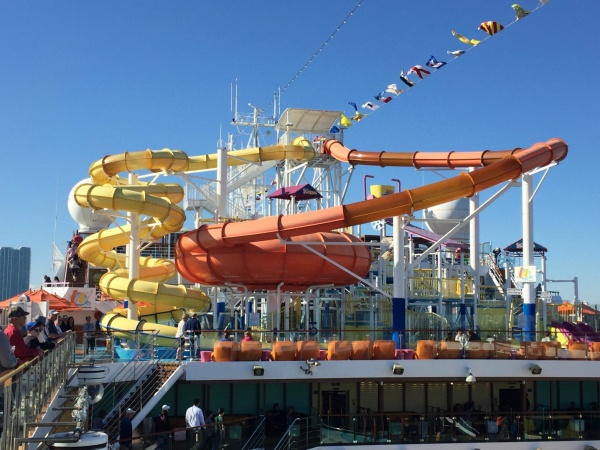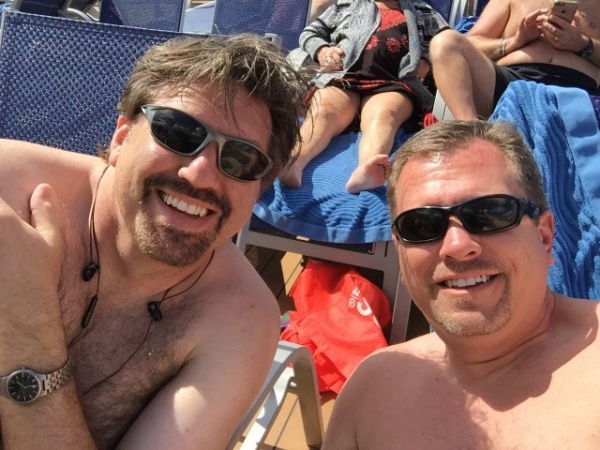 Disney's mega-ships and the Carnival Breeze both have plenty of sport activities including miniature golf, but the Breeze beats Disney with their surprisingly scary, but fun ropes course.  The course has two sides – easy and challenging but we thought both sides were challenging!  A lot of fun and it's a big hit with kids and adults.  Disney seems to focus on water fun more than something with high energy.  I'd love to see something like this added to the Disney ships.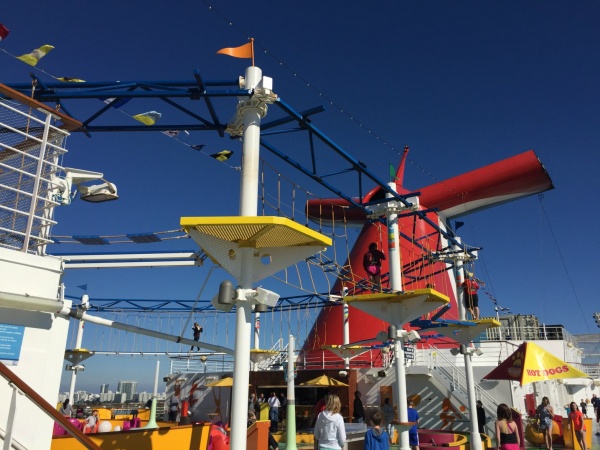 In terms of entertainment, the shows on the Breeze are considered to be good.  I'm not a big show guy while cruising, but the magic of the Disney nightly shows does far exceed those offered on the Breeze.  This is what Disney does best on land and they excel at sea as well.
Movies at sea is always fun and like Disney, Carnival offers this on their giant funnelvison screen.  Free popcorn for all watching a movie under the stars is really a lot of fun.  We watched "Jurassic World" (keep in mind regarding the movie offering that we were on Carnival!).
And lest I forget, there is a casino on board the Carnival Breeze.  I'll admit, I hated it and I hated walking through it if for any other reason than smoking is permitted (there are actually more common smoking areas on the Breeze it seems than on the Disney ships).  The casino, though, is a big draw and I'll also admit we budgeted a small amount of money to spend in the casino.  It's just not fun, though, to lose money and come out smelling like stale cigarette smoke.
So while Carnival has some terrific offerings for ship activities and entertainment, the lack of a casino and better overall activities for children give Disney the win on this one!
Staff:
Disney is known for excellence in service and this is portrayed in their front line Cast Members who go above and beyond to take care of every guest aboard Disney Cruise Line.  I couldn't have been any more impressed with the same level of service given by every single Carnival staff member.  We nearly missed a shore excursion due to an error on our part and they were quick to act by making a backup arrangement, but more importantly finding a way for us to get to the excursion on time.  Our cabin hostess kept our room clean and tidy and full of towelorgami and she always had a huge smile on her face. Food service staff were enthusiastic and our dining room staff as I previously mentioned were exemplary.  Everyone we encountered could have easily been a Disney Cast Member.  And the Cruise Director on the Carnival Breeze may very well get the award of the person who loves his job the most.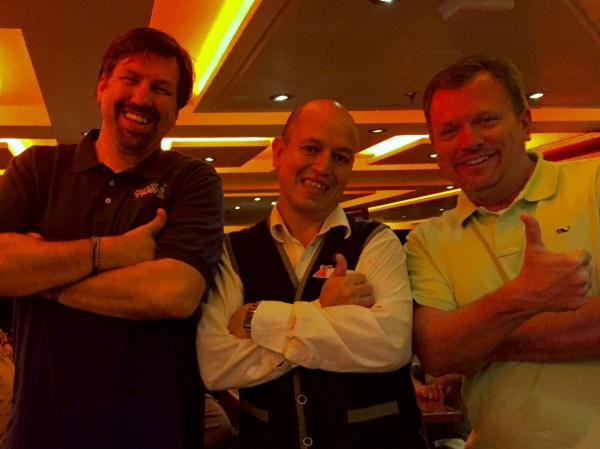 No win here – a tie – as Carnival and Disney seem to have hired exceptional team members who work hard to ensure everyone has a great experience.
Overall:
I am a firm believer that you get what you pay for, and on Carnival I felt we got much more than what we actually paid for (even with some of the nickel and diming that Carnival does – not unlike many other cruise lines).  Carnival is much less expensive than a week on Disney Cruise Line and we had a blast on the ship – and in the ports (all of which I had visited on the Disney Fantasy).  While the ship does have a different feel, I would have no problem taking my family or sending one of my client families on the Breeze.
Disney will always be my preferred cruise line to sail on, but I've discovered there is a great big cruising world out there and will gladly tell anyone considering Carnival that it very well could be the best choice.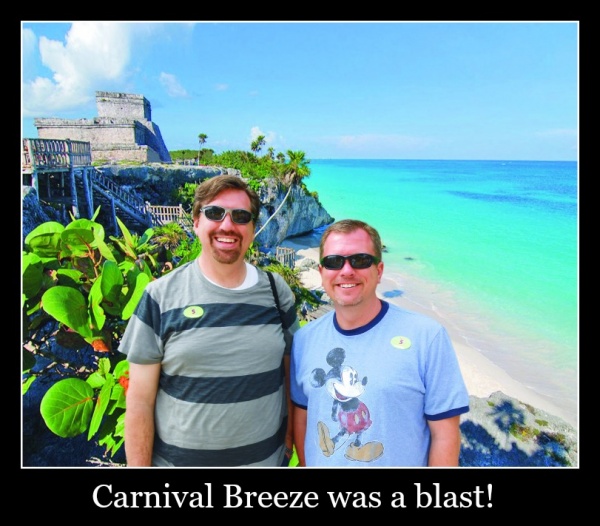 Learn more about Carnival Cruise Line
Contact me to book your next Carnival Cruise Line vacation