Who's your favorite DreamWorks Character?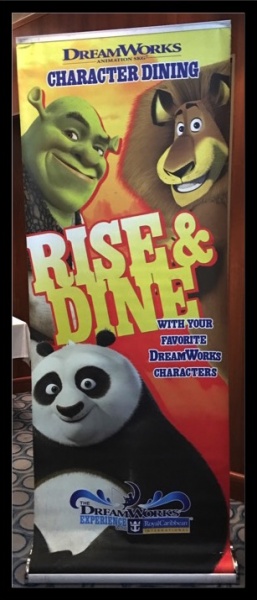 Did you know you could meet and dine with some of your lovable DreamWorks Characters while sailing with Royal Caribbean on select ships and itineraries?
Royal Caribbean brings these popular, animated characters to life through their onboard DreamWorks Experience. With Shrek & Princess Fiona, Po from Kung Fu Panda, the Stars of Madagascar and How to Train Your Dragon, you get the chance to meet & dine with some of your favorites!
The DreamWorks Rise & Dine Character Dining takes place in the American Icon Grill (Deck 3), one of three main dining rooms on the Oasis of the Seas. The other two main dining venues are the Grande (Deck 4) and Silk (Deck 5).
The American Icon Grill has an Americana-deco feel to its décor.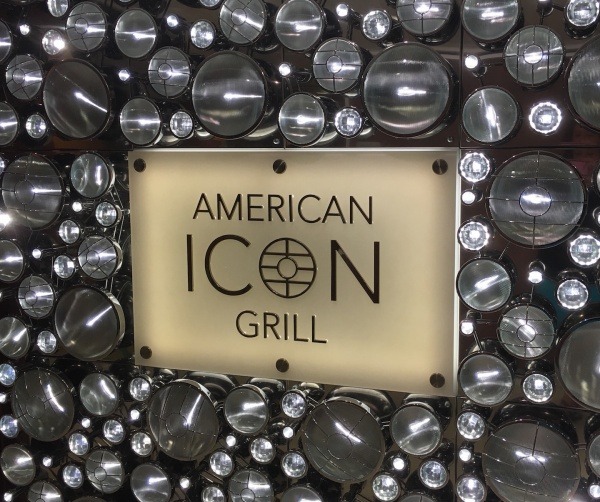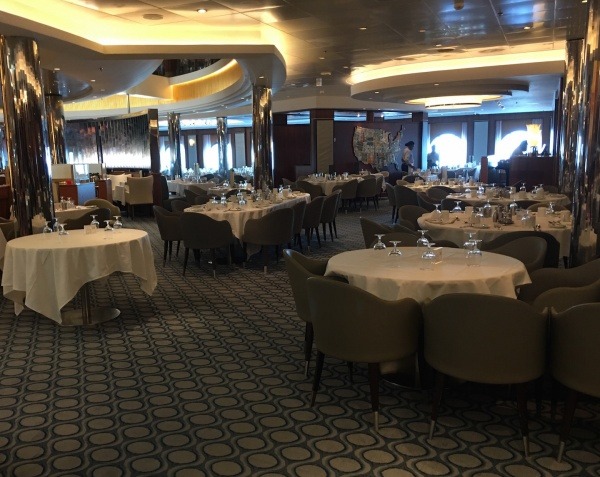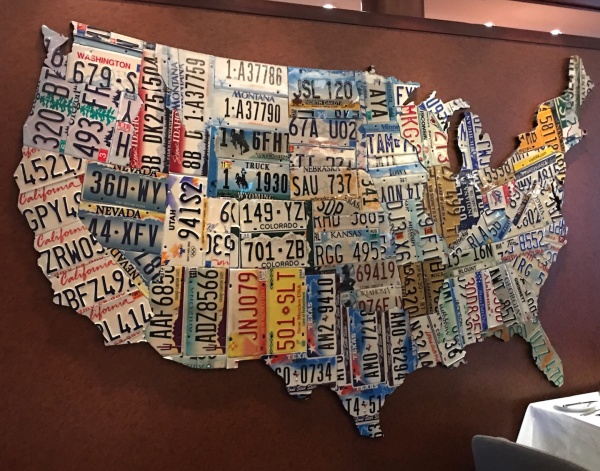 Once seated, your server welcomes you with a tray of assorted pastries and rolls.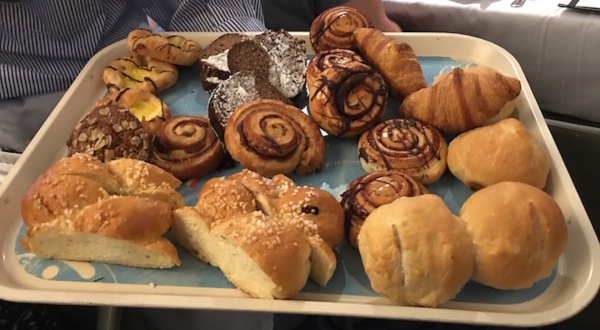 There are a variety of breakfast options for everyone. Guests may select breakfast items from the Rise & Dine Character Menu, the American Icon Grill Breakfast Menu or enjoy a full breakfast buffet.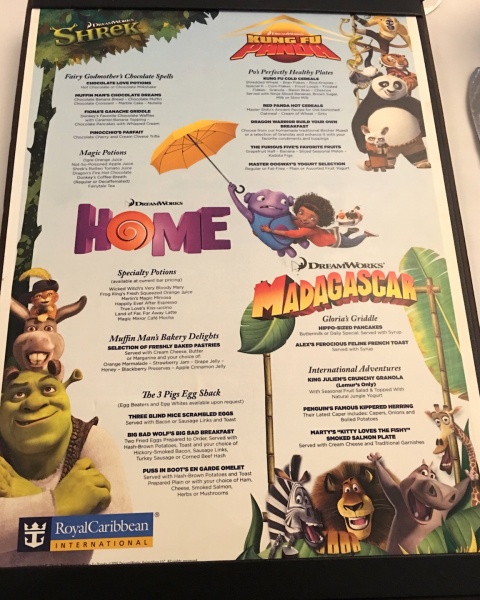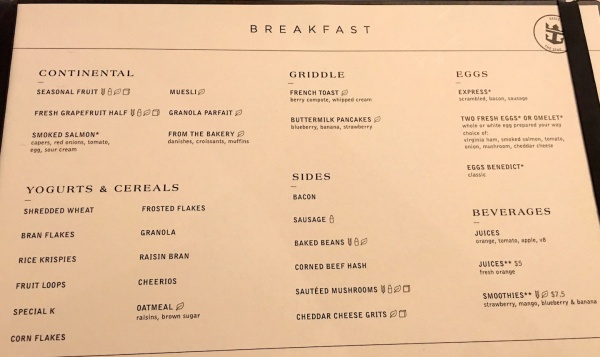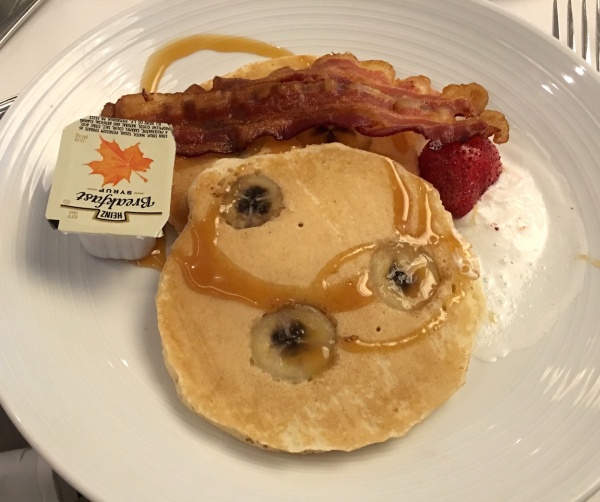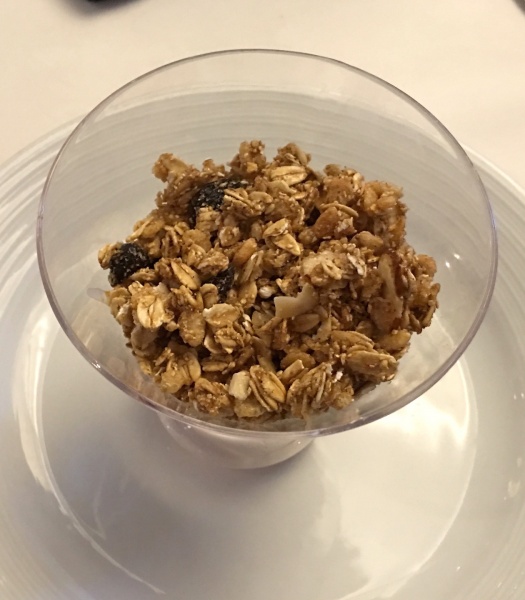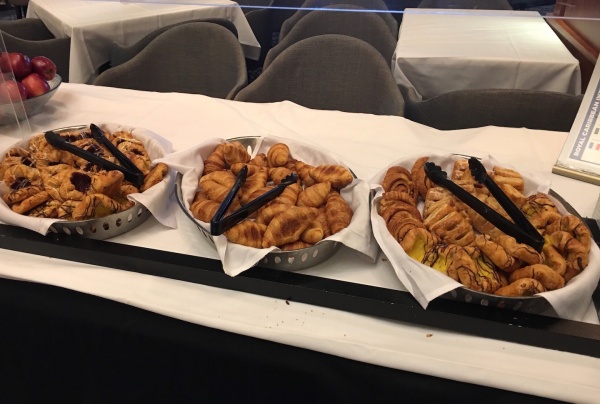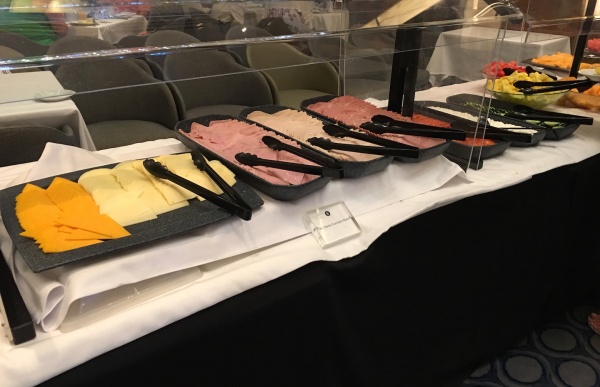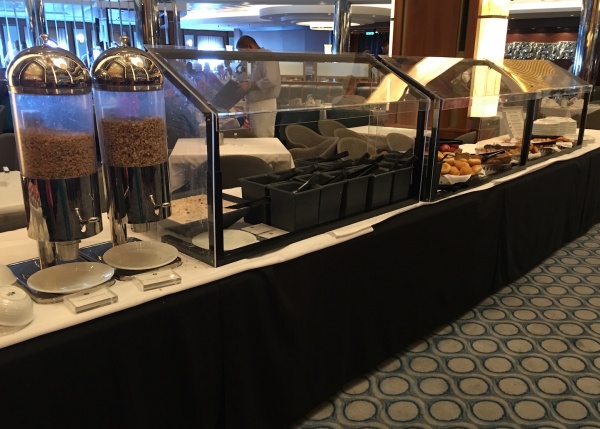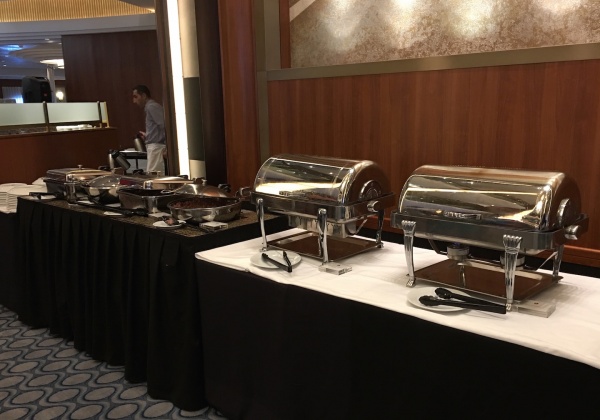 Once you're settled at your table, with your food on its way, lively music starts and the DreamWorks Characters come out to greet their Guests. One at a time, a Character is introduced. To get everyone excited and energized, the Characters and servers come out dancing. During our DreamWorks Rise & Dine Character Dining experience, we got to meet Shrek, Princess Fiona and Puss in Boots.
Shrek came out first and danced to the song "Gangnam Style" before making his rounds table-to-table. Who knew this Ogre could bust a move like that?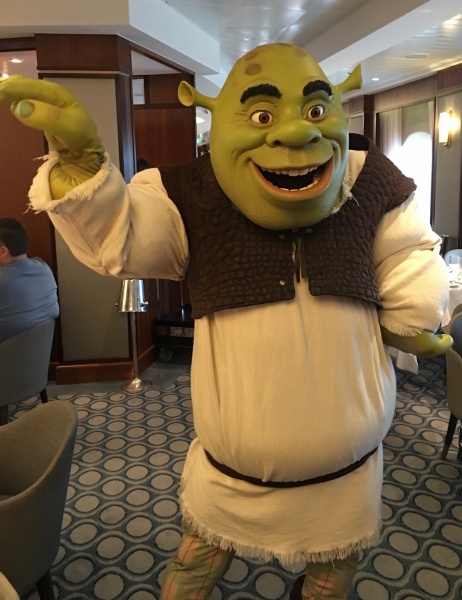 Then, Princess Fiona was introduced with the song "I'm A Believer". She got the restaurant going with hands clapping and doing "the swim" dance.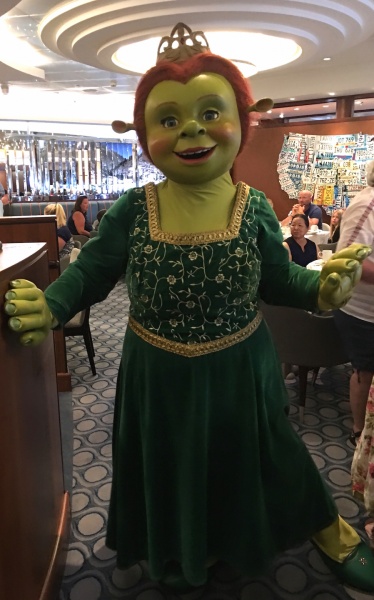 Finally, the adorable yet tricky outlaw, Puss In Boots arrived with hands waving and napkins twirling in the air. This cat was on the move. . "Go, go, go, ale, ale ale!"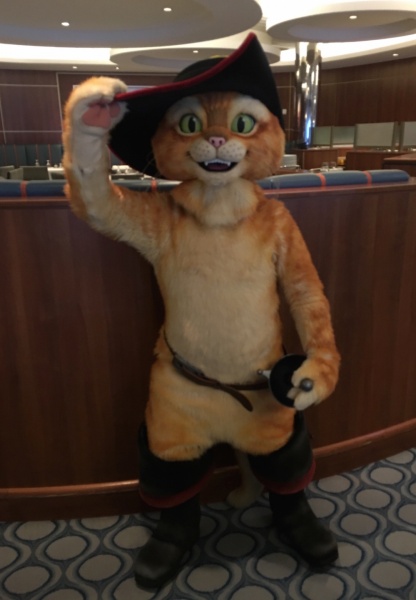 Then, each Character made their way through the restaurant to meet & greet Guests at their table. This is your chance. Get your camera ready to capture your favorite!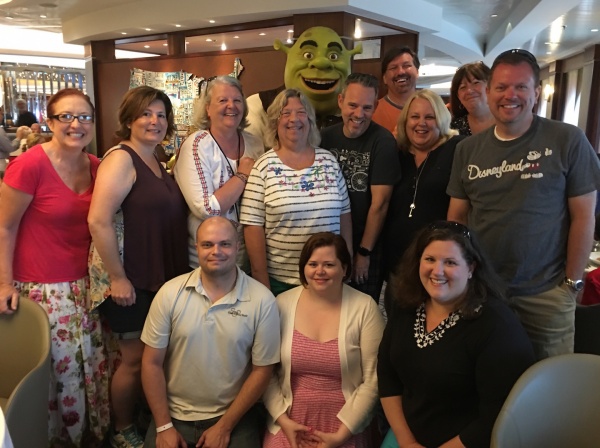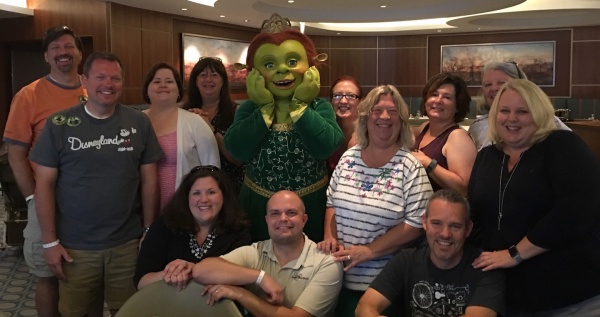 For children and the child-at-heart, the DreamWorks Rise & Dine Character Dining was a fun experience for DreamWorks fans. After each Character, you receive a sticker as a little keepsake souvenir of your experience meeting your favorite DreamWorks Characters.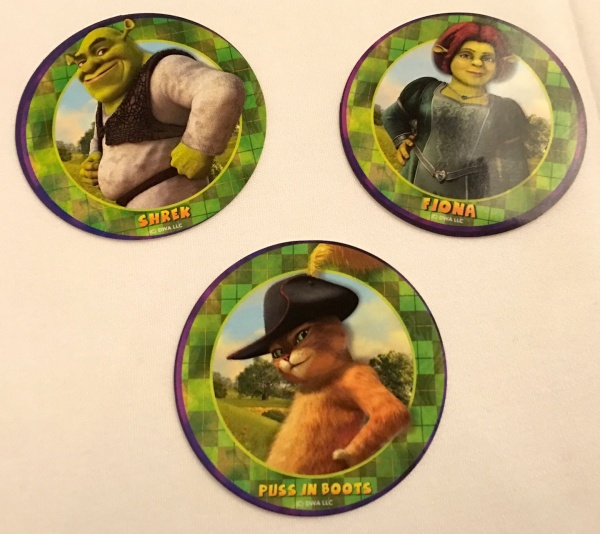 In addition to the Rise & Dine Character Dining, there are opportunities to meet other DreamWorks Characters throughout the ship during your sailing.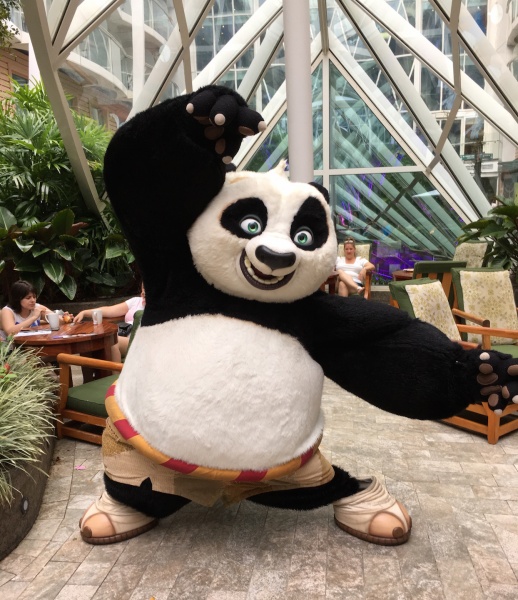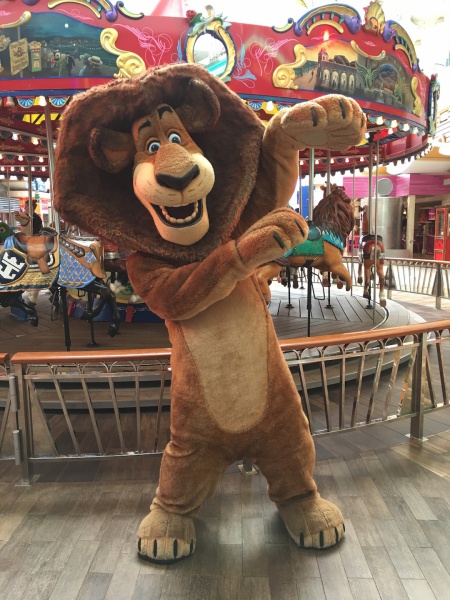 Interested In The DreamWorks Rise & Dine Character Dining?
It costs $10 per person for all Guests 6 years of age and older. Children 5 and under are FREE. Prices are subject to change. On select Royal Caribbean ships and itineraries, the DreamWorks Rise & Dine Character Dining is offered on select dates and times during your cruise.
The DreamWorks Characters featured at each dining experience are subject to change without notice. Once onboard, you may stop by Guest Services or speak to the Dining Manager at the American Icon Grill to find out which Characters will join you during your reserved date and time. It doesn't hurt to ask when your favorite characters may be dining and check current availability. Just keep in mind, Characters are subject to change without notice and availability is limited.
Given this dining experience's limited seating, it is recommended to make reservations for the DreamWorks Rise & Dine Character Dining in advance. For more information or if you are ready to book a Royal Caribbean cruise, contact a Travel Counselor affiliated with Magically Carefree Vacations. We would love to help you plan your Royal Caribbean Cruise and share more information about the DreamWorks Experience.