We don't often splurge on vacations. Our rationalization is that we would rather travel more often than more extravagantly, so this sometimes means coach instead of business class, the occasional cod instead of the daily lobster, and most often a balcony instead of a suite. When your vacations start numbering upwards of five trips per year, those expenses can add up. Sadly (and I facetiously say this in my very best "poor me" voice) this has recently changed. I made the "mistake" of upgrading to the Grand Suite on Royal Caribbean's Oasis of the Seas.
On Royal Caribbean, the first category of suite that benefits from their concierge service is the Grand Suite. Not only are these luxurious staterooms extremely spacious, but whoever designed them utilized every possible storage area, making them seem even larger. In 30+ cruises, I've never felt so much at home. Or it would feel like home if I had more storage space there. And a room steward. And room service. (For a wonderful tour of the Grand Suite, click here!)

What follows are just a few Do's and Don'ts for cruising in a concierge suite on the Oasis of the Seas!
When you first arrive to the port, do take advantage of the priority boarding area. Even on a ship with over 5,500 guests, the check-in time is minimal. Don't annoy the non-suite guests by saying things like, "Oh, how long have you been waiting?" or "Can I bring you a snack?"
Do visit the concierge lounge when you board. There is food, welcome champagne, and a far more peaceful atmosphere than you will find in the hectic boarding-day buffet.  And do make time to introduce yourself to the concierge team, who will become your new best friends for the duration of your cruise. For anything from random questions to help with dining and excursions, they are pleasantly and efficiently at your service!
Don't worry if you haven't yet made reservations for the shows. For most, simply arrive 20 minutes prior to show time, flash your specially colored room keycard, and you and your party will be escorted to prime reserved seats.
Do take advantage of the complimentary pressing service on the first formal night. Don't wait, like us, until it's too late to have your clothes back for dinner.
Do be aware that the concierge lounge is more than just a place to have a complimentary cocktail before dinner. Ala carte breakfast and lunch are served daily, and dinner is available as well, although dinner does require reservations. House wines, champagne, beer and soft drinks are available from 11:30am to 11pm, and cocktails, hors d'oeuvres, canapes, and petit fours from 5pm to 8:30pm. (If you feel the need to know the difference between the three, as I did, it's a good random question for the concierge staff.) Can't sleep? The lounge is open 24 hours in case you need a break from a snoring roommate.
Too tired for the dining room? Do note that you can order in-room dining from the dining room's full menu for breakfast, lunch or dinner.
Do be sure to check out the private Sun Zone seating above the pool decks. Although it's not in the vicinity of any large body of water (other than the ocean), it's a welcome relief from the crowds by the pool, has an odd shower contraption to keep you cool, has its own bar, and offers private cabanas for your use (first come, first served).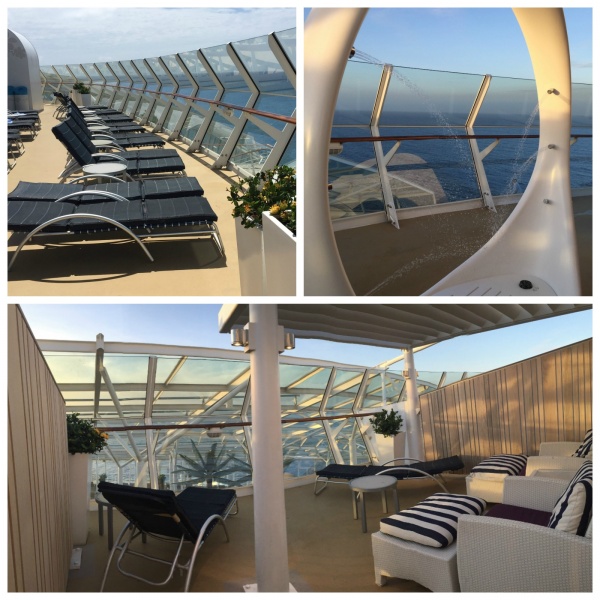 Don't forget that your fee is waived for the luggage valet and onboard airline check-in service upon disembarkation. (This applies to select airlines and itineraries.) Do add that to your growing list of justifiable reasons to book a suite again on your next cruise. "But, honey – look how much we saved?!?!"
Do remember to tip for exceptional service. The beverage package gratuities are split among over 100 bartenders on the ship, but that extra dollar or two that you add goes right to your favorite drink mixer. And although the concierge staff may get that extra dollar or two per day that is added to your daily gratuities, their dedicated service deserves so much more.
Do note that you will have priority disembarkation, which includes a suite departure lounge with continental breakfast. Do resist giving those in the very long customs line the royal wave on your way out.
If this is your first suite experience, do realize that it is likely the start of a whole new way of cruising for you. Do enjoy it – you deserve it! And do contact me for more information!