For more great photos and commentary, visit my Facebook page! Check the videos page for a few clips there too.
I love Disney and can't stress that enough. When your own five year old niece calls you "Mickey Girl", you get a sense of just how much. Given how many times I've been to Walt Disney World, Disneyland and sailed on the Disney Cruise Line, I have to admit I was a bit skeptical about sailing aboard Royal Caribbean Cruise Line but I have friends who sail with them frequently and I wanted to have something new and different to offer my clients when they need to be more budget conscious or want to try something new. My husband and I had sailed on Royal Caribbean for our honeymoon 22 years ago but that ship was so small in comparison to their ships now that it isn't even part of the fleet now!
We weren't sure if we would even have time for a vacation with our young adult children volunteering and working this summer. We managed to carve out five nights/six days and said, "Can we do something we'd all enjoy in that time?" Fortunately, we are close to the Port of Baltimore and the Grandeur of the Seas had a five night cruise going to Bermuda, one of the countries on my bucket list!
We booked and prepared to sail. I compared the stateroom sizes and worried that the smaller sizes would be a problem for four people in one stateroom as we were used to the spaciousness of Disney staterooms. I was pleased with the pricing but thought about the things we were used to receiving included in our cruise fare that we'd now need to pay for separately. Would I feel like I'd been nickeled and dimed? Would the final cost not be a savings?
We couldn't beat the convenience of sailing from Baltimore. No airfare and the port was almost the same distance from our house as the Philadelphia Airport so right there, we had a big plus. It was easy to get there, park and board the ship. Our luggage was collected before we parked and that made it so nice to walk to the ship without worrying about our bags.
I braced myself as we boarded the ship. I really did! I was so prepared to be disappointed. When there wasn't the familiar, "Please welcome the Larock Family" moment, I thought, "Okay, that's the start" but I was wrong! The ship had recently been remodeled and was beautiful. What a gorgeous atrium looking all the way up from Deck 4 to deck 9!
Just as on the Disney ship, you're invited to eat as soon as you board while the luggage is being delivered to your staterooms. Seating was a bit difficult at first given that so many had arrived at the same time we did but it didn't seem to be any different than what we were used to experiencing and we resisted the urge to compare everything to the Disney way.
Food was beautifully prepared, presented and plentiful throughout the cruise. The entertainment was different from the Broadway-esque shows on the Disney ships which was actually a nice change and we thoroughly enjoyed the game shows, dance parties, Cirque-esque performers and entertainers.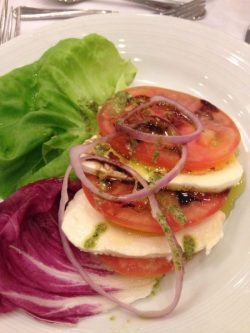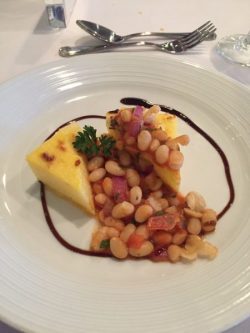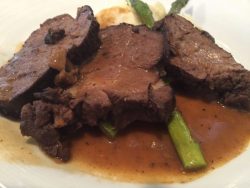 What really impressed me was the quality of the service we received. At no point did I feel that our stateroom steward, server or assistant steward had not lived up to my expectations. As we had on previous Disney cruises, we got to know them and had fun engaging with them all during our stay.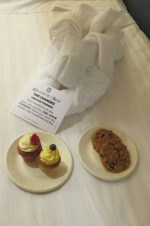 Yes, the staterooms are noticeably smaller and no split bathrooms.
To maximize the space we had, we asked our stateroom steward to leave the top bunks down and keep the bottom bunks apart so that during the day, if we all wanted to hang out, we each had some personal space to accommodate us. Those that unpacked their suitcases had room to store them in the closet. We made use of the sofa and end tables for additional suitcases which worked fine for us. Keeping the stateroom neat and tidy also made it feel sufficient for our needs. With many category options to take advantage of on the ship, you could also consider upgrading to a larger stateroom and your pricing could still be budget friendly if compared to a Disney ship.
We did a mix of sightseeing on our own and shore excursions provided by the cruise line in Bermuda since we had an overnight stay there. Here is the one place I noticed a bit of a difference. Unlike on the Disney ships where you are gathered together in a central meeting space to get to your shore excursion, we were given information about where to find our shore excursion greeter on our tickets but that was it. Be prepared. Ask questions if you are unsure about where to go on the day before your excursion. With that information, I would have felt much more comfortable about who to look for and where to be. That said, it wasn't hard since our guide had good signage and showed on time.
The drink package we purchased provided us with a souvenir cup and we had access to the refillable soda fountain whenever we wanted. There were other soda and alcohol drink packages available as well so that can set your mind at ease about having things paid for in advance.
Our bill at the end of the trip was relatively small and the total cost of the trip was still less than we would have paid for the four of us on a Disney sailing of the same duration. I don't feel like we sacrificed at all. We had a great vacation. We didn't go over budget. In fact, I took advantage of their onboard booking offer to book another cruise for the beginning of 2017. Placeholder cruises aren't available with Royal Caribbean but there is flexibility to change your dates if needed.
We're not giving up on Disney Cruise Line though! We've got our Be Our Guest Podcast Cruise booked for summer 2017! If you are interested in booking either of these wonderful cruising options, I'm here to help!