Carnival Cruise Line has adopted the slogan "Fun For All.  All For Fun."  Carnival has long offered their kids' club, Camp Carnival, but now some newer options really set the Fun Ships apart for their youngest guests! Over 700,000 kids travel aboard one of Carnival ships annually and the company has recently enhanced their ships with new partnerships with Build A Bear and Dr. Seuss.
Twenty four of Carnival's twenty five ships currently have Seuss at Sea and the entire fleet
will have Seuss soon.  Included in the Seuss theming are character parades, photo opportunities with characters, story time, arts & crafts, and a Green Eggs and Ham character breakfast.  All Seuss activities are included with the cruise other than the breakfast which costs a nominal $5 per person.
GREEN EGGS and HAM
The Green Eggs and Ham breakfast features Seuss themed tables, characters (such as Thing 1 and Thing 2, The Cat in the Hat, Samm I Am), music with lyrics from Dr. Seuss books, and a full breakfast.
.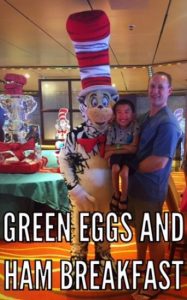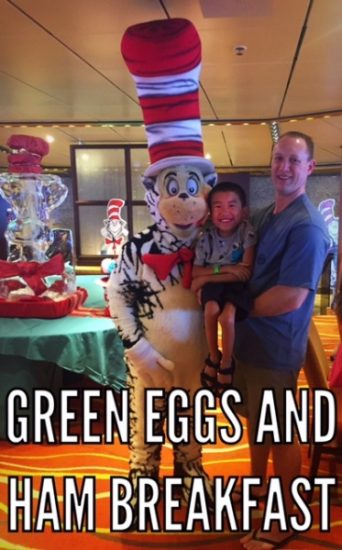 Each party that reserves space at the breakfast sits at their own decorated table and orders from a menu that looks like the Green Eggs and Ham book. Choices like actual green eggs and ham or stacks of white and red pancakes in the Cat in the Hat shape delight
kids, while parents might prefer waffles or steak and eggs.
Characters make the rounds and autographs are given out to kids while they dine.  This is a fun experience for pre-school through early elementary aged children and lasts about an hour.
BUILD A BEAR at SEA
Carnival has also brought the full Build A Bear experience onboard their entire fleet recently.  Kids either can go to Camp Carnival with a parent at a designated time to build their bear, or attend a Build A Bear party.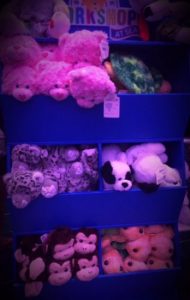 The Build A Bear party includes games, photo opportunities, music, and themed snacks.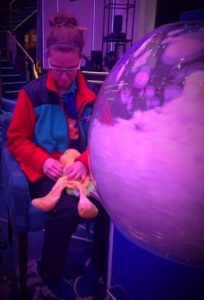 Kids are called up in small groups to choose their new friend, have their animal stuffed, sewn, and finally named with a birth certificate. They are then given a Build A Bear cinch sack to carry their new friend.
Carnival has really made an effort to enhance the cruising experience for children and both of these activities are really well done and truly fun!  If you would like to book a Carnival Cruise, contact one of the Carnival Cruise Experts at The Magic for Less Travel https://www.themagicforless.com/ or Magically Carefree Vacations https://www.magicallycarefreevacations.com/ to help get your vacation planning started!