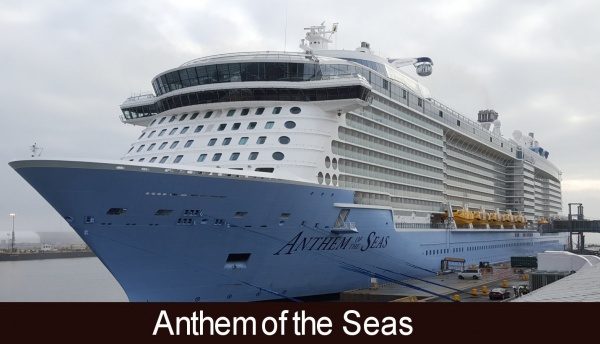 I booked a short 3 night cruise to nowhere aboard Royal Caribbean's   new Anthem of the Seas departing from Cape Liberty in Bayonne, NJ.  Leaving on a Friday afternoon and returning on Monday morning-3 nights to get to know this new cruise ship.  Due to newly enforced existing immigration laws concerning the crew, cruises to nowhere are actually not legal.  Norwegian Cruise and Carnival  Lines cancelled all their 2016 2 night cruises to nowhere, but since this was a 3 night sailing Royal Caribbean decided to add a 1 hour stop at midnight in Halifax, Nova Scotia to comply with the law.
It's a shame as the short 2-3 night cruises are a great introduction to cruising for people who have never cruised before although Disney Cruise Lines still sails 3 nights out of Port Canaveral to the Bahamas (contact me for a quote!)
You may or may not recall, but the Anthem of the Seas got some bad press when it ran across a very bad storm on it's February 6, 2016 sailing and had to return early to repair storm damage.  Another voyage later that month was cut short to avoid a storm and also had a minor Norovirus outbreak!  Well, our sailing was the next up on the list on March 4, 2016.  At least they had an extra day to sanitize the ship.
Even with all the bad press, the Anthem was ship shape when we boarded.  The only thing I noticed that was still damaged and had a temporary repair was Gigi the giraffe. (she was permanently fixed the first week of May) and a cracked window in the Solarium Bistro.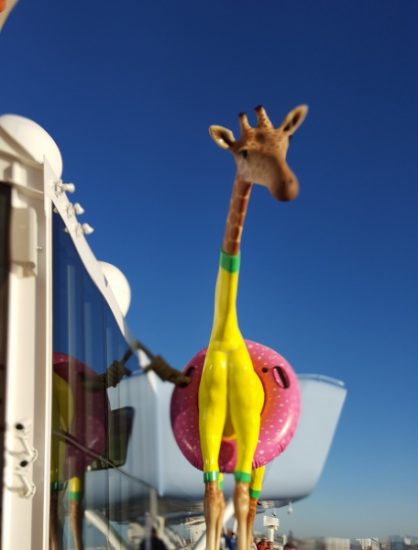 Our sailing departed from New Jersey in March, it has snowed that morning and the decks were covered in slush!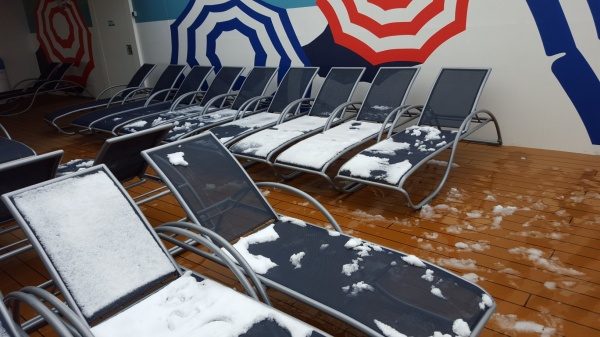 We all boarded this cruise thinking it's only going to get worse, we are headed north and major snow was predicted for Halifax.  The next morning on the TV in the stateroom it showed us heading south.  The captain had made the decision along with corporate not to head into the storm.  We really were on a cruise to nowhere now as there are no ports close enough to get to in the time allotted for this sailing if we were heading south.  The good news was, it was getting warmer outside and guests could enjoy the open decks on the second day!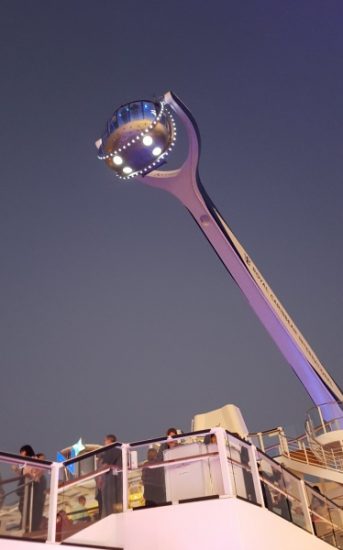 One of the features on the Anthem is the North Star.  A pod that beings you up 300 feet above sea level and then swings out over the side of the ship! Other new and innovative features are trapeze school, roller skating, bumper cars and  iFly (a skydiving simulator).
The Anthem has 4 main restaurants that are included with your fare, Silk, American Icon, Chic and The Grande.  With dynamic dining you can choose which restaurant you want to go to each night and at what time. They also have classic dining (similar to Disney) where you rotate through the 4 restaurants each night along with your servers.  Of course there is alternative dining that has fees- Wonderland, which is a molecular gastronomy restaurant, Chops, a steakhouse, Izumi for sushi as well as Jamie's Italian by Jamie Oliver.  We only ate at the  main restaurants this sailing.  Each night they featured a best of  Anthem menu so that you could get a taste of items from all 4 restaurants.
As short as it was, our sailing was just a tease of this beautiful and innovative ship.  I'll provide more details when we sail her again in September on a 5 night cruise to Bermuda!
Check out Royal Caribbean at The Magic for Less website here
To find out more about the Anthem you can visit Royal Caribbean's website here.
For a free no obligation quote on this ship any other ship, please contact me here.