Carnival Magic Chef's Table
Although I don't profess to be a 'foodie' at home, the Chef's Table on a cruise allows the cruise line to pull out all the stops and offer a prix fixe meal not found in the main dining room.  Fortunately my most recent cruise on the Carnival Magic had a Chef's Table, and of course I had to sign up. This is advertised as a treat for the taste buds and they were not wrong. Cost was $95 per person (February 2018 pricing) plus a 15% service charge. Although these dining experiences are somewhat pricey, I think it is totally worth the extra cost.
In the past I have written about my experiences with the Chef's Table on the Caribbean Princess (click here) and Royal Caribbean's Oasis of the Seas (here.)  I've also done the Master Chef and Sommelier dinners on Holland America Line as well as a previous Chef's Table on the Carnival Valor.  Most chef's table experiences follow the same format:  samples of fantastic appetizers, several courses of a meal and wine and a decadent dessert. There can be a lot of wine–such as what we have experienced with Holland America and Royal Caribbean, or just a red and a white and a dessert wine, which is what we had for this experience on the Carnival Magic.
My companion for this cruise was my senior citizen mother, who is definitely NOT a foodie or even a more adventurous diner. Since I like her to break out of her comfort zone when we travel I mentioned the Chef's Table and asked her if she would like to go. When I described the menu she wasn't too sure about it but decided she would because no one starves on a cruise ship and I told her if she left hungry we could get her a sandwich.  I scheduled this before we departed on our cruise and received confirmation about 45 days prior to sailing that we would obtain our dining time on the ship.  I later learned that there were four Chef's Tables being held that week as they are so popular.
The great thing about this particular Chef's Table was it was held entirely in the galley, while the staff was working and running back and forth. It was loud and there was a lot of traffic, but how many people can say they ate their dinner IN the galley of a cruise ship?  I've had appetizers in the galley on the Caribbean Princess and the Carnival Valor, but this is my first meal held entirely in the kitchen during the busy meal period. Here are some photos of the galley as we did our short tour, to include the pictorial of the dining room options for the week: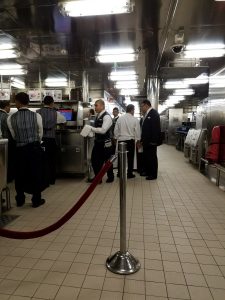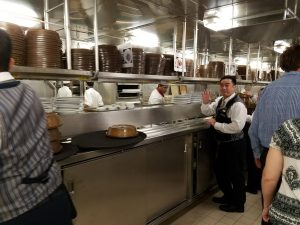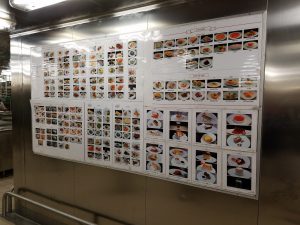 The Chef's Table Food
Here's a summary of this event starting with our invitation, which was delivered to our stateroom two days prior. Note it said to confirm participation–please do this! They need an accurate head count and there is usually a waiting list.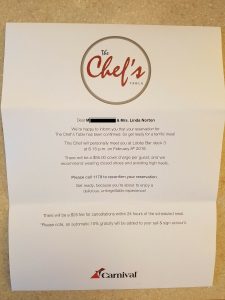 The group met in the main lobby of the ship and signed in, and completed our waivers. At the designated time our chef came out and we were escorted through one of the dining rooms into the galley and an area where they provided our appetizers and discussed the meal. We were given a welcome glass of champagne (and yes, refills were provided.) Our chef for the evening was Santosh, who was in charge of the Lido dining area including the pizzeria, burger bar, deli as well as all facets of the buffet. Santosh's official title is that of Sous Chef.  His helpers were from the Lido galley and we were able to ask questions of them as they served. We had one server for every two guests. My server was the guy who made all the French Toast on the ship and he shared what he puts in it, which is the same as I use. Seriously, Lido buffet on Carnival has great French Toast.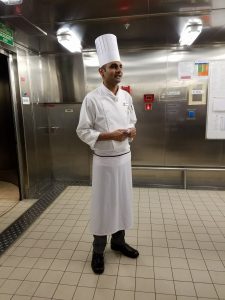 Santosh discussed what we would be doing for the next few hours and started us off with our appetizers. First up were Kalamata Olives with a fennel marinade with Parmesan Cheese curls (we had a dietary restriction so no dairy for us.) The olives were delicious–and normally I do not like these as I think they are too salty. Then they got creative–and put candy floss (cotton candy) around the olive.  Not that I'd ever do that, but it added an obvious layer of sweetness to the salty olive, and I confess that I had more than one because they made too many and I was next to the guy making them. We also had a pickled raw salmon (sushi), some chicken liver pate with hazelnuts–which tasted oddly like Nutella, and a fried shrimp on crostini with lemon sorbet (which is the same sorbet as they serve in the extra charge Italian restaurant on board.)  Our accompanying beverage was Chandon Brut–and it was pretty good for a reasonably priced wine. We also were presented with our menu for the evening as well.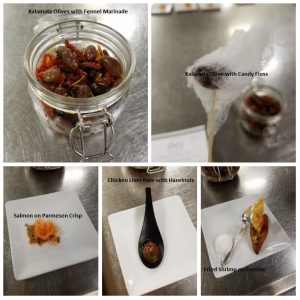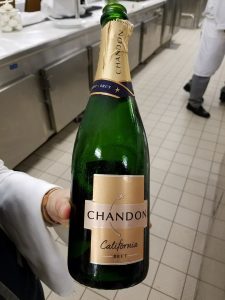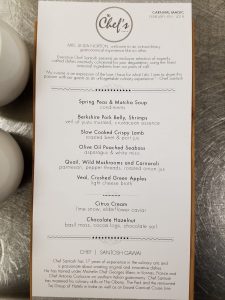 After our appetizers were completed we were seated for our group photo, which is a souvenir of the event. Since there were other people at the table I'm not posting the photo. Our service team asked about our preference for water (still, or sparkling). Mom asked me about sparkling water–and I told her to try it. If I'm not paying for it I am happy to drink Pellegrino. But plain 'ole tap water is fine too.
After we were seated they brought our bread plate. We had some flavored butter along with the rolls and our first wine was poured, which was Oyster Bay Chardonnay (available in supermarkets near you and quite affordable, and drinkable.) Mom tends to like wine that tastes like fruit punch so she took a small pour–and no refills.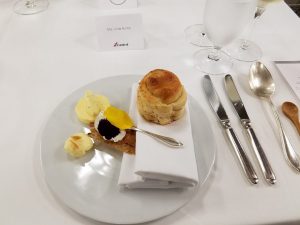 Then came the soup, which was Spring Pea with Matcha. We were presented a small container of matcha (which is powered green tea) to place in the bowl, and then hot soup was poured on top. While the soup was being poured we were to whisk the matcha with the bamboo whisk to dissolve it. We were supposed to use a very small amount of the matcha.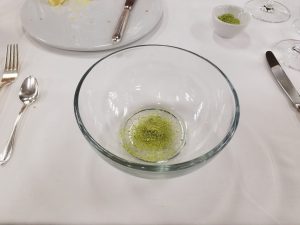 Here's the end result. It was quite tasty but I can't say I tasted any tea flavors in the soup.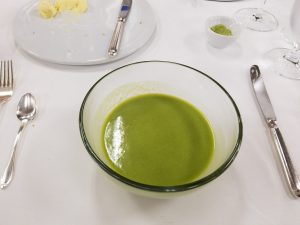 After our soup course we we were presented with Berkshire Pork Belly and Shrimp. Normally I abhor pork belly as it just doesn't seem to be cooked enough for my taste and reminds me of underdone uncured bacon. Because mom was trying things outside of her comfort zone tonight, I decided to try it. Well, it was delicious and actually crispy. Didn't remind me at all of a fatty edge of roast pork. The shiny thing on top had the texture of a Fruit Roll-Up and was tasty.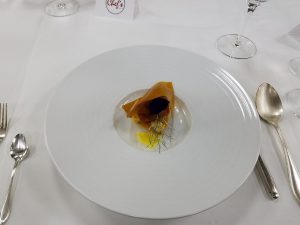 When we were done with the pork we were escorted through the rather busy galley and to the pastry chef area where we were instructed how they make their signature dessert, Chocolate Melting Cake. The pastry chef selected the teenager in our group to 'help' make a batch. Here are some photos: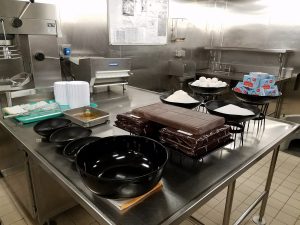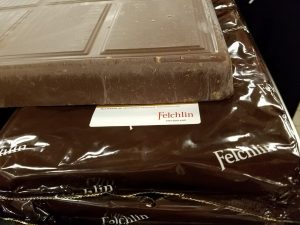 Pastry tour completed, we returned to our tables to find our first meat course, Slow Cooked Crispy Lamb with Roasted Beet and Port Jus. If you notice, the portions look small. I asked about this and Chef Santosh explained that the Chef's Table is a multi-course tasting menu and it is designed with 1.5-2 ounces of protein, and 4 ounces of other ingredients. He said that added up, it makes a generous meal which most people can finish without discomfort. I totally agreed with this because I have done other Chef's Table meals where there was just way too much food and a whole lot of waste. Anyways… back to this lamb. It was absolutely delicious and my favorite course of the evening. The beets, and the sauce, were just delicious. If it were on a menu on the ship somewhere I would order it.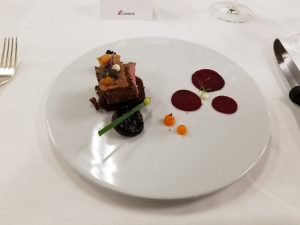 Our wine had changed to Layer Cake Cabernet Sauvignon–another affordable and drinkable bottle. Mom had her short pour and left the rest until I grabbed it. She would really have liked her Gallo White Merlot over a full glass of ice.
Next course was Olive Oil Poached Sea Bass with asparagus and white miso. I did not taste any miso. Everything was perfectly cooked. Mom would have liked her fish to be a bit more done. The interesting things about this dish were the garnishes: the black 'tent' is squid ink pasta. The yellow caviar is actually caviar marinated in mango juice.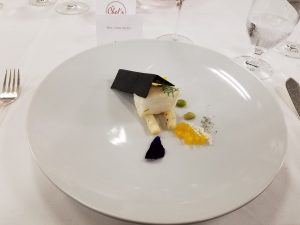 We still had a few courses including quail, which needed to be finished off before it was plated. Here is Chef Santosh 'finishing' our protein with a torch, and the final plate.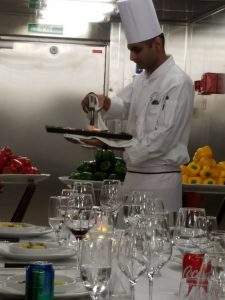 Our finished plate. Its small, but we've already had quite a bit of food. Another delicious entree.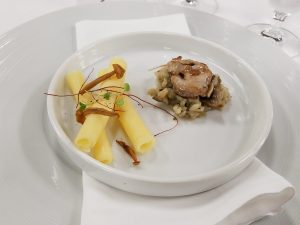 Our last entree was veal, and normally I don't eat veal. However I was going to give this one a whirl. The unique thing about this dish was the quick 'smoke' Chef Santosh did under glass before the meat was plated: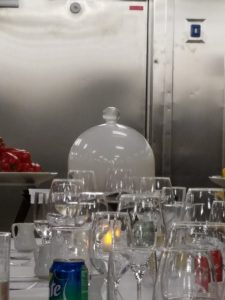 And here is our final plate of Veal, Crushed Green Apples with a light cheese broth: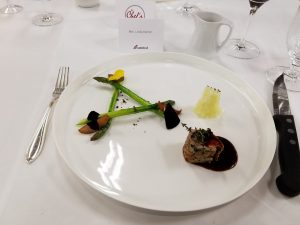 I didn't notice a 'light cheese broth' anywhere, but the sauce they gave with this was really good. For those of us who ate the veal we thought it was a bit dry, which may be due to the meat needing to be frozen on a cruise ship. The chopped apples were really good and I would have been happy to get a generous side dish of that asparagus.
Entrees done, it was time for dessert. First up was Citrus Cream with lime snow and elderflower caviar. It was beautifully presented under a glass dome.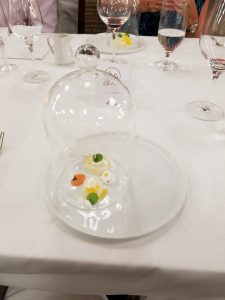 But wait… there's more! We got our glass of Port for our final dessert, which was a Chocolate Hazelnut cake with basil moss, cocoa logs and chocolate soil. Did "basil moss" make you scratch your head too? At the Chef's Table anything can happen and you have to trust they've been serving this for a while and knew whether it was a hit or a miss.  Here's the plate: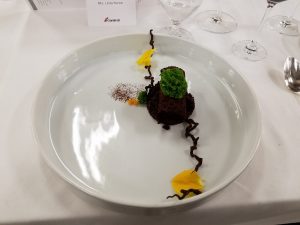 Now lets DE-construct this dessert:  The green 'basil moss' stuff on top looks odd, but it was strangely delicious. I could have eaten more of it. The cake itself was like a dry brownie, or half-baked biscotti. Flavor was good but I was thinking milk would have been a better accompaniment than the Port we had been poured. I did not eat all of the cake. At the bottom was "chocolate soil". Well, it was a chocolate-orange granular concoction and just amazing. Reminded me of chocolate orange candy (like the one you find during the Christmas holidays.)  I ate all of this and everyone around me loved it too, as well as that basil moss.
During our meal Chef Santosh answered questions and introduced his Lido Galley staff. They obviously took great pride in their work and were proud of what they presented–as they should.
Is It Worth It?
Since I do a Chef's Table on every cruise that offers it, I am often asked "is it worth the extra cost when food is included on your trip?" My answer is a resounding YES. The Chef's Table sometimes gets you into places where not everyone is able to go and lets the culinary staff show off their skills in front of an appreciative audience. For my mom, this meal was a stretch for her taste buds and she really enjoyed it. I would take her to another Chef's Table in the future. I thought this one on the Carnival Magic was well done as far as portions and having an appealing menu. The food was very attractively presented as well. Even the 13 year old at our table seemed to enjoy what she ate.
If you're ever on a cruise and are looking for a splurge and an extraordinary dining experience, book the Chef's Table and allow yourself about four hours for the meal.  Mainstream cruise lines such as Carnival, Royal Caribbean, NCL Princess and Holland America usually offer something like this on most sailings. They do tend to book up and people who wait to book can be turned away.