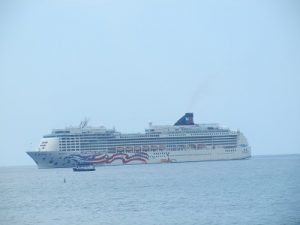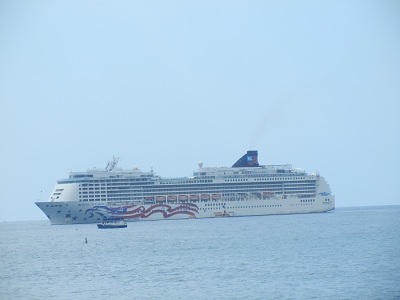 Check in at the cruise terminal was by far the easiest and nicest I've ever gone through.  There weren't a ton of people getting on, probably since the ship didn't leave until later in the day and a lot of people weren't there yet, but the immigration people in the terminal were actually extremely nice!  I've never encountered any as nice in any airport or cruise terminal.  What a pleasant start to our cruise.  We were given leis (mine was white flowers and Rick's was a shell lei) and had our photo taken with hula dancers.  They also had samples of fresh coconut and cups of cold water.   We boarded the ship and as usual were directed to the buffet.  We went to the Aloha Café on deck 11, found a table and filled our plates.  This is broken up into several stations making it very easy to get around without any long lines.  The food was better than your average buffet as well (strangely the mashed potatoes really stood out).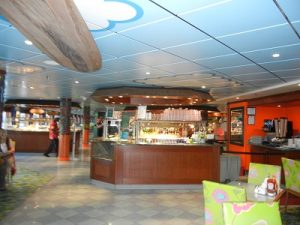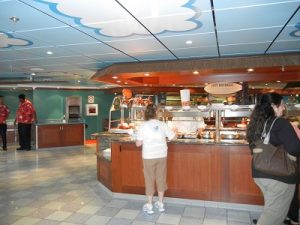 After eating we hung out on deck 12 waiting for our stateroom to be ready.  They announced which decks were open as they became ready, which was nice that everyone wasn't rushing for the elevators/stairs at the same time.  We were in stateroom 9616, mid ship right by the elevators and a great location!  Our first though when we opened the door, though, was wow, it's really small!  It's been a long time since I've been in a stateroom that small.  There was the king bed (I think, maybe queen), a half-sofa, small table and chair at the desk, which was just a desk top, no drawers.  It seemed like there wasn't much storage, but we actually had unused drawers so there was more than it originally looked like there would be.  The verandah was your normal size with 2 chairs and a table.  However, the verandah was just bars, no plexiglass or anything covering the openings between the bars, which were wide enough for a child to fit in.  That part was appalling and I hope they do something about that when they dry dock.  Granted, children shouldn't be out there unaccompanied, but things happen and I would be very uncomfortable if I had a smaller child on the verandah.  For the most part the ship looked in good shape, but it really does need to go for dry dock.  The staterooms are extremely worn (tear in the very ugly orange sofa material) and the tv isn't a flat screen.  Now, that being said, there was nothing there that deterred from our enjoyment and I certainly don't care what kind of tv I have (although they had the worst selection of channels I've ever seen!), but it just stood out since you do only see flat screens these days.  The ship is 5 years old and never been in dry dock, although it is scheduled to be the first of next year.  Considering that it was in better shape than some ships I've seen.  One thing I loved was that just outside the door by the stateroom number was a dial—you put it to what you wanted—welcome (do nothing), make up, turn down or do not disturb.  How nice, and you didn't need to worry about losing the little card on the door.  I loved that feature!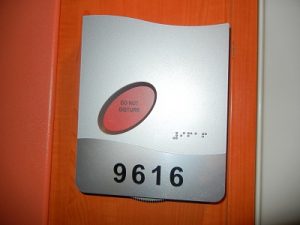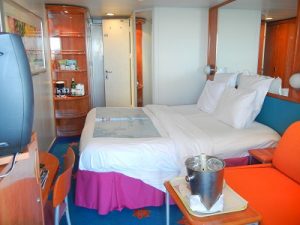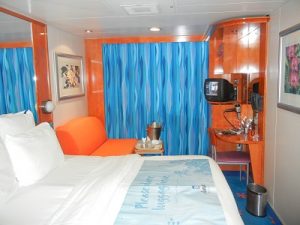 The ship isn't large at 80,000 ton, but is a good size to maneuver easily.  The hallways seem wider which was nice so you didn't feel like you were walking down a narrow path and much easier when meeting someone, but that also took away some of the stateroom space.  I liked the theater seats since they had leg room between the rows, however, the theater was at enough of an angle to be able to see well if you were toward the back and had anyone sitting in front of you.  We found we had to sit toward the front for a good view, or at the very back tier behind the walkway.   The lobby area seemed large and open which made the ship feel larger.  They may end up adding a casino if Hawaii allows gambling so the dry dock may be major changes to this ship and the space available.   There were a few things that really made this ship stand out from the rest, besides not having a casino, and that was that it's registered in the US, and has 75% American crew.  What a difference!  I had heard that the service wasn't as good with Americans not being the workers that their international counterparts are, but we never saw that, and for the most part all the crew were extremely courteous, pleasant and hard workers.  Another thing that stood out is that we never saw our room steward—he or she did a great job, but we just never ever saw them.  And the biggie—the Captain was from the US (Washington, DC and now Florida) but we never heard him speak—not ONE word!  LOL  Usually at the welcome or farewell show they speak something—not this guy.  I just wanted to hear a Captain speak without an accent.  That didn't happen.  It didn't affect my cruise, he kept the ship afloat and out of rough waters, so I have no complaint.  I suppose if I'd gone to the reception and gotten to meet him he might have spoken.  LOL  There were also only 48 children onboard.   They said that they will have up to 200 during school breaks, but with this port-intensive itinerary, and the fact that it's more expensive than a Caribbean cruise, they don't have as many children as most cruises will have and it really stood out.  There were also a lot of Japanese, but as Japan is only 8 hours away (closer for them than it was for me!) they get a lot of Japanese tourists.  They also said they come to the US to buy electronics as they're much cheaper-I find that funny, come from Japan to buy made in Japan.  There was a note on today's Freestyle Daily letting passengers know there was a service dog onboard and that it was certified to assist its owner and would be working so to remember it was on duty.
There are 5 specialty restaurants with surcharges running from $10-$25 as well as 2 main dining rooms, the Aloha Café, Cadillac Diner and Key West Bar and Grill.  We never made it to the main dining rooms but the food at all other locations was quite good.  Due to the long port days and being in the same port overnight, it also made this cruise unlike any I'd been on which changed my dining habits.  It never seemed like I was eating at a normal time, other than breakfast.  Breakfast from 7:30am-8am or so was, as one of the servers said, Walmart on sale.  Yikes—it was crazy and hard to find an empty table.  They did have at least 3 omelet/egg stations at different locations, so that was never much of a wait.  They had a small section in the Aloha Café for young people—with tables and chairs sized just for them.   This is also where you could find coffee and tea 24/7.  I took my refillable mug from Aulani so I could get a drink easy to carry around (and saw a couple of people that evidently been there when we were that also had the mugs).  I had several people comment on being smart to bring a larger mug as their glasses weren't very large (but larger than Carnival's!).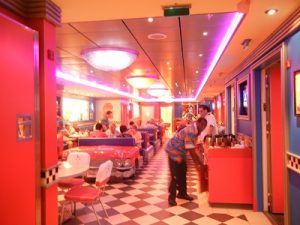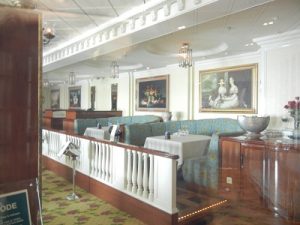 We went to the show, which was a variety show featuring the production staff, senior officers and one of the guest performers for the week.  The comedian, Bud Andersen, was great!  We looked forward to seeing him again later in the cruise.