When you hear the word cruise, your first thoughts are often the dining on board.  All cruises offer a lot of dining opportunities from casual quick service hot dogs to fine dining and caviar.   This is also a great time to try those foods you were hesitant to try before-if you don't like it the servers will bring you something else without paying for another dish.  Most locations are included in your cruise fare, so you can just enjoy all you want without worry of the cost because you've already paid for it!  All ships also have specialty dining opportunities for a small surcharge.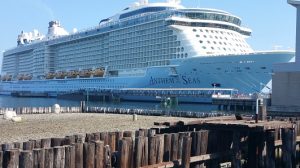 Here I'm going to showcase a couple of fun, unique specialty dining experiences on Royal Caribbean's Anthem of the Seas.  You'll also find these same locations on other ships as well and I highly recommend trying them!  These are not quick so allow 2-3 hours for your dining times and prepare to just take it all in and enjoy.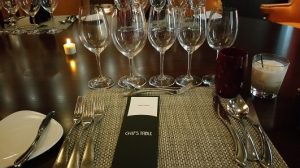 Most ships will have a Chef's Table offered.  This is a small, intimate meal with a very limited amount of guests, so you will want to book this early so you don't miss this experience.  The menu is prix fixe with 5 courses including wine pairing.  You're greeted with champagne as you're seated and start enjoying your evening.  The meal started off with Compressed port and fritter, apple jelly, sage scratching, burnt onion ketchup followed by Essence of Alaskan king crab, which was crab, fennel salad, basil oil and grape tomatoes.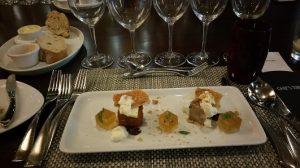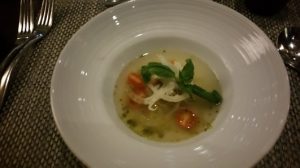 The two entrees were Branzino with roasted cauliflower, fried curry leaves, curried cauliflower puree, capers vinaigrette and Confit beef with truffle jus, stuffed morels, curried brioche, beet gel and smoked fole.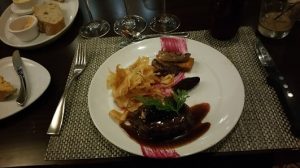 Dinner ended with Elderflower and strawberry trifle which was strawberry spherifications and elderflower granite, then Dark chocolate tart with white chocolate crema, star-anise ice cream, salted caramel shard, and frozen blueberries.  Amazing food, lots of wine and great dinner companions equal a memorable evening.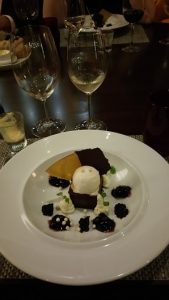 Wonderland is found on a few ships and is one of those meals that is so unique everyone should experience it.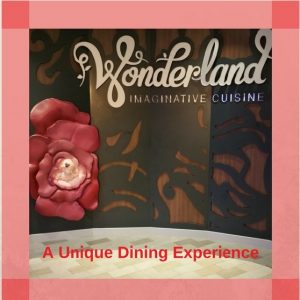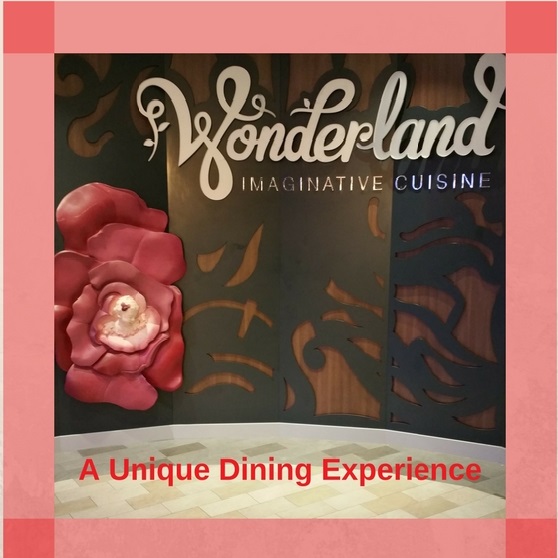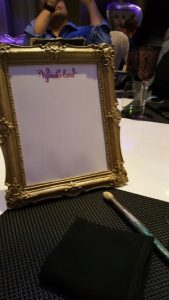 Not only is the food wonderful but the presentation is very different as well.  The experience starts out with a brush on the menu, where once you see it, is broken into elements-Sun, Ice, Fire, Sea and Earth.  You can choose your menu from just one section but instead let your server choose for you and you'll get to try about 95% of the menu.  Everything on the menu is very good!  One of the unique presentations from Sun is Baby vegetables in the garden, soil, pebbles.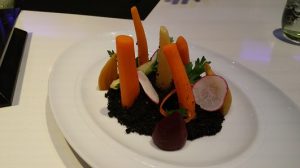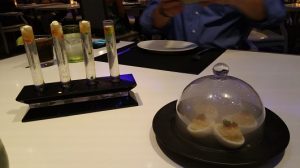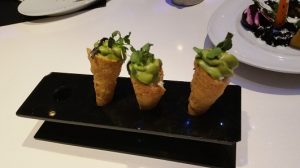 Another interesting appetizer is Tomato water, pepper spherification, bread foam.   From Ice is Crispy crab cones, cilantro, avocado mousse, ohba leaf.  Fire brings wonderful Buffalo chicken eggs, smoke, blue cheese, hot sauce.  Sea includes Liquid lobster, bone marrow, caviar as well as Halibut cooked in clear paper, mushrooms, potato, bacon.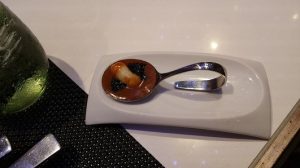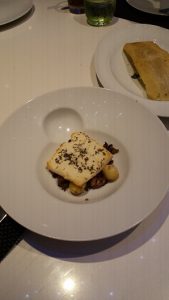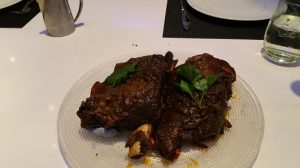 The last section Earth includes Terroir beef, river stone potatoes, bordelaise sauce and Berkshire pork belly, apples, crackling.   And when you think you can't hold more, next come the desserts that just cry "taste me" and you must.  You won't regret this dining experience!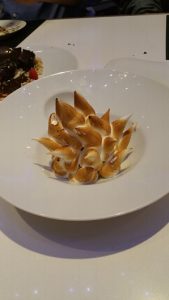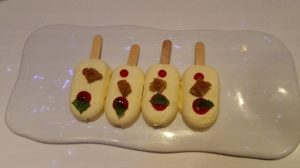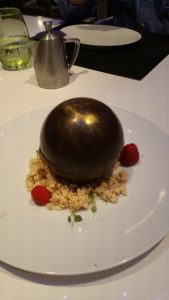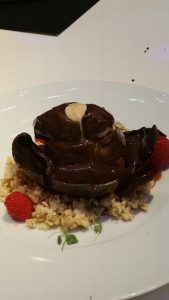 These are just two of the specialty dining experiences on the Royal Caribbean ships.  You can reserve them prior to your cruise to be sure you don't miss out or once on board if available.   Go with an open mind, try and enjoy!  You may find you have some new favorite foods.  Let me know when I can help you with your next cruise to try these wonderful culinary experiences for yourself.