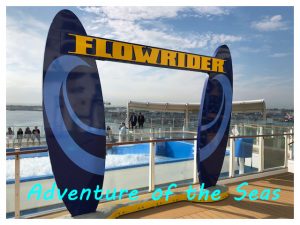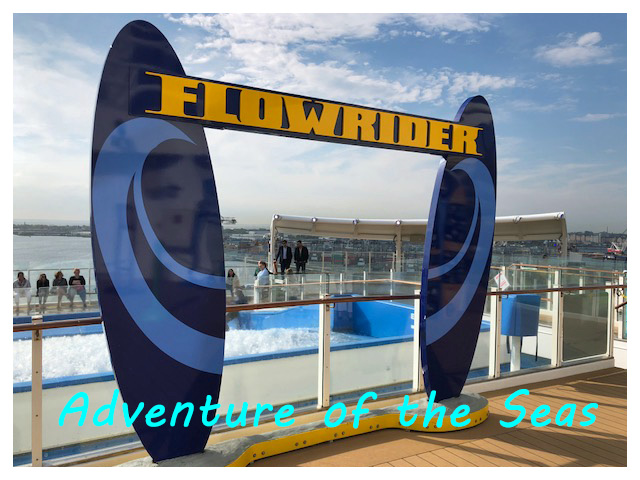 I recently had the opportunity to explore the newly refurbished Royal Caribbean ship Adventure of the Seas. She is now sailing out of Cape Liberty, New Jersey which is just a short drive up the New Jersey Turnpike, so I wanted to see this beautiful ship!
If you are not familiar with cruising and are thinking about trying that first cruise, you have many options and may not know where to begin. I will give a quick overview of everything there is to see and do on board The Adventure of the Seas to give you a quick look around!
There are 15 decks, with the top deck being a small skylight chapel. The Royal Promenade is on Deck 5. This is where you board the ship, and immediately you know this vacation is going to be great! The promenade has shops, a pizza place, a coffee shop, a Japanese restaurant, a pub, a champagne bar , the Lyric Theater, the Imperial Lounge and the first level of the main dining room. The Imperial Lounge is a beautiful Asian inspired themed room that has live music and other shows. The Promenade is also where you find everyone walking, talking, drinking and dancing as there is a DJ and live music each night here, depending on the time.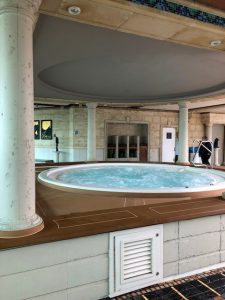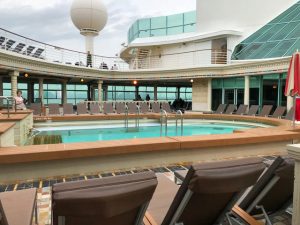 Down one level on Deck 4 you will find the Schooner bar, Chops Grille, Boleros which is a Latin dance club, the Casino Royale and the second level of the main dining room. The last level of the main dining room is on Deck 3.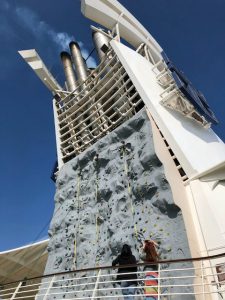 To give you an idea of how much there is to do aboard the ship, some of the on board activities include two racing water slides, The Cyclone and the Typhoon, the FlowRider (boogie boards, dude!), the 2 story Adventure Dunes mini-golf course, a rock climbing wall, a basketball court and a running track. Of course there are also 3 pools for those of us who want to relax and not do any rock climbing (that would be me), including the pool in the Solarium, which is an adults only area.
For kids, they Splashaway Bay area is perfect. This is an interactive water park just for the kids to have fun. Then for kids ages 3-11, there is Adventure Ocean, which is a youth program filled with activities to keep them busy day and night. There are also some "teens only" areas for kids up to the age of 17.
As for food…the main dining room is open for breakfast, lunch and dinner. There is also the Windjammer Cafe which is an all you can eat buffet and it is HUGE! They have everything you can possibly think of and then some.
There are also specialty restaurants on board if you would like a special dinner or every dinner – you can talk to your travel agnet about the speciality dining packages on board. This particular ship has Chops Grille, Giovanni's Table (food served family style), Johnny Rockets, Izumi and of course the Chef's Table, which is an amazing experience in itself.
So, as you can see there is so much to see and do you may not want to leave the ship!
Ready to try Royal Caribbean with Magically Carefree Vacations? Give me a call!