Mahogany Bay, Roatan
If you are heading out on a Western Caribbean itinerary with a stop in Belize and you're sailing on a Princess, Holland America, Carnival or other Carnival Corporation ship, chances are good that a stop at Mahogany Bay, Roatan, is on your itinerary. Mahogany Bay is a Carnival Corporation built port on the island of Roatan which is part of the Bay Islands off Honduras.
Roatan has another cruise port located in the downtown area at Coxen Hole. This is used by Royal Caribbean and several other cruise lines. For purposes of this article we are going to discuss Mahogany Bay.
About Roatan
Roatan is a small island known for their zip lines, Tilapia farming, an Iguana Sanctuary and beautiful sandy beaches. There is also a man-made beach retreat right at the port for those who do not want to venture off into the island on a tour. Having been to Roatan several times previously and never visiting the beach, aptly named Mahogany Bay, I decided to finally head down there to see what was available. I was very pleasantly surprised!  I'm not a beach person per se but there was a whole lot to offer everyone who decided not to venture out on a shore excursion.
Mahogany Bay Cruise Port
Once off the ship you will walk for a bit and see this lovely sign. The landscaping at the port looks like a botanical garden, and this looks like artwork and not a photograph. Trust me, this is the actual signage greeting cruise passengers: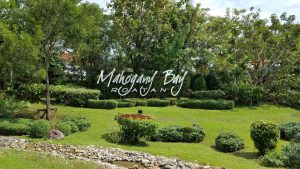 There's a little hill to walk up to get to the port area itself where you will find many local vendors and the usual cruise ship shops: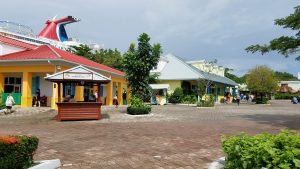 Once you pass the Information Desk you will enter a good sized plaza with shops on the left and an option to go to Mahogany Beach on the right. Here are some of the shops: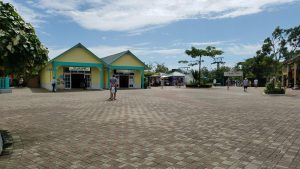 I noticed a lot of local vendors here and there was a great place for them to sell their wares in this nice Craft Market. Out of respect for the vendors I did not photograph their items. I will say that most of the items I saw were reasonably and fairly priced.
Here is the entrance to Mahogany Beach. Get ready to hike about 15 minutes to the beach: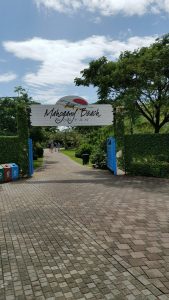 However if you don't want to hike, you can purchase a ticket for the Magical Flying Beach Chair and ride. They will even let you test the seat beforehand. I'd been on that ship for a few days and was looking forward to the walk even though it was quite hot. Roatan is in Central America and the temperature was in the upper 80's by now: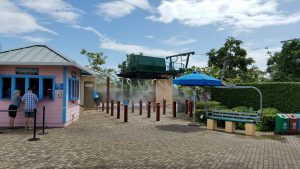 Here's a closer picture of the Magical Flying Beach Chair: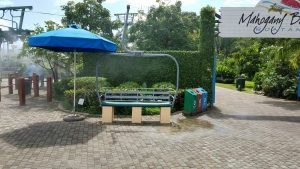 Once you get onto that nice path you can either continue down the paved part, or venture off to the nature trail. I headed for the trail as it looked very inviting: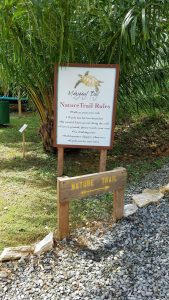 The area in the port itself is beautifully landscaped: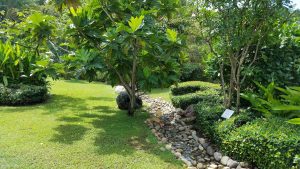 There are some gorgeous flowers besides the usual Hibiscus found all over the Caribbean. Wish I knew the name of this one. If you know, send me a comment below!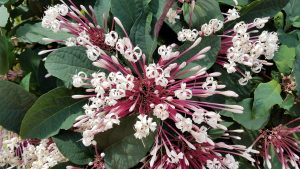 As you follow the path of the nature trail there are many seating areas. Here's a nice swing with a view of the ships beyond: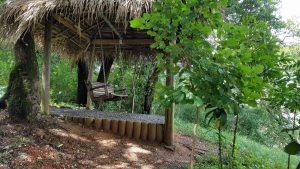 There are also some vistas where you can take pictures. Mahogany Bay can take two cruise ships. The Holland America Rotterdam arrived after us (and was leaving first.)
It doesn't take much longer to do the nature trail than the sidewalk directly to the beach area. I finally came out close to the entrance to the beach area where I saw the Magical Flying Beach Chairs going over the water. Its funny because of all the times I've been here and seen these chairs from the ship, it didn't look like a long walk! I can see why they added the lifts. Supposedly it takes five minutes from the Cruise Center to the beach via the lift. I walk pretty quickly and it took me a while to get there.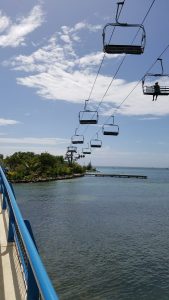 After crossing the bridge to the beach area there's an option for watercraft rentals: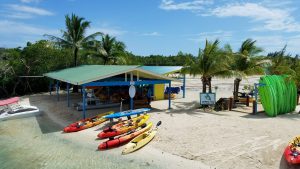 Here are the fees for equipment rental at Mahogany Beach as of February 2018: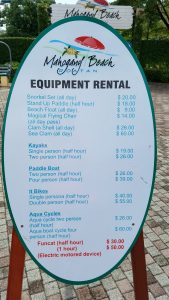 Here are some people enjoying their kayaks: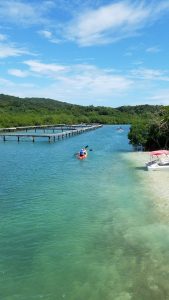 Past the equipment rental area are lockers available for a fee, and there are plenty of them.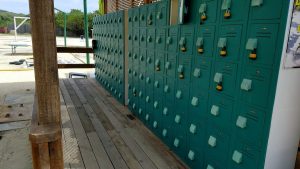 If you are hungry there is food to purchase. The main vendor at Mahogany Beach is Fat Tuesday's; this is not cruise line food and you will have a bill for your food and beverages. There are many of these Fat Tuesday's in the Caribbean cruise ports. Here are some menus at Mahogany Beach with pricing as of Feb 2018: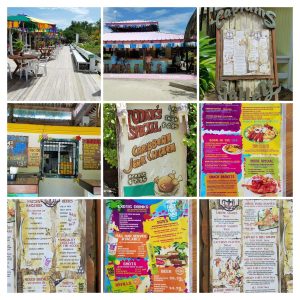 Need to check email? You can purchase internet for a fee. I did not need it as I had internet while on the ship which worked pretty well for the most part: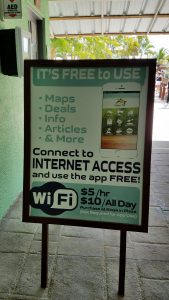 There are also shops in the beach area in which to make purchases; I didn't see anything different here that I couldn't get in the port area so no photos.
Roatan is surrounded by reefs and its not too far from Belize, which is known for diving. Here's a sign with more information: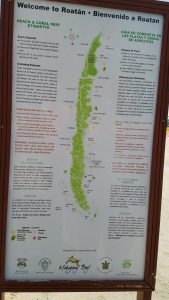 This is a beach and there are a lot of seating areas. The clamshells are available for rent but stacked pretty deep in rows; there's not much chance for a breeze. Not sure I'd rent one of these as they're packed in so tightly. There are also private cabanas available to book, usually from the cruise planner attached to your actual cruise reservation. Expect to pay about $299 for the day for a cabana, with peak season pricing increasing from there. Cabanas are not pictured as they were rented and I was not able to just walk in and take pictures as they're in a gated area. They accommodate up to 4 people and do have butler service. Don't forget to tip your butler in cash before you leave. You can see photos of them on Carnival's site here.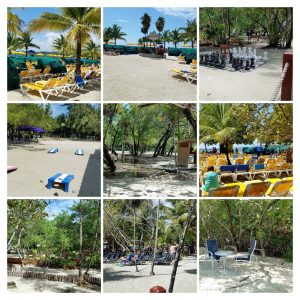 What I liked most about this beach were the different areas, including those which were quiet and in the shade. With two ships in port there seemed to be enough space for everyone. The beach and port were wheelchair accessible too. The seating on the beach itself didn't seem any more crowded than what I've noticed in Labadee , Half Moon Cay, or the Family Beach at Castaway Cay.
Having made it to the end of Mahogany Beach, it was time to head back to the ship for lunch. As you can see, once you leave the beach area it is a nice wide walkway.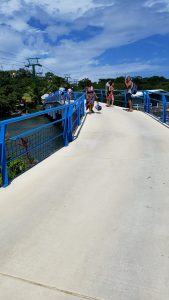 Almost there…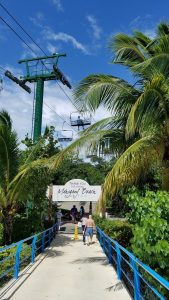 Here are some photos taken from the ship in the late afternoon. The wind had picked up and clouds were rolling in, but no rain yet. This photo is from the top of deck of the Carnival Magic looking towards Mahogany Beach around 5pm; we were late leaving port for some reason: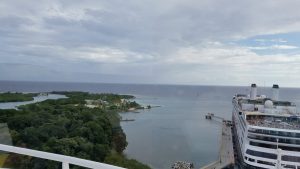 This next picture is the port itself from the top of the ship; you don't see the entrance to the beach. The building in the upper left is the port security station. This port is built on a hill so if you're heading out, you need to walk up those hills to meet any private tours. There are no shops located outside of this port nor can you walk to town. Please consider taking a ship sponsored excursion in this port and not walking around in town on your own. Theft can be an issue here. In general, the tourist zones such as the West End, West Bay and Sandy Bay tend to be safer. It is best to stick with a guide in Roatan to get there though.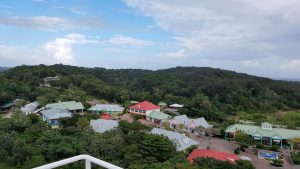 I hope you enjoyed this photo tour . As I close, I need to add that Mahogany Bay is a port which sometimes is skipped due to high winds and bad weather as the channel to get in to dock can be tricky to maneuver safely. I've been on cruises that missed this port due to weather and although it was disappointing, as cruise ship passengers we need to trust our captain and cruise staff to keep us safe. When you do make it into port, if you don't want to do an excursion or tour the beach is a great place to relax.